Interview: Lise Lindstrom TO SING TURANDOT IN SAN DIEGO OPERA'S PRODUCTION at the San Diego Civic Center
Lise Lindstrom has returned to San Diego to sing the lead in Puccini's Turandot. We spoke for nearly an hour in a rehearsal room at the San Diego Civic Center where she'd just finished working on makeup for the performance.
You might think that someone with Lindstrom's powerful voice would have known, and been told from the age of twelve or so, that she was destined to become an opera star. But it didn't happen that way for the well-known dramatic soprano, nor is it likely to for any other would-be diva. No matter how potentially great your voice is, it takes a bit of luck and a whole lot of hard work to become a success.
Before college Lindstrom had been interested in theater and jazz. She did a year of jazz studies immediately after high school, but decided musical theater was a better fit.
When Lindstrom's parents, both professional singers at some point in their lives, saw how excited she was with the idea of a singing career she said they offered advice, "If there's anything you can do other than sing, please do. They knew how difficult a life it was and how seldom someone would find a real success ... Keep singing, but don't expect to make money as a singer."
Temporarily taking her parent's advice, she briefly tried business administration then psychology at San Francisco State University but in the end graduated with a BA in music history, and later a Master of Music degree from San Francisco Conservatory of Music.
The transition to operatic training began at San Francisco State. "I auditioned for the chorus in an opera because we all had to have chorus credit in the music school." Famed mezzo-soprano Blanche Thebom was directing the opera. "She asked, 'Have you ever taken voice lessons?' I said no. My mother was a teacher and taught me a few things, but not really. Blanche said, 'You should study classically because you have a classic sound to your instrument, and I think you could be quite successful.'" Lindstrom replied that it wasn't for her.
"I wasn't into it. It's such a produced sound. It's not natural. I come from a dance background. So I was very physically aware and couldn't figure out how to coordinate my body to make the sound. Singing classical is very physical. We use the whole body to support the sound, to breath the right way. We breath the same way you would if you were starting any physical exertion."
Though Lindstrom had her doubts, she did begin to train with Thebom. The first aria she was assigned was from Lohengrin. I'd read in a previous interview she'd spent many hours trying to master it and never did, so I asked how she'd managed to go from that experience to singing the Ring Cycle as Brünnhilde! She credited "her angel" Jerome Shannon, then General Director of Mobile's opera company, for whom she had auditioned in 1999. After hearing her sing an aria from Ariadne auf Naxos, "He asked do you have any interest in singing Turandot? I said you mean Liù of course. 'No, no, I mean Turandot.' I laughed and said I can't sing that! Why don't you just ask me to sing Salome or Brünnhilde. He said 'Oh yeah, you'll do that. I looked at him and thought, you are absolutely out of your mind!" Lindstrom and Shannon have laughed about that "a million times" since, but his predictions didn't begin to come true until several years later.
"I'd been trying to start a career and having absolutely no luck." She'd been in New York for years when, shortly after they were married, her now former husband was offered a job at Indiana University. She encouraged him to take it and began thinking that she had to reconsider her dream of becoming a singer. She thought "I've given this all I have. I've done everything I can do, tried my very very best. Maybe mom and dad were right. I'm just going to chuck it." The couple moved in the middle of winter. She said by March, "I had never been so depressed in my entire life. Out of my element in New York, in the mid-west, which I'd never lived in before, in a harsh winter, and with no more singing hopes on the horizon. And one day I got a phone call from Jerry Shannon."
Four years after he'd said Lindstrom should sing Turandot he'd gotten funding to stage it, and still wanted her in the lead. She again told him she couldn't do it, but when he continued to insist, finally agreed. Mom and dad were there for Shannon's production, finally convinced that singing would work out after all. She's performed Turandot more than 100 times since, and it was her debut role at the Metropolitan Opera in 2009 when, ninety minutes ahead of curtain time, she was called on to replace soprano Maria Guleghina in Zefferelli's popular 1987 production.
"Yes, I was nervous, but I wasn't incapacitated ... I have to confess, perhaps my most pressing issue that night was trying to have my brother in California get my mom logged into her laptop so that she could listen to it. That was important, and of course when it went well, that was darn good."
And it did go well. The New York Times said, "She was dramatically alluring and vocally impressive, winning enthusiastic applause from the audience."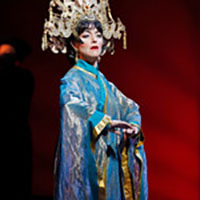 For several years after her Met debut, she was so identified with Turandot that casting directors seldom considered her for other parts she was clamoring to sing. But when she was finally slated for the role of Strauss's Elektra, a few weeks before the performance in Berlin she began to panic. "I wasn't just having a nervous breakdown. I was pretty convinced I wasn't going to be able to do it."
She said she'd performed Turandot so many times that, "Not only did others not know what else I could do, I didn't know what else I could do." The new and difficult role seemed too much on top of managing a career, maintaining health despite a hectic travel schedule, and the other stresses that come with operatic success.
Once again, uncertainty gave way. Of her Montreal performance of Elektra BachTrack said, "American dramatic soprano Lindstrom was fiercely good in the demanding title role." She still welcomes invitations for Turandot, but neither she nor casting directors any longer doubt her ability to do other roles. Shannon's predictions have proven spectacularly correct.
Lindstrom's favorites are Strauss, Wagner and Puccini. She loves some of the contemporary operas she's heard, but said, "I don't have the instrument for them. I'm a dramatic soprano, and typically those are more lyric roles." She's hoping for new contemporary operas that do include her voice type. In the meantime she's thinking of other possibilities. "There are two in particular I'm telling everybody about, Minnie in La fanciulla del West and Isolde."
When I asked about particularly satisfying memories in her career, without hesitation, she said, "Well certainly the Met debut, and absolutely the Salome we did here. It was one of the absolutely top experiences I've ever had as a singer... It was one of those perfect fits ... Opera is a collaborative art form, and when you get to be in a room with people who love to collaborate and are good at what they do, it's pretty great."
Though born and raised in California, Lindstrom had never been to San Diego until her first performance here, but now loves the city. The weather is quite a contrast to Indiana in the winter, and she enjoys walking or running on the beach in Coronado after a morning cup of coffee. She'll soon be in Vienna for another Turandot then returns to San Diego in May for a concert with tenor Greer Grimsley.
I'm looking forward to seeing Lise Lindstrom next weekend as she once again magically transforms herself from friendly California-bred girl to regal icy princess. It's a role that transformed her life. Knowing how much rigorous work and determination are behind that transformation makes her achievement all the more impressive.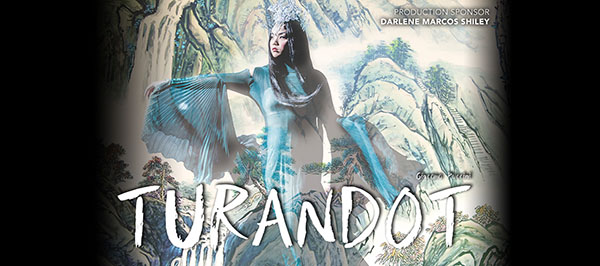 For information about Turandot and other San Diego Opera productions, click here.
Lise Lindstrom's photos courtesy of San Diego Opera.