Latest News on David Bennett
Stage Credits
  [Broadway]
1908
Corporal Frisch
  [Broadway]
Broadway Production, 1906
Police Sergeant
  [Broadway]
Broadway Production, 1905
Captain Bay
  [Broadway]
Original Broadway Production, 1903
Reggy Higgins
  [Broadway]
Original Broadway Production, 1903
Jules
  [Broadway]
Original Broadway Production, 1902
Lieutenant Marcel de Talleyrand-Perigord
Productions
[Broadway, 1927]
Choreographer
[Broadway, 1926]
Choreographer
[Broadway, 1925]
Choreographer
[Broadway, 1925]
Choreographer
[Broadway, 1925]
Choreographer
[Broadway, 1924]
Director
[Broadway, 1924]
Choreographer
[Broadway, 1924]
Choreographer
[Broadway, 1924]
Choreographer
[Broadway, 1924]
Choreographer
[Broadway, 1924]
Choreographer
[Broadway, 1924]
Choreographer
[Broadway, 1923]
Choreographer
[Broadway, 1923]
Choreographer
[Broadway, 1922]
Choreographer
[Broadway, 1921]
Choreographer
[Broadway, 1921]
Choreographer
[Broadway, 1921]
Choreographer
[Broadway, 1920]
Choreographer
[Broadway, 1920]
Choreographer
[Broadway, 1920]
Director
[Broadway, 1919]
Director
[Broadway, 1919]
Choreographer
[Broadway, 1918]
Choreographer
[Broadway, 1917]
Choreographer
[Broadway, 1917]
Choreographer
[Broadway, 1917]
Choreographer
[Broadway, 1916]
Choreographer
[Broadway, 1915]
Choreographer
[Broadway, 1910]
Choreographer
 
Stage
Performances
  [Broadway]
1908
Corporal Frisch
  [Broadway]
Broadway Production, 1906
Police Sergeant
  [Broadway]
Broadway Production, 1905
Captain Bay
  [Broadway]
Original Broadway Production, 1903
Reggy Higgins
  [Broadway]
Original Broadway Production, 1903
Jules
  [Broadway]
Original Broadway Production, 1902
Lieutenant Marcel de Talleyrand-Perigord
Productions
[Broadway, 1927]
Choreographer
[Broadway, 1926]
Choreographer
[Broadway, 1925]
Choreographer
[Broadway, 1925]
Choreographer
[Broadway, 1925]
Choreographer
[Broadway, 1924]
Director
[Broadway, 1924]
Choreographer
[Broadway, 1924]
Choreographer
[Broadway, 1924]
Choreographer
[Broadway, 1924]
Choreographer
[Broadway, 1924]
Choreographer
[Broadway, 1924]
Choreographer
[Broadway, 1923]
Choreographer
[Broadway, 1923]
Choreographer
[Broadway, 1922]
Choreographer
[Broadway, 1921]
Choreographer
[Broadway, 1921]
Choreographer
[Broadway, 1921]
Choreographer
[Broadway, 1920]
Choreographer
[Broadway, 1920]
Choreographer
[Broadway, 1920]
Director
[Broadway, 1919]
Director
[Broadway, 1919]
Choreographer
[Broadway, 1918]
Choreographer
[Broadway, 1917]
Choreographer
[Broadway, 1917]
Choreographer
[Broadway, 1917]
Choreographer
[Broadway, 1916]
Choreographer
[Broadway, 1915]
Choreographer
[Broadway, 1910]
Choreographer
David Bennett News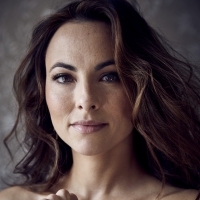 Isabel Leonard and Pablo S√°inz-Villegas to Perform at The Baker-Baum Concert Hall
by Chloe Rabinowitz - Jun 20, 2022
 San Diego Opera and La Jolla Music Society have announced the co-presentation of mezzo-soprano Isabel Leonard and guitarist Pablo Sáinz-Villegas in concert on Thursday, December 1, 2022 at 7:30 PM at the Baker-Baum Concert Hall at The Conrad Prebys Performing Arts Center...
World Premiere of EL ULTIM√" SUE√ĎO DE FRIDA Y DIEGO And More Announced for San Diego Opera 2022-2023 Season
by A.A. Cristi - May 22, 2022
The season opens with the world premiere of El ultim√≥ sue√Īo de Frida y Diego, the Company debut of Puccini's Suor Angelica, the return of Gianni Schicchi after a fifty-two-year absence, and performances of the beloved warhorse Tosca. The dńďtour Series consists of the world premiere of three one-act operas by composer Nicolas Reveles for an evening entitled Ghosts, and The Falling and the Rising, an opera co-commissioned with the United States Army.¬†
San Diego Opera Announces Matthew E. Graber As Chief Marketing Officer
by A.A. Cristi - Mar 17, 2022
San Diego Opera has announced that Matthew E. Graber has been appointed to the position of Chief Marketing Officer after a national search, replacing the previous CMO who retired in 2021.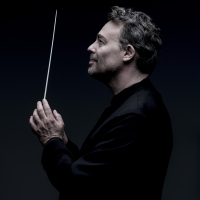 BWW Interview: Yves Abel of SAN DIEGO OPERA'S ROMEO AND JULIET at San Diego Civic Center
by Ron Bierman - Mar 14, 2022
Conductor Yves Abel arrived in San Diego from Europe a few days ago to begin rehearsals for Romeo and Juliet by French composer Charles Gounod. The Maestro does get around a lot, even for an internationally in-demand musician. His wife and boys five and eight sometimes travel with him when he conducts but remain at home in Italy this time. Perhaps Abel's wanderlust began in childhood. His family immigrated from France to French-speaking Quebec when he was young. His father couldn't find work there, so it was off to English-speaking Toronto where he spent most of his formative years. Next stop New York City for study at the Mannes School of Music, and after New York frequent work in Italy, then Germany. Abel's travel has resulted in fluency in French, English, Italian and German.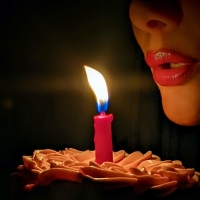 A PLAY FOR VOICES to Premiere at 2022 FRIGID Festival
by Chloe Rabinowitz - Jan 11, 2022
Award-winning playwright-performer and indie theatre darling Melody Bates joins a powerhouse international company of artists to present A PLAY FOR VOICES as part of the 2022 FRIGID Festival.
Performance Schedule Announced for 2022 FRIGID Festival
by Chloe Rabinowitz - Jan 10, 2022
FRIGID New York will present the 16th Annual FRIGID Festival at The Kraine Theater (85 East 4th Street between 2nd Avenue and Bowery) and UNDER St. Marks (94 St. Marks Place between 1st Avenue and Avenue A), February 16-March 6, 2022.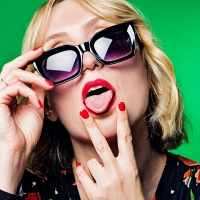 FRIGID New York To Present 2022 FRIGID Festival This February
by Gigi Gervais - Dec 12, 2021
FRIGID New York will present the 16th Annual FRIGID Festival at The Kraine Theater (85 East 4th Street between 2nd Avenue and Bowery) and UNDER St. Marks (94 St. Marks Place between 1st Avenue and Avenue A), February 16-March 6, 2022. Performances will also be available to livestream from home.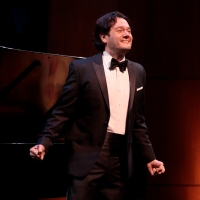 BWW Review: SAN DIEGO OPERA PRESENTS ARTURO CHAC√"N-CRUZ at California Center For The Arts, Escondido
by Ron Bierman - Dec 9, 2021
It seems variety is the spice of classical music and opera in San Diego. The city's symphony orchestra plans to appear in a dozen or more venues next year, and the opera company has used a different venue for each of its three recent recital concerts. The latest of these featured Mexican-born tenor Arturo Chacón-Cruz, and the operatic tenor's program choices continued the varietal spice. The first half began with five Italian canciones followed by four Spanish zarzuelas and concluded with two Puccini arias. But many in the audience were waiting for the all-mariachi second half. Their reward was 11 Mexican-Spanish favorites sung in front of the 10-piece Mariachi Continental de México led by musical director Silvano Chavez.
Netflix Establishes $5.4 Million Chadwick Boseman Scholarship at Howard University
by Stephi Wild - Oct 5, 2021
Howard University and Netflix today have announced a $5.4 million endowed scholarship to honor alumnus Chadwick A. Boseman, the esteemed actor, director, writer and producer. The Chadwick A. Boseman Memorial Scholarship will provide incoming students in the College of Fine Arts with a four-year scholarship to cover the full cost of University tuition.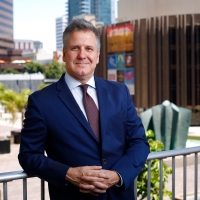 BWW Interview: David Bennett of THE SAN DIEGO OPERA
by Ron Bierman - Sep 10, 2021
David Bennett is now six years into his job as general director of the San Diego Opera Association. When hired, he faced shaky finances, a loss of major donors, and huge turnover in the membership of the board of directors. The new board hired him with the understanding that downsizing and reinvention of the organization were his priorities. Then, after getting off to a surprisingly good start, Bennett had the forced restrictions of COVID-19 to contend with. Perhaps a biblical plague of locusts is next?
David Bennett Videos
STAGE TUBE: Out Front on Main's RABBIT HOLE promo
by Jeffrey Ellis - Jul 8, 2011
Opening July 14 for a limited two week run is David Lindsay-Abaire's 2007 Pulitzer Prize Winner Rabbit Hole directed for the stage by George W. Manus, Jr. Rabbit Hole runs Thursdays-Sundays at 7:30pm, July 14-24. Tickets are $10. general admission or $5. students/seniors www.outfrontonmain.com
David Bennett Frequently Asked Questions
How many Broadway shows has David Bennett been in?
David Bennett has appeared on Broadway in 6 shows.
How many West End shows has David Bennett been in?
David Bennett has not appeared in the West End