Tim O'Brien Readies 'Tim O'Brien Band' For 3/15 Release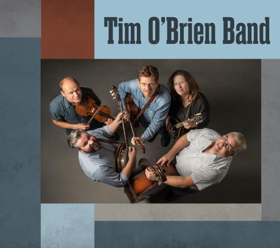 Tim O'Brien recently announced a headlong leap back into traditional bluegrass with his new full-length album, Tim O'Brien Band. Due for release on March 15, 2019, Tim O'Brien Band, the title a sly nod to traditional music's often eponymous band names, is a collection of not just old-school leaning music, but also of world-class musicians perfectly aligned in intention and ability. In addition to Tim, Mike Bub (bass), Shad Cobb (fiddle),Jan Fabricius (vocals/mandolin) and Patrick Sauber (banjo/guitar) make up this unstoppable band, who, from recent live performances, may be familiar to Tim O'Brien fans. Tim says, "This crew has the potential to make ten more records together and never reach the limit of the possibilities." The only guest on the recording is O'Brien's Hot Rize bandmate Bryan Sutton, who lends his distinctive guitar playing to two tracks.
Tim O'Brien Band is definitely a bluegrass record. That is to say, a bluegrass record that's as much influenced by tradition as it is by Tim's folklorist nature which he's become known for. Of the five original songs on the record, O'Brien wrote two by himself. Jan Fabricius, Shawn Camp, and The Black Keys' Dan Auerbachcontributed to the remaining three. The rest of the record is comprised of songs hewn from a number of Tim's influencers, old friends, and contemporaries. Notable tracks include the album opener, "Diggin' My Potatoes", a blues-turned-bluegrass number learned from Big Bill Broonzy, a Chicago musician from the 1940s and a favorite of Tim's, "Beyond", a gospel version much like "Ghost Riders in the Sky" co-written with Shawn Camp, and "Bolero-meets-Klezmer" instrumental "La Gringa Renee", a mandolin-driven ode to Tim's partner Jan Fabricius. Then, there's Tim's minor-key rendition of Woody Guthrie's "Pastures of Plenty". An urgent song about standing up for migrant workers in the 1940s, Guthrie's lament may be as important now as it's ever been. Tim realizes that, remarking, "Singing his [Woody's] words can't hurt in these times, as the same story continues in the USA." The songs of Tim O'Brien Band are as diverse and playful as the records of Tim's past, but this new era is a touch more earnest and urgent without losing the merriment that fans know and love.
About Tim O'Brien:
Born in Wheeling, West Virginia on March 16, 1954, Grammy-winning singer-songwriter and multi-instrumentalist Tim O'Brien grew up singing in church and in school, and after seeing Doc Watson on TV, became a lifelong devotee of old-time and bluegrass music. Tim first toured nationally with Colorado bluegrass band Hot Rize, who last year marked 40 years as a band. Kathy Mattea scored a country hit with his song Walk The Way The Wind Blows in 1986, and soon more artists like Nickel Creek and Garth Brooks covered his songs. Over the years, Tim has collaborated with his sister Mollie O'Brien, songwriter Darrell Scott, and noted old-time musician Dirk Powell, as well as with Steve Earle, Mark Knopfler, Bill Frisell, and Steve Martin.
Fore more information, please visit https://timobrien.net.
On tour :
02/22/19 KBA Wintergrass / Wichita, KS / Tim O'Brien with Jan Fabricius
02/23/19 KBA Wintergrass / Wichita, KS / Tim O'Brien with Jan Fabricius
03/15/19 Chickie Wah Wah / New Orleans, LA / Tim O'Brien Band
03/21/19 Jefferson Center / Roanoke, VA / Lunasa feat. Tim O'Brien with Jan Fabricius
03/22/19 Purple Fiddle / Thomas, WV / Tim O'Brien with Jan Fabricius
03/23/19 Music and Art at Oak Glen / New Cumberland, WV / Tim O'Brien Band
03/24/19 Mountain Stage / Charleston, WV / Tim O'Brien Band
03/25/19 Lyric Theater / Woodsongs Radio Hour : Lexington, KY / Tim O'Brien Band
03/27/19 City Winery / Chicago, IL / Tim O'Brien Band
03/28/19 Stoughton Opera House / Stoughton, WI / Tim O'Brien Band
03/29/19 Dakota - Minneapolis, MN / Tim O'Brien Band
03/30/19 The Caribou Room / Nederland, CO / Tim O'Brien Band
03/31/19 The Armory / Fort Collins, CO / Tim O'Brien Band
04/03/19 Missouri Heights Schoolhouse / Carbondale, CO / Tim O'Brien Band
04/04/19 Sheridan Opera House / Telluride, CO / Tim O'Brien Band
04/05/19 Public House / Crested Butte, CO / Tim O'Brien Band
04/06/19 Warren Station Center for the Arts / Keystone, CO / Tim O'Brien Band
05/25/19 Gathering in the Gap / Big Stone Gap, VA / Tim O'Brien Band
05/26/19 The Grey Eagle / Asheville, NC / Tim O'Brien Band
05/28/19 The Station Inn / Nashville, TN / Tim O'Brien Band
06/01/19 The John Hartford Memorial Festival / Morgantown, IN / Tim O'Brien Band
Featured BroadwayWorld Events
Check out these concerts...
Related Articles
View More Music

Stories
More Hot Stories For You