Billie Eilish Partners With Stromae, Luc Junior Tam & Henry Scholfield For 'hostage' Video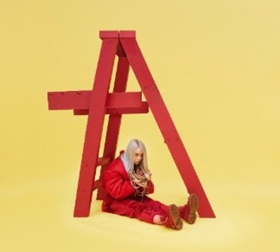 Today, Darkroom/Interscope Records artist Billie Eilish debuted a new music video for her haunting track "hostage," taken from her debut EP "dont smile at me." The video is available exclusively on Apple Music.
Flawlessly brought to life by esteemed director Henry Scholfield (Dua Lipa: New Rules, Stromae: Tous Les Memes), the video for "hostage" is the collaboration and brainchild between Mosaert aka Stromaeand Luc Junior Tam, Henry Scholfield and Billie Eilish. Watch the powerful and simplistic new video for "hostage" via Apple Music
HERE
. Billie Eilish reveals on her collaboration and inspiration behind the video:
"I am so excited that this video is being released. It was a dream for me to get to work with everyone involved. I was a big fan of
Stromae
and I was blown away with the treatment and vision he and his brother, Luc Junior Tam (collectively known as Mosaert) had for this song, which perfectly matched the thoughts behind the lyrics. It took awhile for us to be able to shoot it, working out not only our schedules but also the location. I was touring and we had originally thought we would shoot it in Brussels where Paul (Stromae) lives, but they had a very clear idea of what the fabric needed to be for the room and it wasn't available at that time. We eventually figured out a plan with
Stromae
and Luc's vision and Henry Scholfield directing, meaning we had to rehearse and shoot in different cities during my tour. We rehearsed the choreography one day in Philadelphia before my show with Peacock (the amazing choreographer). Henry was an incredible director and from the moment I started working with him I knew it was going to be great. A few days later we shot it in Toronto. Of course, at that point we had casted Devyck in the video and he was just so amazing. We also had a team of amazing dancers working behind the scenes as well as all of the incredible crew and production staff. Stromae, Luc, Henry and Peacock really captured the feeling of trying to be so close to someone that you can end up suffocating them and destroying the very thing that you wanted so much. I think it is something everyone can relate to. Loving someone so much that it hurts. That it becomes overwhelming and unhealthy. Most people have experienced one side of that or the other...or maybe both. There seems to be a beauty to it, but ultimately it is dangerous and not the kind of love that can or should be sustained." While 16-year-old
Billie Eilish
continues to wow crowds across the globe with her compelling live performances, her debut EP 'dont smile at me' keeps climbing and has since entered the Billboard 100, as her fan base grows at an exponential rate (Billie's Instagram following has jumped from 2 million to 3 million in just 1 month), solidifying her as one of the most sought after and promising young artists to emerge in 2018. This summer
Billie Eilish
was touted by Vanity Fair and featured in their prestigious and legendary
Vanities
opening-page. A section that has historically showcased some of the world's most famous, before they were far along the road to being that way. Conceived and executed as the so-called "second cover of the magazine," previous
Vanities
include: Leonardo DiCaprio, Ben Affleck, Keira Knightly, Natalie Portman, Ryan Goslingand Jake Gyllenhaal.
Billie Eilish
is also one of the current cover girls for Teen Vogue's annual Music Issue as well the UK's CLASH Magazine, on stands nationwide now. Recently, Billie released her stunning collaboration with Grammy-Award nominee Khalid, titled "Lovely." The song has already surpassed the 150 million mark on streamsand has since entered the Billboard Hot 100. Watch the stunning video for"Lovely (with Khalid)
HERE
. Be sure to catch Billie's bi-weekly Beats 1 radio show 'groupies have feelings too.' Episode 4, titled "the s**t i call oldies because I'm five" aired last Friday and can be heard
HERE
. Billie Eilish is currently working on her debut album between festival appearances this summer. NORTH AMERICAN TOUR DATES
07/28 - Mo Pop Festival - Detroit, MI
08/01 - House of Blues - Chicago, IL - SOLD OUT
08/02 - Lollapalooza Festival - Chicago, IL
08/04 - Osheaga Festival - Montreal, ON
08/10-12 -
Outside
Lands Festival - San Francisco, CA
08/23 - Republik - Honolulu, HI
09/15 - Music
Midtown
Festival - Atlanta, GA
10/02 -
Bridgestone Arena
(Supporting Florence & The Machine) - Nashville, TN
10/03 -
Spectrum
Center (Supporting Florence & The Machine) - Charlotte, NC
10/04 - The NorVA - Norfolk, VA - SOLD OUT
10/06 - All Things Go Festival -
Washington
DC
Tickets:
www.billieeilish.com
"hostage"
Full Video | Full Audio | hostage Trailer