Chef Spotlight: Executive Chef Can Alp of ZEUGMA MEDITERRANEAN GRILL in Montclair NJ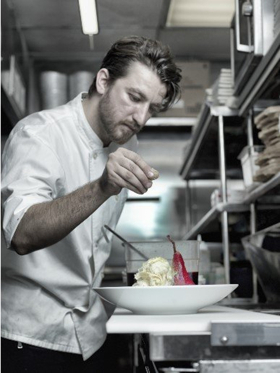 Executive Chef Can Alp of Zeugma Mediterranean Grill transitions effortlessly between western and eastern influences. Born in Mardin, Turkey, Alp studied Gastronomy + Culinary Arts at Beykent University in Istanbul and interned in Paris for nine months before arriving in New York four years ago. Prior restaurant affiliations include Changa (Istanbul) and Rainbow Room (NYC). "My cooking style has been described as contemporary Mediterranean and European fusion," notes Alp. "I strive to express creativity and passion for different cuisines in everything we put on the menu, in addition to sourcing all-natural, organic and local ingredients whenever possible."
Broadwayworld had the pleasure of interviewing Chef Can Alp for our "Chef Spotlight."
What was your earliest interest in cooking?
When I was 13 and alone in my house, I'd go through the fridge and cabinets and try and recreate my favorite dishes, like pudding. My mom would come home angry because I'd messed up the kitchen! At age 14 I decided to be a chef, and began researching online about cooking schools and chefs around the world. I started working in hotel kitchens as an assistant for no pay at first because I didn't have experience. At 16 I took a line chef job, and went to culinary school in Istanbul right after high school.
Who were some of your career mentors?
My mother is the best chef in the world to me! She always cooked different cuisines, not just traditional Turkish.
What culinary styles have influenced your career?
I grew up in Turkey in a small town called Mardin, which is near the borders of Syria, Iran and Iraq, so those cultures influenced my cooking. I spent time during culinary school and for four years after working at Changa in Istanbul, which at the time was one of the world's best restaurants and the first in Turkey with modern Mediterranean fusion cuisine. All my inspiration about fusion cooking comes from that time. I also learned about French technique during a nine-month internship in Paris.
What do you consider the most distinguishing features of your work as a chef?
I bring modern touches to traditional ingredients and dishes. A perfect example is our Pumpkin Muhammara. Traditionally the spread has walnuts and red peppers. My version has pureed pumpkin, pumpkin seeds and tahini. It protects the integrity of the dish while creating new flavors. I make a version of Mexican tacos using slow-cooked lamb, middle eastern spices and soft pitas. Our Manti -- Turkish dumplings traditionally stuffed with meat -- are vegetarian so non-meat eaters can enjoy them. Our take on a classic American hamburger has Mediterranean flair with pistachio pesto.
What is your favorite meal?
It would have to be roasted lamb from home. It's cooked in an in-ground oven for 14 hours -- dry skin, slow cooked, juicy, meaty. I give a small flavor of it in the lamb tacos. Asian cuisine is also a big favorite of mine, I find lots of inspiration in the spicing and techniques.
Tell me a little bit about your restaurant for our readers.
The cuisine is modern, a true fusion of Turkish, Middle Eastern and Mediterranean flavors. Seasonal, casual fine dining in a beautiful setting. We like to keep things fresh and change the menu every few months, with weekend specials to keep things interesting and creative. We're always experimenting with making the classics new again. We're now serving a NY Strip with Creamed Spinach "our way," and we do a great weekend brunch in addition to lunch and dinner during the week.
Zeugma Mediterranean Grill is located at 44 S. Park St, Montclair, NJ 07042. The restaurant serves lunch, dinner, and weekend brunches. For more information, menus and hours, please call 973.744.0074 and visit http://zeugmagrill.com/.
Photo Credit: Courtesy of Zeugma Mediterranean Grill