Photo Flash: First Look at ART/WNY's THE HOUSE OF BLUE LEAVES
After a winter hiatus American Repertory Theater of WNY resumes the 2015-16 season with a presentation of the 1966 pioneering work by John Guare, The House of Blue Leaves. Under the directorial eye of ART/WNY alumni, Drew McCabe (The Crucible and Dead English), the work centers on one man's desire to rise above his mundane life by becoming a successful songwriter only to see this dream remain elusive because of the eccentric circumstances surrounding the life he leads. Robert Ernie Insana will return to the ART/WNY stage as the befuddled 'Artie Shaughnessy' in this compelling American play. The House of Blue Leaves opens on March 10th and runs until April 2nd in ART/WNY's new location, 330 Amherst Street, Buffalo (next to the Sportsman Tavern). All show-times are 8 pm, Thursday through Saturday.
Widely more recognized with his work Six Degrees of Separation, the use of dark-comedy with a tongue-in-cheek salute to old-school theater farce while utilizing social dysfunction as part of the narrative made The House of Blue Leaves writer John Guare a playwriting pioneer who's approach to subject matter was seen in the likes of contemporary writers Sam Shepard and Tracy Letts.
In The House of Blue Leaves, Guare paints the story of struggling singer/songwriter Artie Shaugnessy and his attempts to rise above the ordinary world around him. By night he performs in smoky city lounges and dive piano bars but pays his bills with a daytime job as a zoo-keeper. His life is further complicated by his wife 'Bananas', who suffers from mental illness, and his downstairs mistress/fiancée, 'Bunny Flingus', who puts out but won't put a dish on the kitchen table until Artie agrees to drop his hot-mess of a wife and marry her. In the background of this dysfunctional arrangement, is the historical 1964 visit of Pope Paul VI and the individuals who come out to see His Holiness including three beer-drinking nuns and Artie's AWOL son, Ronnie, who has an explosive surprise for the Pope. Artie's dreams of escaping this existence is propped up by his connection to longtime friend now big-time Hollywood producer, Billy Einhorn, who also arrives in NYC with his starlet, and land-mine affected, girlfriend, Corrinna Stroller. Fragmenting, like a home-made bomb, a movie star and two nuns in an elevator, Artie dreams become harder to hold together as, according to publishers Samuel French, "the promise of glory evaporate amid the chaos of ordinary lives."
"The House of Blue Leaves is a fantastic black comedy that everyone-baby boomers, Gen X-ers, Millennials- can related to." Director Drew McCabe said of the work. "I am looking forward to bringing this piece to life at ART." The production will also feature Dianne DiBernardo Blenk, who made her ART/WNY debut in Picasso at Lapin Agile, as 'Bananas Shaughnessy', ART/WNY alumni Robert Ernie Insana (Little Robert; Hello Again) as the anti-hero, 'Artie Shaughnessy', Maura Nolan as 'Corrinna Stroller', Scot Kaitanowski as 'Billy Einhorn', Virginia Brannon with Erica Lorenzetti portraying nuns, Mara Morris as 'Bunny Flingus' and making their ART/WNY debut Rick Lattimer 'Ronny Shaughnessy', and completing the trio of nuns, Lisa Sember.
The House of Blues Leaves opens on March 10th and runs until April 2nd at American Repertory Theater of WNY's new performance space, The 330 located in the heart of Buffalo's historical Black Rock district. The production will mark one of the first productions in the new space neighboring the Americana music club, The Sportsman Tavern. All Thursday through Saturday performances with showtimes at 8:00 pm.
Tickets are $25 General Admission/$20 Online, $18 for Student and Military Veteran/$15 Online. Visitwww.artofwny.org to order tickets online or for more information on the production, parking or directions to the 330 Amherst Street location.
Photos by Stefan Ludwig


Diane DiBernardo Blenk, Ernie Insana, Mara Westerling Morris, Scot Kaitanowski

Lisa Sember, Maura Nolan, Virginia Brannon, Erica Lorenzetti

Rick Lattimer

Diane DiBernardo Blenk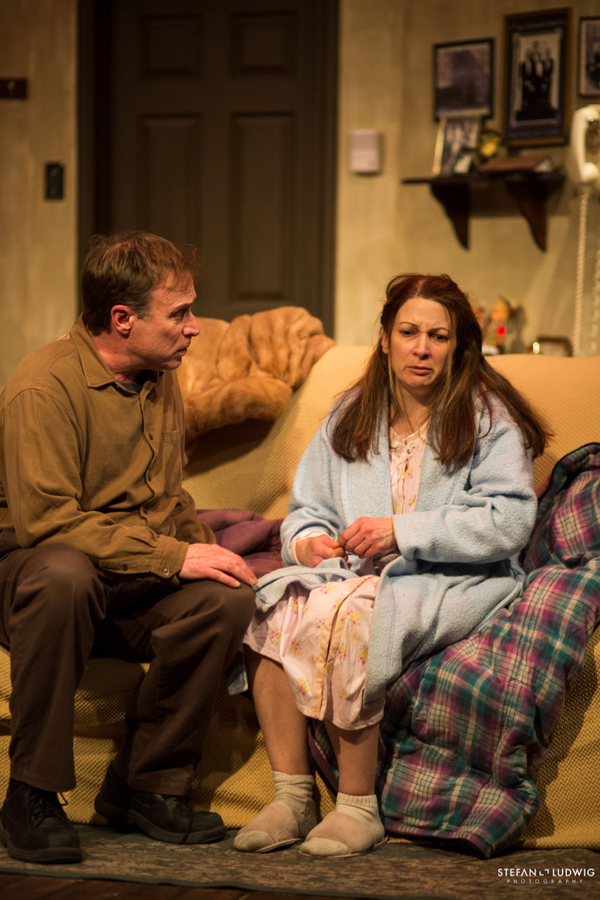 Robert Ernie Insana & Diane DiBernardo Blenk
More Hot Stories For You