The Bushwick Starr and Abingdon Theatre Company Present David Greenspan's THE THINGS THAT WERE THERE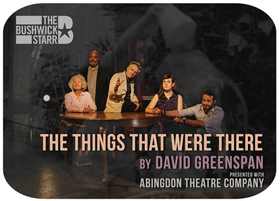 The Bushwick Starr will collaborate with Abingdon Theatre Company in presenting The Things That Were There, a new play by award-winning playwright and performer David Greenspan (Strange Interlude by Transport Group, Go Back To Where You Are at Playwrights Horizons, The Myopia at The Foundry Theatre), directed by Lee Sunday Evans (Dance Nation at Playwrights Horizons, [PORTO] at WP Theater and The Bushwick Starr, Caught by Play Company).
The Things That Were There is a memory play and a meditation on loss. Set on the occasion of a celebratory dinner the play dramatizes the events and relationships of a family over many years - as past incidents are recalled and at times relived. Certain scenes begin again with slight or significant variation as a means of investigating family relationships through a continually shifting lens and exploring the tragic and comic potential of each event.
Performed by: Evander Duck, Jr., David Greenspan, Caitlin Morris, Cesar J. Rosado and Mary Shultz.
Set and Costume Design: Carolyn Mraz
Lighting Design: Barbara Samuels
Production Stage Manager: Bryan Bauer
Assistant Stage Manager: Acacia Drake
Production Manager: Ann Marie Dorr
Assistant Scenic & Costume Designer: Susanne Houstle
Assistant Lighting Designer: Kenzie Carpenter
Producer: John Del Gaudio
Associate Producer: Madeleine Goldsmith
The Bushwick Starr's 2018-19 Season is supported in part by the Howard Gilman Foundation, the New York State Council on the Arts, and the New York Department of Cultural Affairs.
More Hot Stories For You