Target Margin Theater Announces 2018 Company Artists And Programs In Brooklyn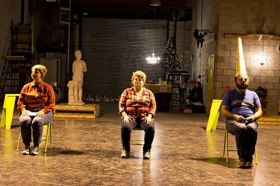 Following the opening of the Company's first permanent home, Target Margin Theater has announced that 13 diverse artists, via three distinct programs, will be supported in 2018. The Company's new home, located in the Sunset Park section of Brooklyn, enables Target Margin Theater to deepen their support of the next generation of theater makers through its annual incubator LAB festival, it's five-year-old fellowship program, and its new artist-in-residency program.
The Target Margin Theater Institute is a year-long fellowship that provides five artists space, support, and a $1,000 stipend to challenge themselves and their art-making practice. The 2018 Institute Fellows are Thomas Bane, Nelson T. Eusebio III, Noelle Ghoussaini, Sierra Ortega, and Normandy Raven Sherwood. The new Target Margin Theater Residency Program provides established, mid-career and emerging artists up to 100 hours of dedicated rehearsal and developmental space at no cost. The 2018 Winter / Spring Artists-in-Residence are Julia May Jonas, Little Lord, Claire Moodey and Jeanette Oi-Suk Yew. In May-June 2018, Target Margin Theater will present the Sindbad Lab as a performance festival dismantling and rebuilding all seven voyages from the classic Sindbad tales from The Thousand and One Nights. Lead Artists selected to drive the individual works include composer and musician Avi Amon, director Kareem Fahmy, actor and director Stephanie Weeks, and Target Margin Theater Associate Artistic Director Moe Yousuf.
"Target Margin now involves more artists than ever and our new permanent home finally gives us the resources we've needed to fully support the next generation of theater makers," says Target Margin's Founding Artistic Director David Herskovits. "As alternative performance spaces continue to vanish, I'm excited to see what vital questions these 13 artists will ask in their work. I'm humbled that as Target Margin has matured into a more diverse and democratic company, we're able to expand our resources and help keep New York City at the forefront of theatrical innovation."
Additional details on the various programs and artists can be found below and online at targetmargin.org. Target Margin Theater's new home is located at 232 52nd Street in the Sunset Park section of Brooklyn.
In January 2018, Target Margin Theater launches the fifth year of the Target Margin Theater Institute, a year-long fellowship that provides five diverse artists space, support, and a $1,000 stipend to challenge themselves and their art-making practice. There is no curriculum or "teaching" structure. There is no final result or project. The core goal is rigorously to question the fellows' assumptions about what the theater is, what it could be, and what they would like it to be. Target Margin Theater's first permanent home allows the Company to offer a greater depth of support to fellows including dedicated studio hours throughout the year. As in previous years, applicants may emerge from any theatrical discipline (actors, designers, writers, directors, producers, stage managers, administrators, etc.) as well as from other artistic fields such as music, visual art, literature, etc.
The 2018 Institute Fellows are Thomas Bane, Nelson T. Eusebio III, Noelle Ghoussaini, Sierra Ortega, and Normandy Raven Sherwood.
Thomas Bane's artistic practice focuses on the dismantling of language as an act against oppressive forces and the unreading of public spaces. He is one half of Edwina Baxter Poetycs, which is a collaboration that re-imagines genre through play with words and bends at the contours of meaning. He received an MFA in Poetry from Brooklyn College and is an adjunct at City Tech. He is also a licensed social worker and spends too much time thinking about health insurance.
Nelson T. Eusebio IIIis a stage director, producer, and award-winning filmmaker. He has worked at theatres around the country, including CenterStage, Oregon Shakespeare Festival, NYSF/Public Theater, Ensemble Studio Theatre, and many others. From 2010-13, Nelson served as the Artistic Director of Leviathan Lab. He is a member of TCG's SPARK Leadership Program, a Mabou Mines resident artist, a member of Lincoln Center Director's Lab, Career Development Program (TCG), and SDC. Nelson is a graduate of the Yale School of Drama, where he received his M.F.A. in Directing.
Noelle Ghoussaini is a director, playwright, and educator. She creates performances that examines and re-imagines our society within political, social, cultural and mystical contexts. Recent Projects include: Acquittal by Shahid Nadeem (Director, Pan Asian Rep), Fatima and Her Pigeon (Playwright. The Flea Theatre), Mariposa and the Saint by Julia Steele Allen (Dir. National Tour), Upcoming: A Skate Play (Director / Adaptor, Jenin Freedom Theatre), Dreamscapes (Director / Co-creator, Laguardia Performing Arts Center). Noelle was a fellow at the Laundromat Project, New York Theatre Workshop, The Hemispheric Institute and a member of the Lincoln Center Director's Lab. M.A. Arts Politics (NYU, Tisch).
Sierra Ortega is a multi-disciplinary performance artist living and working in Queens, NY. They received an MA in performance studies from New York University in 2016 and an MA in rhetorical studies from Hofstra University in 2015. Utilizing their background in performance, speculative philosophy, and queer and feminist politics, they have come to develop a practice that is deeply personal, constantly chaotic, and furiously DIY. Their work explores the effective potential of the body through intense physical practices that investigate notions of queerness, alienation, and alterity in the search for meta-utopian post-capitalist futures.
Normandy Raven Sherwood is theater maker: playwright, costumer, director, performer. Her plays have been presented The New Ohio Theater, The Kitchen, Dixon Place, The Brick and more. Her theater company, The Drunkard's Wife, creates spectacles with no-wave inflected music and a generous, maximalist design sense. She was a lead artist of the OBIE-award-winning National Theater of the United States of America (2000-2017, R.I.P.). As a costume designer, she has worked with Mac Wellman, Young Jean Lee, Half Straddle, Faye Driscoll and more. She teaches in the Expository Writing Program at NYU. MFA in playwriting from Brooklyn College.
The Residency Program provides established, mid-career and emerging artists dedicated rehearsal and developmental space. Target Margin Theater supports artists at all stages of their careers, and now their new home allows them to build that dimension of their work in an exciting way. Each residency is shaped to meet the specific needs of each artist and will include a work-in-progress presentation and/or open-rehearsal free to the public.
The 2018 Winter / Spring Artists-in-Residence are Julia May Jonas, Little Lord, Claire Moodey and Jeanette Oi-Suk Yew.
JULIA MAY JONAS - YOUR OWN PERSONAL EXEGESIS
Your Own Personal Exegesis is a memory play presented as a church service. Exegesis: the literary or critical interpretation of a text, particularly scripture. Inspired by the Frescoes of Giotto and Widor's organ cantatas, liturgical plays and boring sermons, the play looks at the burgeoning of adolescent consciousness as it meets the ecstatic eroticism of early religious experience.
Julia May Jonas: Michigan Murders with Meghan Finn (New Works Initiative at Montclair State University). Also: Emily Climbs (Machine Méchant), Raise Your Voice in Medieval Counterpoint, Evelyn, For Artists Only & All Long True American Stories (a 5-play-cycle in development). Her work has been presented/developed at The Bushwick Starr, Prelude, Incubator Arts Center, The International Revolutions Festival, The Brick, PS122 (with Terra Nova), HERE and others. Founder of Nellie Tinder, she has been granted support by the Mental Insight Foundation and The Rockefeller Foundation. Audrey Residency, member of The Jam, New Georges Affiliated Artist.
LITTLE LORD - SKINNAMARINK What is this play about? Who wrote this play? Why did he write it? Would you like to grow up without being able to write? Who is a greedy girl? What is a glutton? What is important about the sun and the moon and the wind and the rain and a bug and a bee and a chair and a table and a pencil and a bear and a rainbow and a cat and a--BELL BELL BELL BELL BELL BELL BELL. An exploration of education and indoctrination in America, Skinnamarink is Little Lord's latest "junk spectacular" and 11th original piece for the theater.
Little Lord develops and produces smart, lively, and unexpected performances. Adapting classic, neglected, and found texts, Little Lord plunders the theatrical canon in order to forge new plays from old parts. Founded in 2007 by Artistic Director Michael Levinton, Little Lord's work has been praised as "thought-provoking" and "fearless in its weirdness." Recently: Now is the Time, Now is the Best TIme, Now is the Best Time of Your Life (Abrons Arts Center, 2016); NYTimes Critics' Pick Bambif*cker/Kaffeehaus (The Brick, 2015); Pocahontas, and/or America (Bushwick Starr, 2013). Also: Chocolate Factory, HERE Arts Center, Judson Church, Dixon Place, OHIO Theatre, UNDER St Marks, Incubator Arts Project.
Claire Moodey
- FEMME PATHOS Enter Claire's brain. A psychic parasite lives there: a hungry ghost, her mother. In order to exorcise this haunt, femme pathos breaks open on the Brocken at Walpurgis Night: a gay bacchanal where the doctor and Three Lords attempt to surgically remove the pathogen of misplaced femininity - or was it homosexuality - or some other trauma lodged in the depressed body? Claire and her mother un/become each other in the limbo of a dance-theater-memory spectacle.
Claire Moodey directs, performs in, designs puppets for, and writes theater. In the last year, she directed Megan Lang's Forsaken Nation, Chiori Miyagawa's Five by Five, co-directed Marco Millions with Bess Rowen for Target Margin, and assistant directed David Herskovits on Mourning Becomes Electra for TMT. As a designer and performer, Claire's work was most recently seen in Daphne at IRT. Performing credits include Mettawee River Theater Company's Before the Sun and Moon, Megan Murtha's Songs of Go and Pending, It's Lonely at the Top, and Are You With Us Graham Grant Graven?. As a creator/performer, she has been developing femme pathos since 2014.
Jeanette Oi-Suk Yew
- AND HERE WE ARE And Here We Are, a shadow puppetry opera developed in collaboration with Experiments in Opera, is one man's existential perseverance during his internment in the Philippines during WWII. Fusing Indonesian inspired shadow puppetry with animation and video projection, it creates a surreal landscape diving into the narrative of the survivor's experience. The protagonist is Edgar Kneedler, the great uncle of the project's composer Matthew Welch. Upon surviving the internment, Edgar went on to become an opera singer. The title of this project is from the Dover Beach poem. Librettist
Daniel Neer
draws on Edgar's memoir and other internee's stories into one voice with Edgar's psychological evolution at the center.
Jeanette Oi-Suk Yew is a NYC puppetry artist. She devises interdisciplinary productions that experiments with and challenges the notion of puppetry and seeks to use puppetry for contemporary storytelling within a cross-genre context. The NY Times described her direction/conception of Act 4 of O'Neill's The Iceman Cometh, a part of Target Margin's Iceman Lab at HERE Arts, as "consistently inventive". Her immersive production, Are They Edible? premiered at La MaMa to sold-out houses was called "bold" and "inventive". Additionally, her toy theater The Butcher Men was invited to Prague Quadrennial 2006 and MILK, a digital puppetry project on utopia was at Labapalooza 2007 presented at St. Ann's Warehouse (NYC).
SINDBAD LAB | MAY - JUNE, 2018
In May-June 2018. Target Margin Theater will present theSindbad Lab as a performance festival dismantling and rebuilding all seven voyages from the classic Sindbad tales from The Thousand and One Nights. Lead Artists selected to drive the individual productions include composer and musician Avi Amon, director Kareem Fahmy, actor and director Stephanie Weeks, and Target Margin Theater Associate Artistic Director Moe Yousuf. Since 1995 the TMT Lab has been an essential program of Target Margin supporting over 1,000 emerging artists in the creation of new work in New York City. Curated by David Herskovits and Moe Yousuf, the Lab removes institutional pressures by providing financial resources, rehearsal/performance space, and marketing/ticketing support. By having a permanent home, Target Margin Theater can offer Lab Artists more time for the rehearsal and the development of their work.
Avi Amonis a composer, pianist, and sound artist. His work has been developed or presented by: Actors Theatre of Louisville (2017 Humana Opera Commission), Spoleto Festival USA, The O'Neill Theater Center, Yale REP, Prospect Theater, BAM, Ars Nova, BRIC, La Mama, and in a 100-year-old grain Silo in Buffalo, NY. Residencies and Awards: Exploring the Metropolis at JCAL, Judson, Anna Sosenko Assist Trust, Target Margin Theater, New Dramatists, Weston Playhouse. Avi is the resident composer at the 52nd Street Project. He received his MFA from NYU's Graduate Musical Theatre Writing Program, where he currently teaches. aviamon.com.
Kareem Fahmy is a Canadian-born director of Egyptian descent who focuses on new play development. He is a 2017-2018 National Directors Fellow with The O'Neill/NNPN/The Kennedy Center/SDC. He has directed and co-conceived a number of world premiere productions including Sevan K. Greene's This Time (Rising Circle, New York Times Critics' Pick), James Scruggs's 3/Fifths (3LD, New York Times 5 Must-See Shows), and Victor Lesniewski's Couriers and Contrabands (TBG Theatre). Other NYC credits: Rohina Malik's The Mecca Tales (Voyage Theater Co.), Adam Kraar's Alternating Currents (world premiere, Working Theater). Kareem has developed plays with organizations including New York Theatre Workshop (where he is a Usual Suspect), MCC, Second Stage, Soho Rep, New Dramatists, E.S.T., Sundance, The Civilians, and Berkeley Rep. MFA: Columbia. www.KareemFahmy.com
Stephanie Weeks has performed at many regional theaters and Off-Broadway. Recently seen as Christine in Target Margin Theater's Drunken With What. Favorite roles include Salima in Ruined, Belle in A Christmas Carol, Tituba in The Crucible and Shark in Oh My God I'm So Thirst(y), Innovative Theater nomination. Film: Ex-Doofus... Dir: Melvin Van Peebles, Tribeca Film Festival; Rosy (2017). Weeks recently directed a production of Eclipsed at The University of Utah that has been chosen to be showcased by The Kennedy Center Festivention in Mesa, Arizona in February 2018. Training: London Academy of Music and Drama, American Conservatory Theater, MFA.
Moe Yousuf is a theater maker, creative producer, and Associate Artistic Director of Target Margin Theater. He has presented works at PRELUDE, Dixon Place, Abrons Arts Center, Soho Rep Walkerspace, The Bushwick Starr Reading Series, Co-Prosperity Sphere, Rubber Rep Pilot Balloon and Title Point SALON!. Recently, he produced the NYT Critics' Pick 150th Anniversary revival of The Black Crook and is currently an Abrons Arts Center Artist-in-Residence, creating a meditation/exorcism of 1927 film The Jazz Singer with Joshua William Gelb. He is a Board Member of the Alliance of Resident Theatres / New York (ART/NY) and holds a MFA in Dramatic Writing from NYU Tisch School of the Arts.
---
For 25 years, Target Margin has been praised for its aggressive interpretations of classic texts, lesser-known works, and new plays inspired by existing sources. They exist to build a world where all people embrace the original, the challenging and the different. They challenge audiences with their plays, energetically expand the possibilities of live performance, and engage their community at all levels through partnerships and programs. The range of programming has been enormous, including classics, opera, new writing, and adaptation of literature and historical sources. The Company has served over 1,000 artists (emerging and established) through its annual LAB and is committed to nurturing the creative aspirations of the next generation of theater makers in the TMT Institute, the Company's yearlong fellowship program.
Target Margin's artistic and cultural vision has resulted in 41 Mainstage productions including 11 world premieres, 8 company-created works, 3 U.S. premieres and 5 new translations, which have garnered 4 OBIE Awards and employed over 500 Equity actors and hundreds of other theater artists. The Company's production ofMamba's Daughters received an OBIE Award, and their epic 2004-06 production of Goethe's Faust received extensive critical acclaim. Recent productions include Uncle Vanya and The Tempest at HERE, Uriel Acosta: I Want That Man! at The Chocolate Factory, Composition...Master-Pieces...Identity, a new solo performance piece from OBIE Award-winner David Greenspan at The Connelly Theater, Drunken With What at Abrons Arts Center, Reread Another at The Brick, called "something kind of wonderful" by Ben Brantley in The New York Times, their New York Times acclaimed Iceman Lab-a radical interpretation of The Iceman Cometh at HERE, and, most recently, Mourning Becomes Electra at Abrons Arts Center, of which Laura Collins-Hughes in her New York Times Critic's Pick review said, "I didn't check my watch once in the five hours of David Herskovits's bold, astringent revival for Target Margin Theater."