Coney Island USA Announces Spring Gala March 24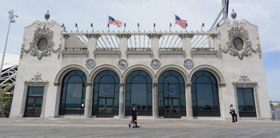 Coney Island USA will present our Annual Spring Gala on Saturday evening, March 24, 2018. Our annual spring gala is the flagship fundraiser for our non-profit arts organization. This year's event will take place at Kitchen 21 on the boardwalk. Like our home at 1208 Surf Avenue, Kitchen 21 was formerly a Childs Restaurant. Newly restored, the landmarked building is the perfect backdrop for showcasing the performers, artists, personalities, and spirit of Coney Island. It stands as a symbol of the neighborhood's colorful past and bright future.
Tickets (21+) for the Annual Spring Gala are $100 for General Admission and $250 for VIP Admission. International burlesque star Angie Pontani hosts the 2018 gala, featuring jazz by Brian Newman; live dancing by Dreamland Jivers; sideshow acts by "Purveyor of Amazement"
Todd Robbins
and Fibi Eyewalker; burlesque by Gigi Bonbon (Miss Coney Island 2018), Poison Ivory (Miss Exotic World 2016), and Edie Nightcrawler; and walkabout performances by Little Brooklyn. Founded in 1980 by Brooklyn impresario and unofficial Mayor of Coney Island Dick D. Zigun, Coney Island USA is known worldwide for the spectacular Mermaid Parade, and as presenters of the Coney Island Circus Sideshow, Burlesque at the Beach, and the Coney Island Film Festival. All funds raised will support these arts programs and the Coney Island Museum. Coney Island USA is located in a National Historic Landmark building, at
1208 Surf Avenue
, in Brooklyn, New York. Who: Coney Island USA
What: Annual Spring Fundraising Gala
Where: Kitchen 21,
3052 W 21st St, Brooklyn, NY 11224
D,N,F,Q trains to Stillwell Ave./Coney Island
When: Saturday, March 24, 2018, 7:30pm-11:30pm
Why: Raise funds for the 501c3 not-for-profit arts organization, Coney Island USA Further info and advance tickets at
www.coneyisland.com/gala
Coney Island USA is a 501(c)(3) not-for-profit arts organization based in the amusement park area of the Coney Island neighborhood of Brooklyn New York at 1208 Surf Ave. In existence since 1980, Coney Island USA has developed and produces a number of different programs including some of New York City's best loved summer programming, such as the Mermaid Parade and the Coney Island Circus Sideshow. Coney Island USA also operates the Coney Island Museum and produces Ask the Experts, Burlesque at the Beach, the Coney Island Film Festival, the Coney Island Hot Rod Festival, Congress of Curious Peoples, Funhouse Philosophers, Magic at Coney, The Mermaid Ball and the Coney Island Sideshow School
Photo Credit: Norman Blake