BWW Review: SE MEU APARTAMENTO FALASSE... (Promises, Promises) Brings Bacharach-David's Smart Pop Music and the Wry Humor of Neil Simon to Sao Paulo.
Burt Bacharach and Hal David, whose pop songs pretty much defined the mid-to-late 1960s and early 1970s, only wrote one Broadway show, Promises, Promises. There may have been many reasons for the success of the show. The solidly attractive (and slyly diverting) book by Neil Simon was based on the Oscar®-winning screenplay for The Apartment, by Billy Wilder and I.A.L. Diamond, already a double guarantee of popularity; the score contained many memorable tunes by Bacharach and David, including "I'll Never Fall In Love Again" and "I Say a Little Prayer", which became charted hits; and Broadway was badly in need of a blockbuster. More importantly, however, its musical style, diverging from the standards set by Rodgers and Hammerstein and Lerner and Loewe, augured well for the future of Broadway as a new area for pop music to explore and invade. With stellar turns by Marcelo Medici as the big-corporation employee whose idea on how to get ahead in business consists of lending his bachelor apartment to his married bosses, and by Malu Rodrigues as the cafeteria waitress with whom he falls in love even though she is having an affair with the personnel director, and with Alonso Barros in charge of choreography and Claudio Botelho & Charles Möeller directing, the musical proves that it is still as fresh and vibrant as it was when it was first created, opening in Brazil now, 50 years after his debut on Broadway.
A eleição de John Kennedy criou uma linha divisória entre a rígida era Eisenhower no pós-guerra, e um futuro otimista e glorioso e, embora eles certamente não cumprissem suas promessas políticas, os anos "Camelot" - como foram conhecidos os Anos JFK - foram indubitavelmente um tempo de mudanças incríveis. Foi um período de assassinatos, guerra, e distúrbios pelos direitos civis, e também um tempo de liberdade de expressão, amor livre, experiência com drogas, e uma mudança radical no mundo das artes. O teatro tornou-se mais desprendido, e eventos cotidianos foram abordados dramática e comicamente, com um vigor não visto desde o auge da Grande Depressão Americana. A arte se tornou Pop e depois Op, a música popular norte-americana abraçou o free jazz e um novo ritmo vindo do Brasil, e a maré no teatro musical prometia mudar com o advento de Hair. Mas sucessivos musicais de rock fracassaram, e compositores como Charles Strouse, Jerry Herman, e Jerry Bock ainda escreviam no estilo tradicional, juntamente com outros como Cy Coleman, fornecendo scores que sintetizassem sons e estruturas tradicionais com elementos mais atualizados.
Havia dois novos mestres da música popular americana nos anos 1960, ambos trabalhando extensivamente para o cinema. O primeiro era Henry Mancini - que não apareceria na Broadway até os anos 1990 com seu egregiamente medíocre (e póstumo) Vítor ou Vitória. O outro foi Burt Bacharach. Após a dupla Bacharach e Hal David gozar de enorme sucesso com uma série de músicas pop introduzidas por Dione Warwick, parecia inevitável para eles tentar a Broadway.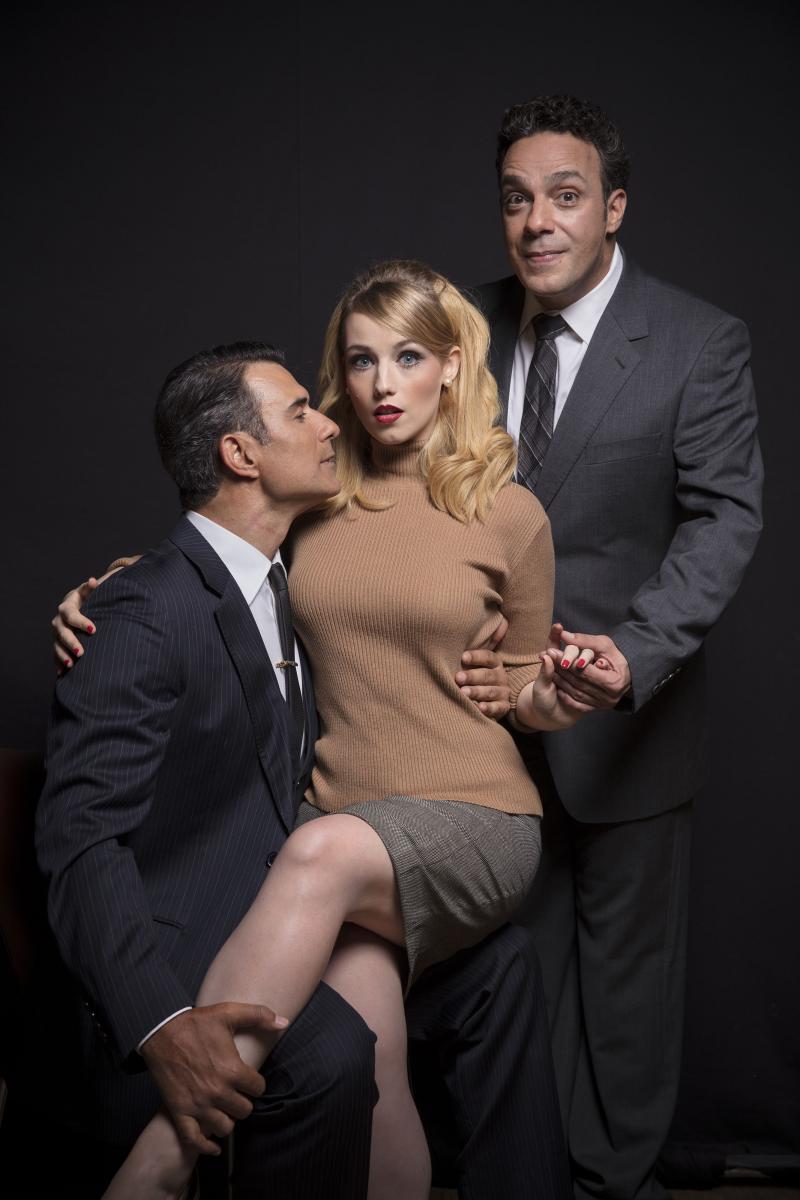 Na metade dos anos 1960, o dramaturgo Neil Simon, o mais bem sucedido financeiramente da história do teatro norte-americano, estava no auge de seu sucesso na Broadway. Suas comédias como Descalços no Parque (Barefoot in the Park, 1963) e Um Estranho Casal (The Odd Couple, 1965) foram megahits estrondosos, e seguindo o sucesso de seu libreto para o musical Sweet Charity (1967) o veterano produtor David Merrick queria outro musical escrito por ele. Simon sugeriu adaptar o filme Se Meu Apartamento Falasse (The Apartament, 1960), dirigido por Billy Wilder (vencedor de cinco Oscars® dentre os quais Filme, Direção e Roteiro), sobre Chuck Baxter, um funcionário que espera subir no mundo corporativo emprestando seu apartamento aos executivos para encontros extraconjugais. Provavelmente a ideia para esta adaptação veio na esteira de outros musicais que revelavam métodos para ascender no mundo dos negócios como What Makes Sammy Run (1964), I Can Get It for You Wholesale (1962) e, principalmente Como Vencer na Vida Sem Fazer Força (How to Succeed in Business Without Really Trying, 1961).
Foi Simon que também sugeriu trazer os dois compositores pop. Ainda que suas músicas fossem sofisticadas e cultuadas, eles não eram aquilo que a Broadway estava acostumada. Bacharach por todas as suas credenciais pop, sentia um pouco mais afinidade com o trabalho de Richard Rodgers do que com as recentes tendências do teatro musical, tais como o musical rock Hair. Embora eles não tivessem um padrão de trabalho definido para este show, Hal David escreveu a maior parte das letras primeiro e Bacharach compôs a música depois, com melodias e rimas altamente inventivas e teatralmente satisfatórias. Nos ensaios eles reescreveram extensivamente para melhor adequá-las às vozes do elenco, com Jill O'Hara, no papel de Fran Kubelick - a desafortunada e infeliz amante de Mr. Sheldrake por quem Chuck é apaixonado - fornecendo inspiração especial ao compositor.
O score de Promises, Promises se mostrou surpreendentemente um labirinto intrincado de rimas complexas e mudanças de tom inesperados. Reconhecendo que dar ao público uma amostra antecipada do complicado score pudesse ajudar o show, Bacharach gravou alguns dos números com a cantora Dione Warwick meses antes da estreia. Jerry Orbach no papel principal estava tendo problemas, em particular com a canção título, e prestou atenção na gravação da cantora de "Promises, Promises", e dizem que ele perguntou a Warwick: "Com mil diabos como você consegue cantar isso"?
O show foi um enorme sucesso fazendo 1.281 apresentações e concorrendo a oito Prêmios Tony (vencendo os de Melhor Ator, Orbach, e Melhor Atriz Coadjuvante para Marian Mercer). Bacharach fez com que o engenheiro de som Phil Ramone configurasse o sistema de áudio do teatro para que assim o show soasse como um disco de vinil, e ele insistiu que tudo permanecesse fiel ao score original, sem variações nas interpretações ao longo da temporada. Entretanto Bacharach talvez estivesse tão acostumado a trabalhar sozinho, que Promises, Promises permaneceu seu único musical, isto se não contarmos o filme musical Horizonte Perdido (Lost Horizon, 1973) que foi execrado no mundo todo, exceto no Japão e aqui no Brasil, onde, devido ao sucesso, manteve-se por quase um ano em cartaz no extinto Cine Bristol, em São Paulo, virando cult!
Uma remontagem na Broadway, em 2010, recriou o show com glamour e sensibilidade, e adicionou dois sucessos de Bacharach-David ao score: "I Say a Little Prayer" e "A House Is Not a Home".
Com o título de Promessas e Promessas, e produção do lendário Victor Berbara, a primeira montagem do musical no Brasil ocorreu somente no Rio, no início da década de 1970, no Teatro Ginástico, tendo como protagonistas Moacyr Franco (Chuck), Rosemary (Fran), Jardel Filho (Sheldrake) e Mara Rúbia (Marge).
Em dezembro de 2017 uma remontagem do musical estreou no Teatro Bradesco, no Rio. Com o título igual ao do filme, Se Meu Apartamento Falasse... é o 41º musical de Claudio Botelho & Charles Möeller, a bem sucedida dupla do teatro musical brasileiro, que estreia agora no Teatro Santander, em São Paulo. Este é um musical de "duas partes". Quando eu digo musical é de forma bem livre, pois no original é mais uma peça com músicas que não avançam a história. São mais comentários da ação do que está ocorrendo. Isto foi corrigido inteligentemente na versão brasileira de Claudio Botelho, que tem como destaque "Festa do Peru" (Turkey Lurkey Time), no final do Ato I, com coreografia de Alonso Barros de muita energia e movimento, e embora só tenha praticamente este número de dança, é bem divertida. A tocante "É Natal" (Christmas Day), cantada pelo elenco feminino, é outro grande momento do show. A direção de Charles Möeller também se mostra bastante hábil e fluída. As performances dos protagonistas são muito precisas e corretas. Marcelo Medici como Chuck Baxter oferece um retrato fenomenal de um personagem que é particularmente multifacetado. Rompendo continuamente a quarta parede para compartilhar seus pensamentos e sentimentos com o público, o personagem deve ser um dos papéis mais verbais do teatro musical e Medici é preciso em suas palavras e atuação nos fazendo amar imediatamente o herói e torcer verdadeiramente pelo seu desenlace.
Malu Rodrigues como Fran Kubelik dá uma atuação encantadora da jovem garçonete que disputa o carinho de seu chefe, JD Sheldrake (Marcos Pasquim). Malu retrata a fragilidade de sua personagem com sutileza perfeita e seu desempenho vocal é como sempre sublime, e arranca aplausos entusiasmados da plateia quando canta os sucessos de "Eu Rezo Para Você Ficar" (I Say a Little Prayer For You), "Eu Juro Que Não Quero Mais" (I'll Never Fall in Love Again) e particularmente "A Hora de Partir" (Knowing When to Leave).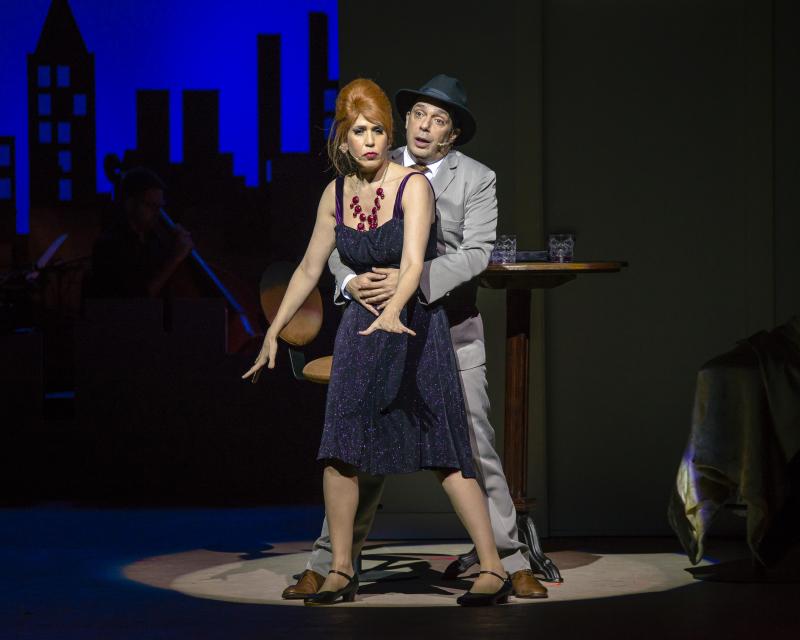 O Ato II, quando finalmente o apartamento do título entra em cena, transforma o show em algo completamente diferente, em total contraste com o Ato I, na medida em que se torna particularmente mais engraçado, ou tragicômico! Isto se deve visivelmente à introdução e ao avanço de dois personagens coadjuvantes, a adorável Maria Clara Gueiros (no papel de Marge, também tradutora do texto) como a mulher mais velha que procura um relacionamento sexual com um homem mais jovem, com uma atuação cômica perfeita - e desculpe aqueles que não gostam quando uso esta expressão -, roubando a cena ao fazer esta predadora doidivanas, nos lembrando a magnífica Dorothy Loudon (fica a dica para os produtores da anunciada montagem de Annie: Maria Clara como Miss Hannigan!), e também o Dr. Dreyfus numa caracterização igualmente cômica de André Dias.
Um dos destaques desta montagem é a orquestra sob a batuta de Marcelo Castro, combinando magnificamente ambos os ritmos pop e clássicos de Bacharach com precisão, com orquestrações hipnóticas, contando com a participação de um quarteto feminino de crooners providenciando acompanhamento vocal juntamente com os instrumentos. Inteligentemente, ao invés da orquestra ficar no poço ela se situa atrás do palco integrando-se aos cenários estilizados de Rogério Falcão que nos remetem a algum lugar entre as avenidas Lexington e Madison, na Manhattan dos anos 1960, assim como o visagismo de Beto Caramanhos e os figurinos - em particular os femininos - de Marcelo Marques, um time em perfeita harmonia.
A nova montagem brasileira de Se Meu Apartamento Falasse... nos dá boas atuações de seus protagonistas provando que continua vibrante e discutindo temas atuais, tal como quando estreou há 50 anos, na Broadway.
SE MEU APARTAMENTO FALASSE ...
Um espetáculo de CHARLES MÖELLER & Claudio Botelho
Texto de Neil Simon Baseado no roteiro do filme 'THE APARTMENT' de Billy Wilder e I.A.L. Diamond, vencedor do Oscar de melhor filme em 1961.
Musica de Burt Bacharach
Letras de Hal David
Produzido originalmente na Broadway por David Merrick
Com MARCELO MEDICI, MALU RODRIGUES, MARCOS PASQUIM, MARIA CLARA GUEIROS, FERNANDO CARUSO, ANDRÉ DIAS, ANTONIO FRAGOSO e grande elenco e orquestra

Direção: CHARLES MÖELLER
Versão Brasileira: Claudio Botelho
Direção Musical, Arranjos Adicionais e Regência: MARCELO CASTRO
Coreografia: ALONSO BARROSDireção de Movimento: CHARLES MÖELLER
Cenário: ROGÉRIO FALCÃO
Figurinos: MARCELO MARQUES
Design de Som: ADEMIR MORAES JR.
Iluminação: PAULO CESAR MEDEIROS
Visagismo: BETO CARRAMANHOS
Coordenação Artística: TINA SALLES
Produção Executiva: CARLA REIS
Apresenta: Ministério da Cultura e Banco Santander
Patrocínio: Elevadores Atlas Schindler, Eurofarma Laborátorios S/A e Záffari
Realização: M&B e Ministério da Cultura/Governo Federal
SERVIÇO
Temporada de 21 de janeiro a 24 de fevereiro
Quintas (25/01, 01/02, 15/02, 22/02), às 21h
Sextas (26/01, 02/02, 16/02, 23/02), às 21h
Sábados (27/01, 03/02, 17/02, 24/02), às 21h
Domingos (21/01, 28/01, 04/02, 18/02), às 20h.
TEATRO SANTANDER
Complexo do Shopping JK Iguatemi
Av. Presidente Juscelino Kubitschek, 2041
Classificação indicativa: 12 anos
PREÇOS
Plateia R$ 190
Plateia Superior R$ 120
Frisa Plateia Superior R$ 120
Balcão 1 R$ 75
Frisa Balcão R$ 75
Balcão 2 R$ 50,00
Related Articles View More Brazil

Stories

Shows