Back to the Main Page | Browse Local Theatres
---
Latest Brazil Reviews
Musical NEY MATOGROSSO – HOMEM COM H Celebrates the Trajectory of One of the Most Authentic Artists of Brazilian Culture
by Claudio Erlichman - September 09, 2022
After the huge success of the musical Silvio Santos Vem Ai, Paris Cultural chose to honor the chameleonic singer Ney Matogrosso, one of the most unique figures in Brazilian music and culture, in the musical Ney Matogrosso – Homem com H, with libretto by E. Boechat and M. Toledo, direction by Fernand...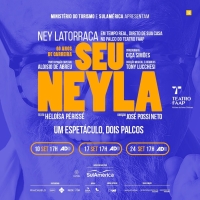 Celebrating the 60th Anniversary of Ney Latorraca's Career, Musical SEU NEYLA will Open in Sao Paulo, Combining Digital Technology and Live Theater
by Claudio Erlichman - September 08, 2022
One of the best known actors in Brazil, Ney Latorraca celebrates 60 years of his career using a new technology in Brazilian theater. The musical comedy Seu Neyla, by Heloísa Perisse and directed by Jose Possi Neto, brings together the digital world and theater, in real time....
For the First Time on Stage, Musical TEMPO CERTO (Right Time) Features Songs by Roberta Campos
by Claudio Erlichman - September 01, 2022
The plot follows the last year of a couple's relationship, exploring themes such as liquid relationships and the attempt to control time, very present in the current times. The musical features Daniel Cabral, Eri Correia, Alvaro Real and Vanessa Mello, with artistic direction and libreto by Rafael P...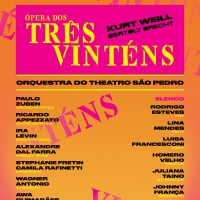 Never Seen Before in Brazil, Theatro Sao Pedro Opens Weill & Brecht's THE THREEPENNY OPERA (A Opera dos Tres Vintens)
by Claudio Erlichman - August 30, 2022
Produced for the first time in Brazil, has the musical direction by American conductor Ira Levin, who leads the Orquestra do Theatro São Pedro, and scenic direction by Alexandre Dal Farra. Opening on September 1st, there will be seven recitals until September 11th....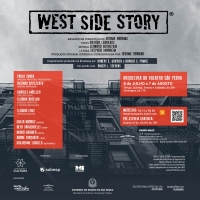 Review: After 60 Years of its Opening WEST SIDE STORY Continues to Thrill Audiences in Historic Production
by Claudio Erlichman - July 19, 2022
West Side Story opens on July 8th at Theatro Sao Pedro. A masterpiece by Bernstein & Sondheim, direction by Charles Moeller and Brazilian version by Claudio Botelho, the musical direction is by Claudio Cruz, who leads the Orquestra do Theatro Sao Pedro. The production also has a cast headed by Giuli...
After Great Success in Rio de Janeiro, PONTO A PONTO (Amy Herzog's 4000 Miles) Opens for a Short Season in Sao Paulo
by Claudio Erlichman - July 11, 2022
After the success of Rio de Janeriro's season, the play Ponto a Ponto (Amy Herzog's 4000 Miles), directed by Gustavo Barchilon, opens in Sao Paulo on July 15, at Teatro B32. The show features Luiz Fernando Guimaraes giving life to a 90-year-old lady, Bruno Gissoni as her grandson and Renata Ricci in...
Melodramatic and Cult: VINGANCA – O MUSICAL (Vengeance - the Musical) Returns to Sao Paulo's Stage
by Claudio Erlichman - June 22, 2022
A success of Brazilian musical theater in recent years, the show Vinganca (Vengeance) returns in June at Teatro Raul Cortez in Sao Paulo. After nine years, the cult musical by Anna Toledo with songs by Lupicinio Rodrigues returns in a new house and with a renewed cast...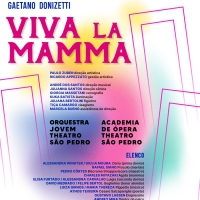 Donizetti's LE CONVENIENZE ED INCONVENIENZE TEATRAL (Viva La Mamma) Opens at Theatro Sao Pedro
by Claudio Erlichman - June 13, 2022
With performances on June 16, 17, 18 and 19, the show is musically directed and conducted by Andre dos Santos, who leads the Orquestra Jovem do Theatro Sao Pedro, stage direction by Julianna Santos. Viva La Mamma, also known as Le convenienze ed inconvenienze teatrali satirizes the operatic work, a...
Musical BRENDA LEE E O PALACIO DAS PRINCESAS Tells the Story of the First Activist Who Founded the First Support House for People With HIV/AIDS in Brazil
by Claudio Erlichman - June 07, 2022
Brenda Lee e o Palacio das Princesas is a musical that brings a bit of the history of Brenda Lee, called the "guardian angel of transvestites", activist who founded the first support house for people with HIV/AIDS in Brazil. She has a pension for transvestites who, for the most part, live off prosti...
BWW Review: Bake a Leg: SWEENEY TODD Opens in Sao Paulo with Sold Out Tickets
by Claudio Erlichman - May 18, 2022
Sondheim's macabre musical Sweeney Todd, arrives in Brazil. The show opened on March in Sao Paulo for a short season and takes place on the 033 Rooftop of Teatro Santander. With direction by Ze Henrique de Paula, the Brazilian production stars Rodrigo Lombardi (Sweeney), Andrezza Massei (Mrs. Love...