SPAMILTON Extends Boston Engagement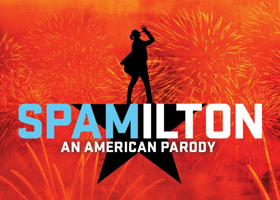 Huntington Theatre Company has announced the extension of the Boston engagement of the acclaimed musical comedy, Spamilton: An American Parody. Due to high ticket demand, the "smart, silly and convulsively funny" (New York Times) parody of the hit Broadway phenomenon, originally slated to shutter on March 10, will now run at the Calderwood Pavilion at the BCA from February 12 through April 7, 2019.
The New York Post hails that Spamilton: An American Parody is "the next best thing to seeing Hamilton!" and the Hollywood Reporter proclaims "Spamilton is so infectiously fun that it could easily run as long as its inspiration!" After a successful engagement in New York, a national tour launched at Playhouse Square in Cleveland, Ohio on December 20, 2018. It is now playing ten multi-week engagements in its first season.
Created by Boston-area native Gerard Alessandrini, the comic mastermind behind the long-running hit Forbidden Broadway, and performed by a versatile cast of seven, Spamilton: An American Parody is a side-splitting new musical parody. After tearing it up in New York, Chicago, Los Angeles, and London, Spamilton: An American Parody will stage a singing, dancing, comedy revolution in Boston.
The cast features Chuckie Benson, Ani Djirdjirian, Marissa Hecker, Brandon Kinley, Adrian Lopez, Dominic Pecikonis, Datus Puryear, and Music Director Curtis Reynolds at the piano.
Marilyn Stasio of Variety mused, "Hip-hop, Broadway showtunes, Viennese waltzes - is there anything this guy can't write? No, not Hamilton creator Lin-Manuel Miranda, but Gerard Alessandrini, whose ingenious parody Spamilton salutes and sends up Miranda and his signature musical." Ben Brantley of The New York Times said, "This smart, silly, and often convulsively funny thesis, performed by a motor-mouthed cast that is fluent in many tongues, is the work of that eminent specialist in Broadway anatomy, pathology, and gossip, Gerard Alessandrini."
TICKETS
Single tickets starting at $25 and FlexPasses are on sale:
online at huntingtontheatre.org
by phone at 617 266 0800
in person at the Huntington Avenue Theatre Box Office, 264 Huntington Ave. and the Calderwood Pavilion at the BCA Box Office, 527 Tremont St. in Boston's South End.