SHOW
DATES
THEATRE
HOT PICK


The Cher Show


Superstars come and go, but Cher is eternal! For six decades, she has dominated pop culture, pushing boundaries and breaking down barriers - letting nothing
5/12 - 6/25/2022

Ogunquit Playhouse
10 Main St
Ogunquit
HOT PICK


The Nutty Professor


Based on the classic 1963 film starring Jerry Lewis, THE NUTTY PROFESSOR brings us nerdy Professor Julius Kelp and his transformation into the suave and
7/1 - 8/6/2022

Ogunquit Playhouse
10 Main St
Ogunquit
HOT PICK


Mr. Holland's Opus


From an Oscar-nominated film to a world premiere musical, Tony Award-winner B.D. Wong and Tony Nominee Wayne Barker bring to the stage Mr Hollands Opus,
8/12 - 9/17/2022

Ogunquit Playhouse
10 Main St
Ogunquit
HOT PICK


Clue


A hilarious fast-paced whodunit that will leave you dying of laughter, CLUE is based on the cult 1985 Paramount movie and inspired by the iconic
9/22 - 10/30/2022

Ogunquit Playhouse
10 Main St
Ogunquit

Disney's 101 Dalmatians Kids


In a loving home in the city of London, Dalmatian parents, Pongo and Perdita happily raise their Dalmatian puppies, until the monstrous Cruella De Vil
6/24

Performing Arts Connection
Sudbury

Disney's Aladdin Jr.


Greasepaint Theatre for Youth presents Disney's Aladdin Jr. For tickets and information, visit the website.
6/24 - 6/24/2022

Pembroke Recreation Department
East Bridgewater

Disney's The Jungle Book Kids


The jungle is jumpin? with jazz is this exciting Disney classic! Join Mowgli, Baloo, King Louie and the gang as they swing their way through
6/24

Whites Of Westport
Fall Riverwest

Gordon Lightfoot


"I can't think of any Gordon Lightfoot song I don't like. Every time I hear a song of his, I wish it would last forever.
6/24

The Hanover Theatre and Conservatory for the Performing Arts
2 Southbridge Street
Worcester

Straight White Men


Visual content only
6/1 - 6/24/2022

Wellfleet Harbor Actors Theater
Wellfleet

Straight White Men


Ed and his sons are celebrating the holidays in their traditional style. As Jake and Drew sit around eating Chinese takeout, playing games, and pranking
6/1 - 6/24/2022

Wellfleet Harbor Actors Theater (WHAT)
2357 Route 6 Wellfleet MA 02667
Wellfleet

Mary Poppins Jr


One of the most popular Disney movies of all time is capturing hearts in a whole new way: as a practically perfect musical! Mary Poppins
6/25

Ensemble Performing Arts Studio
Norwood

Menopause The Musical®


Come join our sisterhood! Four women at a lingerie sale have nothing in common but a black lace bra AND memory loss, hot flashes, night
6/25

The Hanover Theatre for The Performing Arts
2 Southbridge St
Worcester

Pippin


Norwood Theatre
6/24 - 6/25/2022

Ensemble Performing Arts Studio
Norwood

Roald Dahl's Willy Wonka Jr.


Roald Dahl's timeless story of the world-famous candy man and his quest to find an heir is a golden ticket to adventure.
6/25

Ensemble Performing Arts Studio
Norwood

Shrek The Musical Jr


Beauty is in the eye of the ogre in Shrek The Musical JR., based on the Oscar-winning DreamWorks Animation film and fantastic Broadway musical. It's
6/25

On Stage Theater Workshop
Whitman

Ain't Misbehavin'


Greater Boston Stage Company
6/9 - 6/26/2022

Greater Boston Stage Company
Stoneham

Common Ground Revisited


This riveting and intricately woven world premiere play brings Bostons history to life in the 1960s and 70s, culminating in three families experiences in court-mandated
5/27 - 6/26/2022

Huntington Theatre Company
527 Tremont Street
Boston

Disney's Descendants


Available Spring 2020
6/25 - 6/26/2022

Pembroke Recreation Department
Hanover

Gloria


Visual content only
6/3 - 6/26/2022

Gloucester Stage Company
Gloucester

Into The Woods


Umbrella Center For The Arts
6/24 - 6/26/2022

International Dance Project / Acts
Concord

Next to Normal


Next to Normal is the story of Diana Goodman and her family. Diana has lived with bipolar depressive disorder and delusional episodes for the past
6/17 - 6/26/2022

Studio Theatre Worcester
Salem Covenant Church, 215 Mountain St. E, Worcester, MA 01606
Worcester

Next To Normal


Salem Covenant Church
6/16 - 6/26/2022

Studio Theatre Worcester Inc
Worcester

No Sex Please, We're British


Visual content only
6/16 - 6/26/2022

Little Theatre of Fall River, The
Fal River

No Sex Please, We're British


A young wife's attempt to make some extra money by selling Scandinavian Glasswear goes awry when a box of pornographic postcards shows up instead. Add
6/16 - 6/26/2022

Little Theatre of Fall River, The
Fal River

Something Rotten!


Pike School
6/24 - 6/26/2022

Spotlight Playhouse
Andover

The 25th Annual Putnam County Spelling Bee


North River Theater
6/24 - 6/26/2022

Spotlight Music And Theater Academy
Norwell

The Adding Machine


Mr. Zero is an accountant at a large, faceless company, where, after 25 years at his job, he discovers that he will be replaced by
6/24 - 6/26/2022

Jakespeare Virtual Theatre Com
282 Pleasant St
Marlborough

The Bomb-itty of Errors


4 actors playing multiple characters + a live DJ on stage = a musical, ad-rap-tation of Shakespeares The Comedy of Errors. Quadruplets separated at birth
5/25 - 6/26/2022



PHOTOS

CAST

Actors' Shakespeare Project
442 Bunker Hill Street, Charlestown, MA 02129
Charlestown

The Lightning Thief: The Percy Jackson Musical


Adapted from the best-selling book The Lightning Thief by Rick Riordan and featuring a thrilling original rock score, The Lightning Thief: The Percy Jackson Musical
6/24 - 6/26/2022

Open Door Theater
P. O. Box 2553 Acton, MA 01720
Acton




Back to the Main Page | Browse Local Theatres
---
Latest Boston Reviews
BWW Review: AIN'T MISBEHAVIN' THE FATS WALLER REVUE at Barrington Stage Company
by Marc Savitt - June 20, 2022
To be clear, there is absolutely nothing about this production that is dull, dated, or dusty. The joint is most certainly jumpin' for an evening full of rowdy, raunchy and humorous songs that capture the love longing and zest for life in the 1920's/'30s....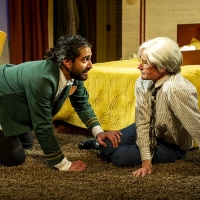 Review: ANDY WARHOL IN IRAN at Barrington Stage Company
by Marc Savitt - June 19, 2022
World premiere presentations like ANDY WARHOL IN IRAN offer Berkshire audiences a special opportunity to experience a work in progress, recognized for their potential. While I won't term this as a must-see; it is most certainly a fine piece, well worth seeing. If not for the creative aspects touche...
BWW Review: THE INHERITANCE at SpeakEasy Stage is a Six and a Half Hour Look at How Our Lives Make a Lasting Impact
by Erik Bailey - June 02, 2022
'He has a story to tell- it is banging around inside him, aching to come out. But how does he begin?' These are the first words the audience of SpeakEasy Stage's production of Matthew López's play THE INHERITANCE. The six-and-a-half-hour play (presented in two parts) explores what it means to write ...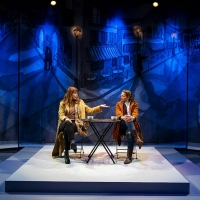 BWW Review: THE APPROACH at Shakespeare & Company
by Marc Savitt - May 24, 2022
What on the surface appears to be a lovely "little Irish play", performed near flawlessly by three talented actors is one of the most powerful and deeply profound pieces of black box theatre I have seen in many years....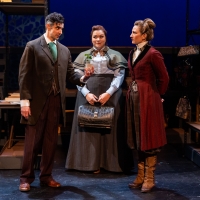 BWW Review: MISS HOLMES RETURNS at Greater Boston Stage Company is a Captivating Twist On One of Literature's Most Well Known Characters
by Erik Bailey - April 24, 2022
Sherlock Holmes is one of literature's most well-known characters. Through the years, many people have tried to adapt Holmes to different time periods and situations. But none that I have come across have done so as successfully as Christopher M. Walsh does in MISS HOLMES RETURNS, now playing at the...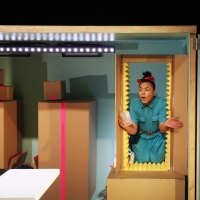 BWW Review: BURGERZ at EMERSON PARAMOUNT CENTER JACKIE LIEBERGOTT BLACK BOX is a Captivating Look at Privilege and our Place in Society
by Erik Bailey - April 18, 2022
The moment we are conceived, society tries to tell us who we are and who we should be. Before we even get the chance to breathe our parents and their doctors determine our gender and how that makes us who we are. But if anyone chooses to break from these norms and live their lives how they so choose...
BWW Review: FREESTYLE LOVE SUPREME at the Emerson Colonial is a Masterclass in Improv
by Erik Bailey - March 30, 2022
Improv comedy is one of the most underappreciated arts forms. It is seen by a lot of people as corny and hard to watch. However, improv is a skill that requires a lot of training in order to be pulled off seamlessly. The cast of FREESTYLE LOVE SUPREME (now playing at the Emerson Colonial Theater unt...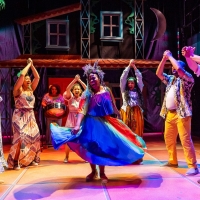 BWW Review: ONCE ON THIS ISLAND at Speakeasy Stage Proves that Love Can Prevail
by Erik Bailey - March 16, 2022
The first and only production of ONCE ON THIS ISLAND I saw was a concert production featuring an all-white cast. So, when I heard that Speakeasy Stage would be producing the show, I was excited to be able to see how it is meant to be performed. This production, directed by Pascale Florestral and mus...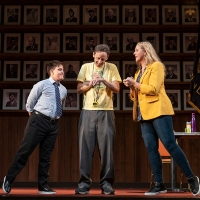 BWW Review: WHAT THE CONSTITUTION MEANS TO ME at Emerson Cutler Majestic is an Informative and Entertaining Look at the Constitution in Today's America
by Erik Bailey - March 06, 2022
Right now, in this country and across the Globe, democracy is in danger. The US Constitution was written many years ago by a bunch of white men who didn't know what the country and the world would be in the future. WHAT THE CONSTITUTION MEANS TO ME by Heidi Schreck, examines what the Constitution me...
BWW Review: THE BOOK OF WILL at Lyric Stage Company of Boston is a Fun Night out at the Theatre
by Erik Bailey - March 06, 2022
William Shakespeare no doubt changed the world of theatre and helped to shape it into the art form that it is today. In his short fifty-two years of life, he wrote at least thirty-seven plays and collaborated on more. Without the work of two of his friends, those plays could have been long lost and ...