SHOW
DATES
THEATRE
HOT PICK


Beautiful- The Carole King Musical


The inspiring true story of one woman's remarkable journey from teenage songwriter to the Rock & Roll Hall of Fame. From the string of pop
9/15 - 10/30/2022

Ogunquit Playhouse
10 Main St
Ogunquit

On Golden Pond


This is the love story of Ethel and Norman Thayer, who are returning to their summer home on Golden Pond. He is a retired professor,
9/2 - 9/24/2022

Theatre Workshop of Nantucket
62 Centre Street
Nantucket

Roald Dahl's Matilda The Musical


A joyous girl power romp! This is the story of an extraordinary girl who, armed with a vivid imagination and a sharp mind, dares to
9/16 - 9/24/2022

Sterling Community Theatre
Sterling

The Boy Who Grew Flowers


Treehouse Shakers The Boy Who Grew FlowersBased on the Barefoot Books Picture Book By Jen WojtowiczPlay Adaption by Mara McEwinThe Boy Who Grew Flowers is
9/22 - 9/24/2022

The Umbrella Arts Center
40 Stow Street
Concord

The Fantasticks

9/7 - 9/24/2022

Cape Playhouse
820 Route 6A
Dennis

Twilight: Los Angeles, 1992


As necessary now as when Los Angeles was actively smoldering, (The New York Times), Twilight: Los Angeles, 1992 is a stirring cry for reform.Thirty years
8/28 - 9/24/2022

American Repertory Theater
64 Brattle Street
Cambridge

American Premiere of Rachmaninoff's Trilogy of Operas


Hailed by The New York Times as one of the nations most intriguing opera companies, Odyssey Opera returns to live performance with TROIKA, a concert
9/25

NEC's Jordan Hall
30 Gainsborough Street
Boston

Cat on a Hot Tin Roof


Visual content only
9/22 - 9/25/2022

Provincetown Tennessee Williams Theater Festival
Provincetown

Company

9/23 - 9/25/2022

Swansea Grange
Swansea

Game of Tiaras (one-act): Stay-At-Home Edition


Don Zolidis
9/24 - 9/25/2022

Jakespeare Virtual Theatre Company
Marlborough

A Streetcar Named Desire


Visual content only
9/18 - 9/26/2022

Provincetown Tennessee Williams Theater Festival
Provincetown

Vieux Carré


Tennessee Williams; dir: George Judy.
9/18 - 9/26/2022

Provincetown Tennessee Williams Theater Festival
Provincetown

"Tinseltown Inventor™: Hedy Lamarr


On Tuesday September 27, 2022, at 7:30 pm ET (UUTC-5) welwelcome Tinseltown Inventor: The Most Beautiful Woman in the World, Hedy Lamarr.™ Upon hearing the
9/27

History At Play™, LLC
7 Avenue De Lafayette
Boston

Piff the Magic Dragon and Puddles Pity Party


Piff the Magic Dragon, accompanied by his sidekick Mr. Piffles, the worlds only magic performing chihuahua, has won several Best of Las Vegas awards for
9/28

The Hanover Theatre and Conservatory for the Performing Arts
2 Southbridge Street
Worcester

Mr. Wolf by Rajiv Joseph


When 15-year-old Theresa is miraculously returned to her parents after being abducted as a toddler, her family must reconcile the child they lost with the
9/30 - 10/1/2022

Charlestown Working Theater
66 Hanover Street Suite 103, Manchester, NH 03101
Charlestown

Connected, the Musical


Abby Robbins is preparing for the annual culminating show at her skating rink. Her star pair, Gabriella and Derek, have just won a national title.
9/30 - 10/2/2022



CAST

Acting Out Theater Company Inc
Island Street
Lawrence

Iolanthe


This Gilbert and Sullivan operetta is a satirical romp from the fairies of the forest to the House of Lords while misunderstandings abound, and true
9/16 - 10/2/2022

Arlington Friends of the Drama
22 Academy St
Arlington

Little Shop of Horrors


Just in time for the season of spooky happenings, NSMT is unleashing the hysterically campy and delightfully dark modern classic LITTLE SHOP OF HORRORS on
9/20 - 10/2/2022

North Shore Music Theatre
54 Dunham Road
Beverly

Sing Street

8/26 - 10/2/2022

The Huntington



Tootsie


September 29th 2022, 7:30 pmSeptember 30th 2022, 8:00 pmOctober 1st 2022, 2:00 pmOctober 1st 2022, 8:00 pmOctober 2nd 2022, 1:00 pmOctober 2nd 2022, 6:30 pmLaugh-out-loud
9/29 - 10/2/2022

The Hanover Theatre and Conservatory for the Performing Arts
2 Southbridge Street
Worcester

"ŚLASK" TOUR - Around the World in 80 Minutes


The Ensemble is named after the Silesia region (lsk in Polish), and the name of its founder to commemorate his undeniable contribution to the greatness
10/4

The Hanover Theatre and Conservatory for the Performing Arts
2 Southbridge Street
Worcester

Masters of Illusion


Starring the worlds greatest award-winning magicians, this 21st century magic show is unlike anything you have seen before - filled with modern illusions and arts
10/6

The Hanover Theatre for The Performing Arts
2 Southbridge St
Worcester

Heroes of the Fourth Turning


One week after the Charlottesville riots in 2017, four young conservatives gather in a Wyoming backyard to gossip and reminisce. Theyve assembled to honor Gina,
9/9 - 10/8/2022

SpeakEasy Stage Company
527 Tremont St
Boston

Vanya and Sonia and Masha and Spike

9/21 - 10/8/2022

Boston Center For the Arts Blackbox Theatre
6 WINSLOW ST., #2
Boston

Fabulation or, The Re-Education of Undine


Success. Love. Fabulous wardrobe. Undine has it all. Until her husband steals her hard-earned fortune, sending her tumbling down the social ladder. Pregnant and penniless,
9/16 - 10/9/2022

Lyric Stage Company of Boston
140 Clarendon Street, Boston, MA 02116
Boston

Fabulation or, The Re-Education of Undine


Success. Love. Fabulous wardrobe. Undine has it all. Until her husband steals her hard-earned fortune, sending her tumbling down the social ladder. Pregnant and penniless,
9/16 - 10/9/2022

Lyric Stage Boston
140 Clarendon Street, 2nd floor
Boston




Back to the Main Page | Browse Local Theatres
---
Latest Boston Reviews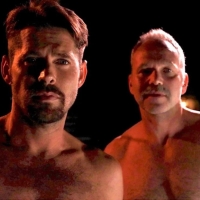 Review: JERKER at The Provincetown Theater
by Michael Rabice - August 31, 2022
What at first sounds like an evening of gratuitous nudity for the pleasure of gay men actually turns into quite the opposite. In one of it's final performances this summer, Robert Chesley's play JERKER proved to be a perfect fit for The Provincetown  Theater's mission of presenting previously unsee...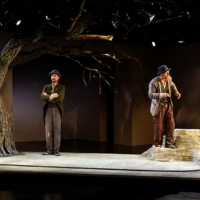 Review: WAITING FOR GODOT at Barrington Stage Company
by Marc Savitt - August 28, 2022
Where most productions paint the duo as downtrodden and rather depressed, here the two main characters are painted with s sense of comedic timing and light-heartedness that almost seems choregraphed. A performance harkening back to some of the greatest comedic duos. The likes of Lewis and Martin, ...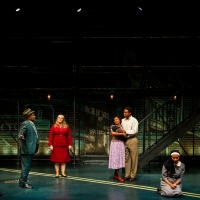 Review: MEASURE FOR MEASURE at Shakespeare & Company
by Marc Savitt - August 22, 2022
Each player has moments of strength, weakness, anguish, despair, all presented well individually. I did not, however, feel as if I were watching a cohesive unit, in their element, weaving a tapestry as their lives intertwine. More that of a group of individuals well skilled at delivering Shakespea...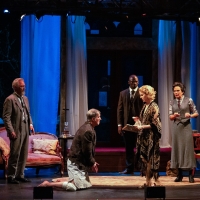 Review: DRACULA at Berkshire Theatre Group
by Marc Savitt - August 21, 2022
As is often the case the BTG production is a high-quality production where seemingly everyone involved has played their role and done their work well. There is, however, one aspect I certainly did not expect. Laughter. At several points throughout the three acts in 2-hours, audience members responde...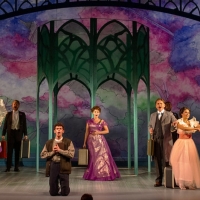 Review: A LITTLE NIGHT MUSIC at Barrington Stage Company
by Marc Savitt - August 14, 2022
There are a few technical glitches that presented themselves to a keen eye, but virtually something for everyone to like.  Overall, BSC's production of ALITTLE NIGHT MUSIC represents another triumph for both Barrington Stage and the woman who has steered the company's successful course for the past...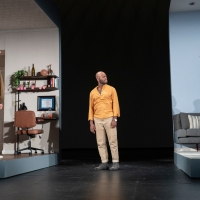 Review: WE ARE CONTINUOUS at Williamstown Theatre Festival
by Marc Savitt - August 07, 2022
Simon and his mother, Ora, have always been close. She's been his champion, his defender, and his friend. But when a life-changing secret comes to light, can their bond survive? 2020 Foeller Fellow Tyler Thomas directs this exquisitely wrought WTF-commissioned play by Harrison David Rivers that expl...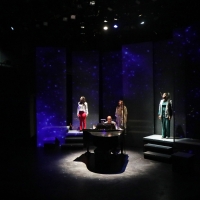 Review: SONGS FOR A NEW WORLD at Berkshire Theatre Group
by Marc Savitt - August 03, 2022
There is not one single word of spoken dialogue. The driving, exquisitely crafted score is brilliant. It draws you in and in most cases, regardless of who might be performing a given piece, you find yourself caught up in the lyrics feeling as if they could be telling your story or at least a good ...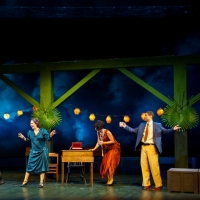 Review: ANNA IN THE TROPICS at Barrington Stage Company
by Marc Savitt - July 24, 2022
ANNA IN THE TROPICS is something like a well curated and presented collection of themes that are both timeless and universal. Coming quite close to the proverbial, perhaps lofty goal of, having something for everyone. One thing we agreed upon is that ANNA IN THE TROPICS is the latest high caliber ...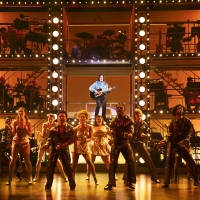 Review: A BEAUTIFUL NOISE at The Emerson Colonial Theatre
by Erik Bailey - July 14, 2022
Biographical jukebox musicals are becoming more and more common. They use a singer and/or songwriter's music to tell that person's life story. The most recent addition to the cannon is A BEAUTIFUL NOISE: THE NEIL DIAMOND MUSICAL (now playing at the Emerson Colonial Theatre until August 7th). ...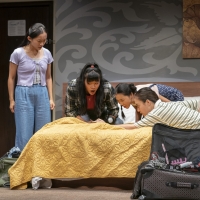 Review: MAN OF GOD at Williamstown Theatre Festival
by Marc Savitt - July 12, 2022
The relevancy to current issues such as Me Too, Feminism, Sexism, Abuse of Power, Patriarchal Systemic Inequality, Masculine Toxicity, My Body – My Rights, See Something – Say Something … abound. Will these dynamic, seemingly "ordinary / normal" young women persist, or give in and conform to the ov...