SHOW
DATES
THEATRE

HOT PICK!





Ceol Agus Craic: A St. Patricks Day Celebration


Ceol Agus Craic: A St. Patrick's Day Celebration Saturday, March 11th, 2023 | 7:30 PM Sunday, March 12th, 2023 | 2:00 PM Reagle Music Theatre's



Concert




3/11 - 2/12/2023

Reagle Music Theatre of Greater Boston
617 Lexington St.
Waltham

A Revolution of Her Own!™


On Thursday, February 9, 2023, at 6:00 pm, the first American female soldier Deborah Sampson fights a REVOLUTION in West Springfield, MA! A Revolution of
2/9

Storrowton Village Museum
7 Avenue de Lafayette
Boston

The Fab Four: The Ultimate Tribute


Join Emmy Award-winning Beatles tribute band The Fab Four: The Ultimate Tribute for an unforgettable night of classic Beatles music! You'll enjoy note-perfect renditions of
2/10

The Cabot
286 Cabot Street
Beverly

Disney's Beauty And The Beast Jr


The Brainy and Beautiful Belle yearns to escape her provincial life...and her brute of a suitor, Gaston. However, Belle gets more adventurous than she wanted
2/10 - 2/11/2023

Bishop Fenwick
Peabody

Into The Woods

2/9 - 2/11/2023

Chapel Hill-chauncy Hall High Schoo
Waltham

The 25th Annual Putnam County Spelling Bee

2/10 - 2/11/2023

Fellowship Hal
25 Columbian St
South Weymouth

The 25th Annual Putnam County Spelling Bee

2/10 - 2/11/2023

Fellowship Hal
25 Columbian St
South Weymouth

Yuki Kanesaka presents Extension of a Man: the music of Donny Hathaway featuring Leon Beal Jr.


Yukihiro Kanesaka and Leon Beal Jr. will headline this music filled theatrical event celebrating love in tribute to one of the most soulful, artistic voices
2/11

The Mosesian Center for the Arts
321 Arsenal St.
Watertown

Made in China 2.0


Pushing theater to the edge has never seemed so easy.Provocative and boundary-erasing director Wang Chong takes audiences on a journey deep inside his personal experiences
2/1 - 2/12/2023

ArtsEmerson - Emerson Paramount Center Jackie Liebergott Black Box
559 Washington St.
Boston

Sister Act Jr.


Shore Middle School
2/10 - 2/12/2023

Common St. Spritiual Center
13 Common St
Natick

Tick Tick Boom!


A musical look at the courage it takes to follow your dreams, strongTICK, TICK... BOOM!/strong is a href="http://mtishows.com/biography.asp?writerid=3622"Jonathan Larson/a's autobiographical tale of a young composer
2/3 - 2/12/2023

Colonial Chorus Players
1249 Main St
Reading

Tick Tick Boom!


A musical look at the courage it takes to follow your dreams, strongTICK, TICK... BOOM!/strong is a href="http://mtishows.com/biography.asp?writerid=3622"Jonathan Larson/a's autobiographical tale of a young composer
2/3 - 2/12/2023

Old Hose House
Reading

Tick Tick Boom!

2/3 - 2/12/2023

Old Hose House
Reading

Yuki Kanesaka presents A Tribute to Roberta Flack featuring Athene Wilson


Yukihiro Kanesaka and Athene Wilson will headline this music filled theatrical event celebrating love in tribute to one of the most soulful, artistic voices of
2/12

The Mosesian Center for the Arts
321 Arsenal St.
Watertown

Mary Poppins Jr


One of the most popular Disney movies of all time is capturing hearts in a whole new way: as a practically perfect musical! Mary Poppins
5/12 - 2/15/2023

Jackson Walnut Park Theatre
Newton

Mary Poppins Jr

5/12 - 2/15/2023

Jackson Walnut Park Theatre
Newton

10-minute Musicals

2/18 - 2/18/2023

Black Box Theatre
Cambridge

10-minute Musicals


Allegheny Clarion Valley High Schoo
2/18 - 2/18/2023

Black Box Theatre
Cambridge

9 To 5, The Musical


9 TO 5: THE MUSICAL is a hilarious story of friendship and revenge in the Rolodex era. 9 TO 5: THE MUSICAL tells the story
2/17 - 2/18/2023

The Bergmann Theater
Byfield

Almost Queen: A Tribute to Queen


Member on sale 11/8 at 10am Public on sale 11/11 at 10am THE most authentic QUEEN live show since the days of QUEEN themselves. A
2/18

The Hanover Theatre & Conservatory for the Performing Arts
2 Southbridge St, Worcester, MA 01608
Worcester

Godspell-2012 Revised Version


Godspell book by John-Michael Tebelak music & lyrics by Stephen Schwartz conceived & originally directed by John-Michael Tebelak based on The Gospel According to St.
2/17 - 2/18/2023

Lexington Christian Academy
48 Bartlett Ave
Lexington

NEP Concert - Poetic Dances


Ellen Taaffe Zwilich Thank You Notes for Richard Pittman (2022) NEP commission, world premiere Kareem Roustom Ramal (2014) Boston premiere Elijah Daniel Smith Wraith Weight
2/18

New England Conservatory's Jordan Hall
PO Box 231168
Boston

The Addams Family School Edition


Visual content only
2/16 - 2/18/2023

Tabor Academy
232 Front St
Marion

"Diana of LOVE™" featuring LIVE music of Zoë Knight, Sponsored by Winthrop Cultural Council


Diana of Love™ is a multi-disciplinary performance honoring Princess Diana. The tragic death of England's Rose does not overpower the historical impact that Diana Spencer
2/19

Deane Winthrop House

Winthrop

Assassins

2/17 - 2/19/2023

Phillips Academy-tang Theatre
Andover

Company

2/9 - 2/19/2023

College Of The Holy Cross
1 College St
Worcester




Back to the Main Page | Browse Local Theatres
---
Latest Boston Reviews
Review: The Huntington's THE ART OF BURNING Could Use a Bit More Fire
by Erik Bailey - February 03, 2023
The trend of modern plays seems to be that playwrights a trimming down their plays, often to ninety minutes or less. While this brevity can work for many plays, it doesn't work for all. There's only so much a playwright can say or do in ninety minutes and sometimes plays move too quickly and the aud...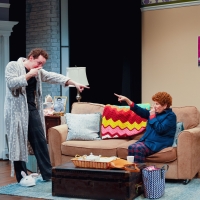 Review: TORCH SONG at Moonbox Productions
by Nancy Grossman - December 08, 2022
What did our critic think of REVIEW: TORCH SONG at Moonbox Productions?...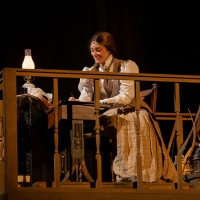 Review: LITTLE WOMEN: THE BROADWAY MUSICAL
by Nancy Grossman - December 01, 2022
Have there ever been such devoted sisters as the four March girls, birthed by Louisa May Alcott in her postbellum semi-autobiographical novel LITTLE WOMEN? Director Ilyse Robbins shows her abiding affection for the story with her devotion to its heart and soul on display in the production of the 200...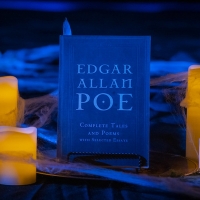 REVIEW: THE EDGAR ALLAN POE DOUBLEHEADER
by Nancy Grossman - October 28, 2022
If you have yet to reach your fright limit for the Halloween season, you still have two chances to experience chills of the dramatic variety at THT Rep at the BrickBox Theater in Worcester. Reprising the production she created for small, socially-distanced audiences of 20 in the early days of the pa...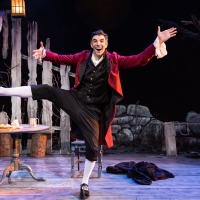 REVIEW: THE LEGEND OF SLEEPY HOLLOW
by Nancy Grossman - October 26, 2022
Two hundred years after Washington Irving introduced the little hamlet of Sleepy Hollow and its superstitious denizens to the canon of American literature, the legend remains among the most enduring of stories that capture the imagination of adults and children alike, inspire questions about the sup...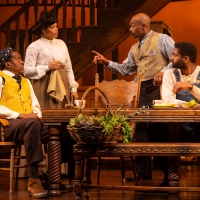 Review: AUGUST WILSON'S JOE TURNER'S COME AND GONE
by Nancy Grossman - October 22, 2022
JOE TURNER'S COME AND GONE was the first Wilson play produced at the Huntington in 1986, the beginning of a 19-year relationship that saw all ten of his American Century Cycle plays chronicling the African American experience in the 20th century performed on the local stage....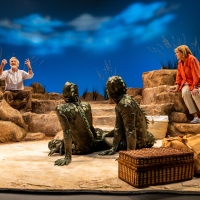 Review: SEASCAPES at Berkshire Theatre Group
by Marc Savitt - October 03, 2022
Typically, I don't care much for works that fall into the realm of existentialism, theatre of the absurd, and the like. SEASCAPE, however, is different. Perhaps because it is primarily focused on interpersonal communication. Also, the characters, for the most part are dynamic, interesting, and rathe...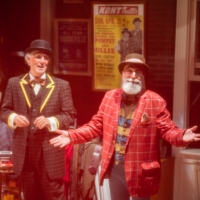 Review: GOLDEN LEAF RAGTIME BLUES at Shakespeare & Company
by Marc Savitt - September 29, 2022
GOLDEN LEAF RAGTIME BLUES does provide a pleasant hour and 20 minutes of pleasant entertainment free of politics, angst and the chance to sit back and relax, and focus on something completely different for a bit which most of us can use and appreciate these days....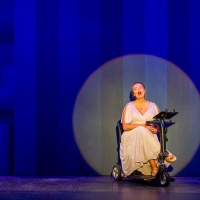 Review: ALL OF ME at Barrington Stage Company
by Marc Savitt - September 27, 2022
ALL OF ME is all kinds of good. Not good for a show about a particular group or type of people, it's just good. There is some aspect that should fit or tickle the funny bone for just about everyone. So, as the song with the same title asks: why not take ALL OF ME?...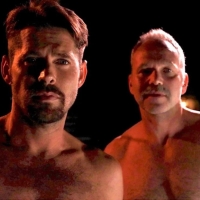 Review: JERKER at The Provincetown Theater
by Michael Rabice - August 31, 2022
What at first sounds like an evening of gratuitous nudity for the pleasure of gay men actually turns into quite the opposite. In one of it's final performances this summer, Robert Chesley's play JERKER proved to be a perfect fit for The Provincetown  Theater's mission of presenting previously unsee...