Provincetown Theater Announces Cast For Spring Opener, YOU CAN'T TAKE IT WITH YOU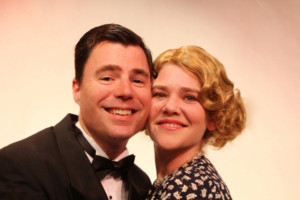 "I can't think of a better way to kick the spring into high gear on Cape Cod this year than letting Kaufman & Hart's classic romp bounce us into the summer," says Provincetown Theater artistic director David Drake of their spring opener, "You Can't Take It with You."
Since its Broadway debut in 1936, You Can't Take It with You has become one of the most popular and produced plays in American history. As its opening show to the 2018 season, the Pulitzer Prize -winning comedy will run at the Provincetown Theater, 238 Bradford Street, in Provincetown, MA from May 17th thru June 2nd. Performances are Thursdays thru Saturdays at 7pm, with Sunday matinees at 2pm.
The final weekend of the production will feature a two-performance day on Saturday, June 2nd, with a matinee at 2pm and evening performance at 7pm. Tickets are $25, and can be purchased online by visiting provincetowntheater.org. Tickets may also be acquired at the Provincetown Theater Box Office, weekdays starting at 1pm. OR during the run of the play, tickets may also be purchased at our new Downtown Community Box Office, 230 Commercial Street in Provincetown. For more information, please call 508.487.7487.
A true classic, this zany screwball comedy unfurls under the bohemian roof of Grandpa Vanderhof's creatively eccentric family - hopping with writers, painters, ballet dancers, xylophone players, caged snakes, a Russian duchess who lives to bake blintzes, and a basement full of firecrackers. When love blooms between Vanderhof's pretty granddaughter and the handsome son of an uptight, conservative Wall Street banker, the collision of their two worlds explodes into laughter! A show for the whole family. (Including pet snakes.)
The Provincetown Theater production of You Can't Take It with You stars (in alphabetical order): John Anderson, Christopher Brooke, Michael Burke, Laura Cappello, Tim Famulare, Paul E. Halley, Dian Hamilton, Beau Jackett, *Jane MacDonald, Lisa-Marie Nowakowski, Tim Richmond, Fermin Rojas, Julia Salinger, Glenn Starner-Tate, James H. Swindler, Sallie Tighe, and Dawn Walsh. *Appears courtesy of Actors Equity Association.
Directed by David Drake, the production team includes Scenic Design by Ellen Rousseau, Costume Design by Carol Sherry, and Lighting Design by Chris Page.
With a legacy rooted in the original Provincetown Players of 1916, the Provincetown Theater is owned and managed by the Provincetown Theater Foundation (PTF). Sponsorship for the 2018 season is due, in large part, to the generous support of the Provincetown Tourism Fund, the Schoolman Trust, and the Palette Fund.
More Hot Stories For You