Photo Flash: OUT OF THE MOUTHS OF BABES Opens at Gloucester Stage for Limited Run
Gloucester Stage Company continues its 38th season of professional theater on Cape Ann with Israel Horovitz's latest comedy, Out of the Mouths of Babes from August 11 through September 2 at 267 East Main Street, Gloucester, MA. Four women arrive in Paris for the funeral of the 100-year-old man who loved each of them---at times variously, at times simultaneously. For 24 hours they share his apartment, delicious secrets and a dead cat in this Horovitz New England premiere. Directed by the author, the GSC production features GSC favorite, Lynn native Paula Plum as Evvie, and three actresses in their GSC debut: Debra Wise as Evelyn; Sarah Hickler as Janice and Obehi Janice as Marie-Belle. Out of the Mouths of Babes comes to Gloucester Stage after a sell-out run in NYC last summer, and is currently en route to its premiere in London's West End.
Out of the Mouths of Babes author and director Israel Horovitz's plays have been translated and performed in more than 30 languages, worldwide. During the run of Out of the Mouths of Babes, as part of GSC'sNeverDark series Horovitz will direct New Shorts, an evening of staged readings of his newest short plays. Horovitz's New Shorts are Tuesday, August 22 at 7:30 pm. Last season Horovitz brought Gloucester Stage audiences the world premiere of Man in Snow prior to the play's New York premiere. Man in Snow received an Independent Reviewers of New England (IRNE) Award for Best Play. Horovitz's 70+ plays include Line(now in 39th year of continuous performance, off-Broadway, at 13th St. Repertory Theatre), The Indian Wants The Bronx, Rats, Morning, The Primary English Class, The Wakefield Plays, The Widow's Blind Date,Today I Am A Fountain Pen, Park Your Car In Harvard Yard, North Shore Fish, Fighting Over Beverley, Lebensraum, My Old Lady, Free Gift, Cat-Lady, Stations of the Cross, One Under, 50 Years of Caddieing,Speaking Well of the Dead, Unexpected Tenderness, Fast Hands, Security, A Mother's Love, Sins of the Mother, 6 Hotels (including The Audition Play, Fiddleheads and Lovers, Speaking of Tushy, 2nd Violin,Beirut Rocks, and The Hotel Play), Compromise, The Secret of Mme. Bonnard's Bath, The Vote in Orange, The P Word, The Bump, Virtual Alex, and Gloucester Blue. Horovitz's play My Old Lady is in the repertory of The Moscow Art Theatre. Horovitz's screenplays include Author! Author!, The Strawberry Statement (Prix du Jury, Cannes Film Festival), Sunshine (European Academy Award - Best Screenplay),New York, I Love You, and EMMY and Golden Globe-nominated James Dean. Horovitz wrote, directed and performed the award-winning documentary 3 Weeks After Paradise. Awards include the OBIE (twice), the Prix de Plaisir du Théâtre, The Prix Italia (for radio plays), The Sony Radio Academy Award (for Man In Snow), The Writers Guild of Canada Best Screenwriter Award, The Christopher Award, The Drama Desk Award, an Award in Literature of the American Academy of Arts and Letters, The Elliot Norton Prize, a Lifetime Achievement Award from B'Nai Brith, The Literature Prize of Washington College, an honorary Doctorate in Humane Letters from Salem (Massachusetts) State College, Boston Public Library's Literary Lights Award, The Walker Hancock Prize, and many others.
Horovitz is Founding Artistic Director of Gloucester Stage Company, and is active Artistic Director of The New York Playwrights Lab. He teaches a master class in screenwriting at Columbia University and La Fèmis, France's national film school, and a playwriting master class at University of St. Andrews, Scotland.
Horovitz visits France, frequently, where he often directs French-language productions of his plays. He is the most-produced American playwright in French theatre history, and has recently been decorated asCommandeur de l'Ordre des Arts et des Lettres, France's highest honor for foreign artists. His memoires Un New-Yorkais a Paris have recently been published in France by Grasset. He also works frequently in Italy, where he is co-Artistic Director of Compagnia Horovitz-Paciotto. The 70/70 Horovitz Project, created by NYC's Barefoot Theatre, began on Horovitz's 70th birthday. During the year between 31 March 2009 and 31 March 2010, 70 of Horovitz's plays were given productions and/or readings by theatres in more than 20 countries around the globe.
Lynn native award winning actress Paula Plum was last seen on the GSC stage in 2014's Auld Lang Syne opposite her husband Richard Snee. For the past two season Ms. Plum has been directing at GSC: 2015's Out ofSterno and 2016's The Last Schwartz. Ms. Plum is the recipient of five IRNE awards, the 2007 Eliot Norton Award for Best Actress, the 2004 Eliot Norton Award for Sustained Excellence, and the 2003 Distinguished Alumni Award from Boston University. In 2009 she was one of five actors nation-wide to receive the Fox Actor Fellowship in association with SpeakEasy Stage. As a founding member of The Actors' Shakespeare Project she has played Cleopatra, Beatrice, Lady Macbeth, Touchstone, and Phedre. At the Lyric Stage she has appeared in Dial M For Murder, 33 Variations, Private Lives, The Goat or Who is Sylvia?, Miss Witherspoon, Death of A Salesman, Three Tall Women and Who's Afraid of Virginia Woolf? She was Artist in Residence at SpeakEasy Stage from 2010 through 2013 and conducted workshops in Mask and "Handling The Hot Moments, How Actors Negotiate Intimacy Onstage" and authored the biographical play What Lips My Lips Have Kissed based on the life of poetess Edna St. Vincent Millay. She has appeared regionally at the Gloucester Stage Company, The American Repertory Theatre, the New Repertory Theatre, the Huntington Theatre, and Elm Shakespeare. Her film credits include: Mermaids, Malice, Next Stop Wonderland, and Irrational Man directed by Woody Allen. On television her credits include: three seasons of Science Court on ABC; co-creator and star of FX's The Dick & Paula Celebrity Special and three feature films for the Lifetime Channel. Ms. Plum is a cum laude graduate of Boston University and has studied at the London Academy of Music and Dramatic Art, the Dell'Arte Institute, and Ecole Phillipe Gaulier, Paris. She has been published in American Theatre magazine.
Debra Wise is the Artistic Director of Underground Railway Theater, in-residence at Central Square Theater, Cambridge. During URT's decades as a touring company (1979-2008), she helped create over 30 new works, and toured them nationally and internationally to venues ranging from Lincoln Center to public schools; titles included Sanctuary - The Spirit of Harriet Tubman, Home is Where, InTOXICating and The Christopher Columbus Follies. She led URT collaborations with Boston Symphony Orchestra (Firebird, Creation of the World, Tempest), Boston's Museum of Science: Aging Puzzle, New Center for Arts and Culture: Jewish Women and Their Salons, the Mary Baker Eddy Library, the MFA and the ICA (Art InterACTions), and the Cambridge Arts Council (theater in dialogue with public art). Since creating Central Square Theater with The Nora Theatre Company, she co-founded Catalyst Collaborative @ MIT (CST's unique science theater partnership with MIT), and led partnerships with Mount Auburn Cemetery (Our Town) and the National Park Service (Roots of Liberty - The Haitian Revolution and the American Civil War, performed with over 50 performers and guest artists Danny Glover and Edwidge Danticat). URT has won two Elliott Norton awards under Wise's leadership; The Convert (Outstanding Production) and Bedlam's St. Joan (Best Visiting Production). Recent acting projects included Homebody (a monologue by Tony Kushner) and The Midvale High School Fiftieth Reunion (by Alan Brody). Other appearances on the CST stage include Copenhagen, Mr g, Brundibar, The Other Place, Distracted, The How and the Why, Einstein's Dreams, From Orchids to Octopi: An Evolutionary Love Story,?Yesterday Happened: Remembering H.M., Breaking the Code, Arabian Nights and A Christmas Memory. Acting on other Boston stages has included Mistero Buffo (Boston Poet's Theatre); A Boston Marriage and Orson's Shadow (New Rep), Brooklyn Boy (Speakeasy), and Chosen Child (Boston Playwrights Theatre); in NYC, The Haggadah (The Public, with Julie Taymor). Ms. Wise has been nominated for outstanding performances by both the Elliot Norton Awards and the Independent Reviewers of NE. Her work as a playwright includes States of Grace, inspired by the stories, poems and essays of Grace Paley; and Alice's Adventures Underground, based on the works of Lewis Carroll. She collaborates each summer with Harvard's Project Zero, training educators on using theater to help students think more deeply across the curriculum.
Sarah Hickler's credits include The Gift (Mercury Theater, U.K.), The Mysteries (Shakespeare & Co./Revels), The Tempest (Boston Theater Works), Café Corvido (Boston Playwright's Theater), Harmonious Proportions (Women OnTop Theater Festival), Elegy (Institute of Contemporary Art), and as a principle performer in DibbleDance Theater in ten seasons at Shakespeare & Co. She performs regularly with the International Action Theater Ensemble, and has collaborated and performed original work presented throughout New England, and at Lincoln Center Out of Doors Festival and Theaterlab in NYC. Ms. Hickler has been choreographer/movement director on productions for Huntington Theater, Nora Theater, Gloucester Stage, Merrimack Rep, Theater Offensive, Boston Theater Works, Southwest Shakespeare Co., and was a resident artist for three seasons with the Los Angeles Women's Shakespeare Company, and one season with Actor's Shakespeare Project. She has directed productions for Sun Valley Shakespeare Festival, Sedona Shakespeare, MIT Shakespeare Ensemble and Emerson Stage. She has trained actors and theatre educators in graduate and undergraduate programs at such institutions as Brandeis University, Boston University, Boston Conservatory, and Shakespeare & Co., and is currently the Head of Acting and an Associate Professor at Emerson College in Boston.
Obehi Janice is an award-winning actress, writer and comedian. A graduate of Georgetown University, she was named "Boston's Best Actress" by The Improper Bostonian in 2014. Her comedic short, BLACK GIRL YOGA, won the Reel 13/AfroPunk Film Competition (WNET/New York Public Media). A leader in the millennial renaissance of socio-political arts and culture, Ms. Janice works extensively on stage, screen and as a voice actress in video games, radio, and commercials. Recent stage credits include The Gift Horse (New Repertory Theatre), Love's Labour's Lost (Commonwealth Shakespeare Company), We're Gonna Die(Company One Theatre/American Repertory Theater; IRNE Award, Best Solo Performance), An Octoroon (Company One Theatre/ArtsEmerson), Mr g (Underground Railway Theater) and her solo show FUFU & OREOS (Bridge Repertory Theater). As a comedian and storyteller, she has been featured on You're the Expert, Story Collider and The Moth. Her potent writing has been featured in Kinfolks: a journal of Black expression. Ms. Janice also works as a director and producer. A gifted public speaker, she enjoys sharing her thoughts on faith, identity, creativity and mental health. She has garnered esteem and recognition fromAmerican Theatre Magazine, Bustle, WBUR, DigBoston, For Harriet, and The Boston Globe. She is a Luminary Artist at the Isabella Stewart Gardner Museum and the recipient of a TCG Fox Foundation Resident Actor Fellowship. Most recently, her full-length play, Ole White Sugah Daddy, received a developmental workshop and staged reading at Speakeasy Stage Company.
Israel Horovitz's Out of the Mouths of Babes, runs from August 11 through September 2 at Gloucester Stage. Performances are Wednesday through Saturday at 7:30 pm; Saturday and Sunday at 2:00 pm with a special Tuesday evening performance on Tuesday, August 29 at 7:30 pm. Following the 2 pm performances on Sunday, August 20 and Sunday, August 27 audiences are invited to free post-show discussions with the artists from Out of the Mouths of Babes. Single ticket prices are $32 to $42 with discounts available for Preview Performances, Cape Ann Residents, Senior Citizens and Patrons 25 years old and under. In addition to regular reserved tickets, Pay What You Wish tickets are available for the Saturday, August 12 matinee at 2 pm. Pay What You Wish tickets can only be purchased day of show at the door. All performances are held at 267 East Main Street, Gloucester, MA. For more information about Gloucester Stage, or to purchase tickets, call the Box Office at 978-281-4433 or visit www.gloucesterstage.com.
Photo credit: Gary Ng


Paula Plum and Debra Wise

Cast

Obehi Janice; Standing: Debra Wise, Paula Plum, and Sarah Hickler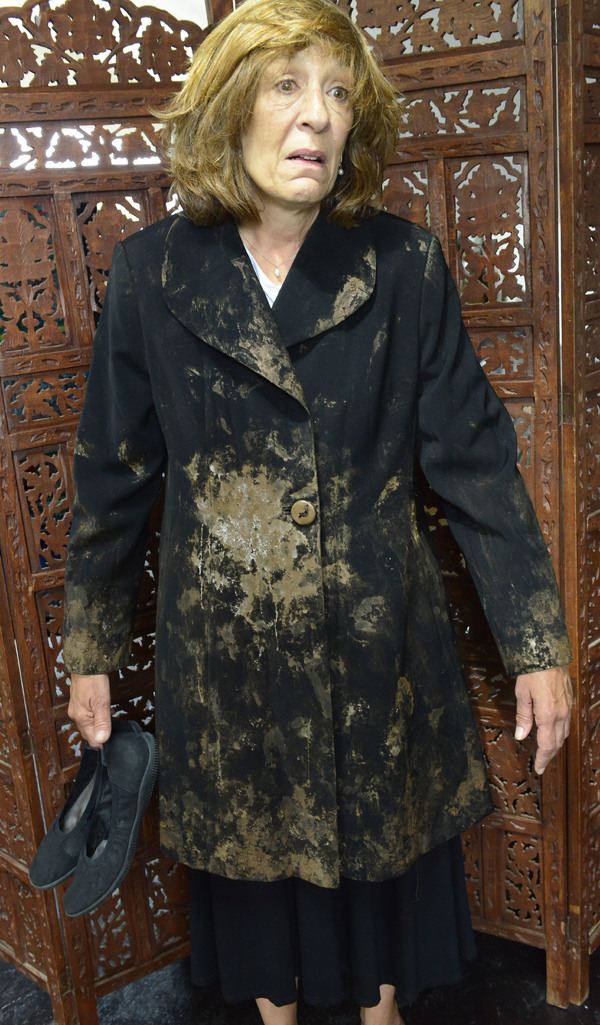 Sarah Hickler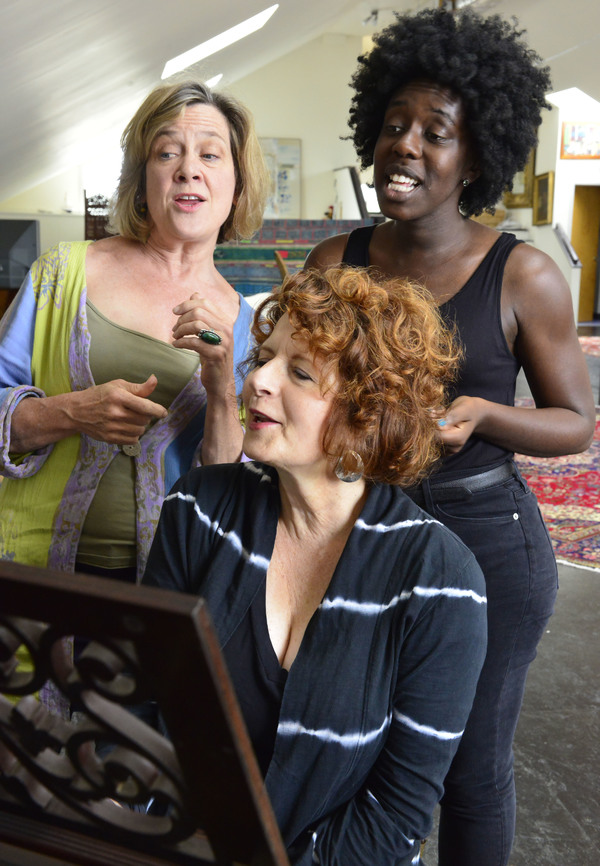 Debra Wise, Paula Plum, and Obehi Janice

Obehi Janice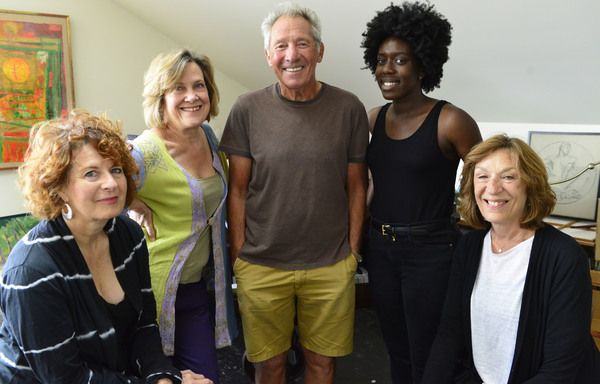 Paula Plum, Debra Wise, Author and Director Israel Horovitz; Obehi Janice & Sarah Hickler
Related Articles View More Boston

Stories

Shows
More Hot Stories For You