BWW Review: EXTRAORDINARY: Celebrating 10 Years of Musical Theater at A.R.T.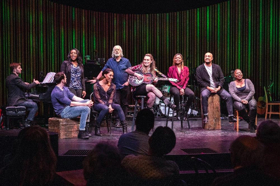 ExtraOrdinary
Celebrating 10 Years of Musical Theater
Written by Dick Scanlan (Based on interviews with the Company); Choreography by Abbey O'Brien; Music Director, Special Orchestrations & Arrangements by Lance Horne; Directed by Diane Paulus; Scenic Design, Jason Sherwood; Costume Design, Emilio Sosa; Lighting & Projection Design, Jeanette Oi-Suk Yew; Sound Design, Jonathan Deans; Associate Director, Nancy Harrington; Production Stage Manager, Julie Baldauff; Assistant Stage Manager, Taylor Brennan
CAST (in alphabetical order): Melody A. Betts, Kathryn Gallagher, Terrence Mann, Brandon Michael Nase, Bryonha Marie Parham, MJ Rodriguez, Matthew James Thomas; Swing, Ashley LaLonde; Special Guests (performing on select dates): Patina Miller, Alicia Hall Moran, Norm Lewis, Rachel Bay Jones, Lea DeLaria
Performances through November 30 by the American Repertory Theater at Loeb Drama Center, 64 Brattle Street, Cambridge, MA; Box Office 617-547-8300 or www.americanrepertorytheater.org
The American Repertory Theater looks very different in 2018 after ten years with Artistic Director Diane Paulus at the helm. She has changed the institution with her vision and creativity, sculpting, in her words, a "legacy of boundary-breaking musical theater." In celebration of the past decade, which has seen 33 musical and music-theater pieces staged at the Loeb Drama Center and Oberon, A.R.T. presents ExtraOrdinary, an original cabaret-style entertainment featuring a company of returning artists and special guests to perform some of the greatest hits from the Paulus canon.
Brought to you by a creative team of (mostly) A.R.T. veterans, Paulus directs her brainchild, with Music Director Lance Horne conducting from his piano perch and providing special orchestrations and arrangements for his onstage band of outstanding musicians (Yair Evnine, guitar/cello; Kate Moss, bass; Janna Graham, percussion; Riley Mulherkar, brass). Book portions of Extraordinary were written by Dick Scanlan, based on interviews with the Company. Tying the disparate musical selections together, the cast members share personal stories of how they relate to the music and what impact musical theater and A.R.T. have had on their lives. Choreographer Abbey O'Brien's work helps them tell their stories, while breaking the fourth wall and sending the actors out to mingle with the audience, some of whom are seated at cabaret tables in the lower section of the orchestra.
With a wealth of material to choose from, Paulus narrowed the list of shows down to a manageable thirteen, although she cleverly found a way to mention all of them in the opening number, a revision of the Prologue that sets the stage for Natasha, Pierre & The Great Comet of 1812. Songs from a pair of blockbusters get the audience's attention right out of the gate, as Matthew James Thomas easily slides back into the title character of Pippin ("Corner of the Sky") and Bryonha Marie Parham (The Gershwins' Porgy and Bess) gives a jaw-dropping rendition of "Summertime," followed by a jazzy instrumental refrain featuring Mulherkar's incredible trumpet front and center. Fellow Pippin alum Terrence Mann and Parham are lovely together in a duet of "Falling Slowly" (Once), and he later shows his versatility accompanying himself and Melody A. Betts on piano. His attempted comic gambit as Captain Hook falls flat and goes on too long, and there are better songs from Finding Neverland that were ignored.
Each of the cast members is given a chance to shine individually. Betts, who speaks of growing up in the church, displays her strong, inspirational belt in the gospel-tinged "Bela Musana" (Witness Uganda). Brandon Michael Nase, powerfully impressive in The Black Clown, and MJ Rodriguez, a self-actualized star (Pose on FX), give voice to a pair of songs from Prometheus Bound that are even more resonant today than when the show played at Oberon in 2011. Kathryn Gallagher (Jagged Little Pill) straps on a guitar to lead the Company in "This Land Is Your Land," a selection from Woody Sez: The Life and Music of Woody Guthrie that is a fine example of a protest song that is still relevant. It suits Gallagher's voice and style, more so than her interpretation of "Maybe This Time" (Cabaret) in the second act.
Throughout the run of ExtraOrdinary, there will be a series of featured guests joining the ensemble of seven. Nase was giddy and gushing as he had the distinct pleasure of introducing the opening weekend guest, 2013 Tony Award-winner Patina Miller ("Leading Player" in Pippin), and her entrance exuded confidence and star quality. With composer/lyricist Stephen Schwartz looking on in the audience, Miller reprised "Simple Joys" and talked about the ways Pippin changed her life. Later, she and Thomas paired up to perform "On the Right Track," replete with some of the original Chet Walker (also in the audience) choreography. If Thomas looked a bit rusty, Miller hasn't lost a step in the intervening years, and they earned a mid-show standing "O!" (The remaining guests for the first week are Alicia Hall Moran, Norm Lewis, Rachel Bay Jones, and Lea DeLaria. Check the A.R.T. website for upcoming performances.)
Paulus' body of work over the past ten years is worthy of celebration, especially for those of us who love musical theater. While the book portion of the show tilts toward self-congratulation, and the narrative relating the personal stories of the cast is sometimes maudlin, the musical numbers and the performances of the Company members are topnotch. It is a bold move to tag a show with the title ExtraOrdinary, but, in the words of another great artist, "It ain't bragging if you can do it." (Dizzy Dean)
Photo credit: Gretjen Helene Photography (The Company of ExtraOrdinary: Lance Horne, Matthew James Thomas, Bryonha Marie Parham, MJ Rodriguez, Terrence Mann, Kathryn Gallagher, Patina Miller, Brandon Michael Nase, Melody A. Betts)