Bollywood-Inspired Adaptation of Mark Twain Comes to Imagination Stage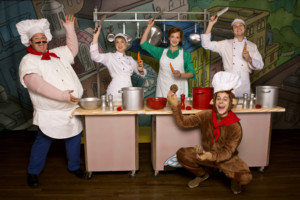 Travel to long-ago India in Imagination Stage's exciting musical production of The Princess & the Pauper - A Bollywood Tale, directed by Artistic Director Janet Stanford. The Princess & the Pauper - A Bollywood Tale, best for ages 5+, runs Feb 10-March 18, 2018 in Imagination Stage's Annette M. and Theodore N. Lerner Family Theatre. Tickets start at $10 and may be purchased online at www.imaginationstage.org, at the Imagination Stage box office, or via phone at 301-280-1660. Group rates are available. To RSVP to Opening Night on Saturday, February 10 at 7:00 p.m., please email press@imaginationstage.org.
"This play was commissioned as part of our ongoing effort to create new works for under-represented members of our community. At Imagination Stage we seek to honor and educate our diverse audience about the heritage of the region's many residents," says Stanford. "Since the Washington area boasts the third largest population of South Asians in the U.S., we are excited to premiere a new play by Anu Yadav which we believe can provide a cultural bridge from past to present; from India to the USA; and from one child to another. This is a fabulous and timeless adventure about finding courage, learning empathy, and ultimately doing the right thing - all told with great humor, a Bollywood beat, and dancing!"
In this Bollywood-inspired musical adaptation of the classic Mark Twain novel, commoners work long hours to support the luxurious lifestyle of the palace royals. Rani, a shy dressmaker's daughter, dreams of ruling the Sultanate with generosity and justice. Meanwhile, a corrupt Wazir plots to steal the throne, and a spoiled Princess Razia longs wistfully for freedom beyond the palace walls. When Razia and Rani meet in the royal mango garden and decide to switch clothes, the drama truly begins. What will the two girls learn about each other's world, and how will they right the terrible inequities that they find all around them?
The decision to use the story of The Prince and the Pauper as a basis for this new work was an easy one. "I wanted to write a feminist story about South Asian girls who learned to trust their minds," says playwright Yadav. "Our world right now is in need of stories that remind us of the power of truth, love, and connection. That's what we will need to resolve our greatest global challenges."
SHOW SCHEDULE · Weekday performances at 10:30 a.m. · Public performances on Saturdays and Sundays at 1:30 p.m. and 4:00 p.m. · Select Saturday performances at 11:00 a.m. · Tickets: $10+; best for ages 5+
SPECIAL OPPORTUNITIES Creative Conversation: Thursday, January 18 at 7:00 p.m. Guests at this special event will be treated to a sneak peek of a scene and music from the show as well as a conversation with the actors, director, playwright, and choreographer. Email cderriennic@imaginationstage.org to RSVP.
Open Captioning performance: Sunday, February 18 at 1:30 p.m. Please call 301-280-1660 for more information and to ensure proper seat location. ASL-interpreted performance: Sunday, March 18 at 4:00 p.m. Please call 301-280-1660 for more information and to ensure proper seat location. LOCATION 4908 Auburn Avenue, Bethesda, MD 20814 Parking: Metered parking in the adjacent public parking garage; parking is FREE on weekends Metro: Red Line/Bethesda Station.
JOIN THE CONVERSATION Facebook.com/ImaginationStage Twitter.com/I_Stage Instagram.com/imaginationstage #IStagePrincess ABOUT IMAGINATION STAGE Founded in 1979, Imagination Stage is a 501(c)(3) organization with a mission to inspire creativity through theatre and arts education programs that nurture, challenge, and empower young people of all abilities. It offers year-round professional theatre for young audiences and classes in creative drama/acting, musical theatre, dance, and filmmaking for ages 1-18.
www.imaginationstage.org.