Click Here for More Articles on REGIONAL - DC Metro Area Maryland
BWW Interview: Labhaoise Magee & Tim Getman of DANCING AT LUGHNASA at Everyman Theatre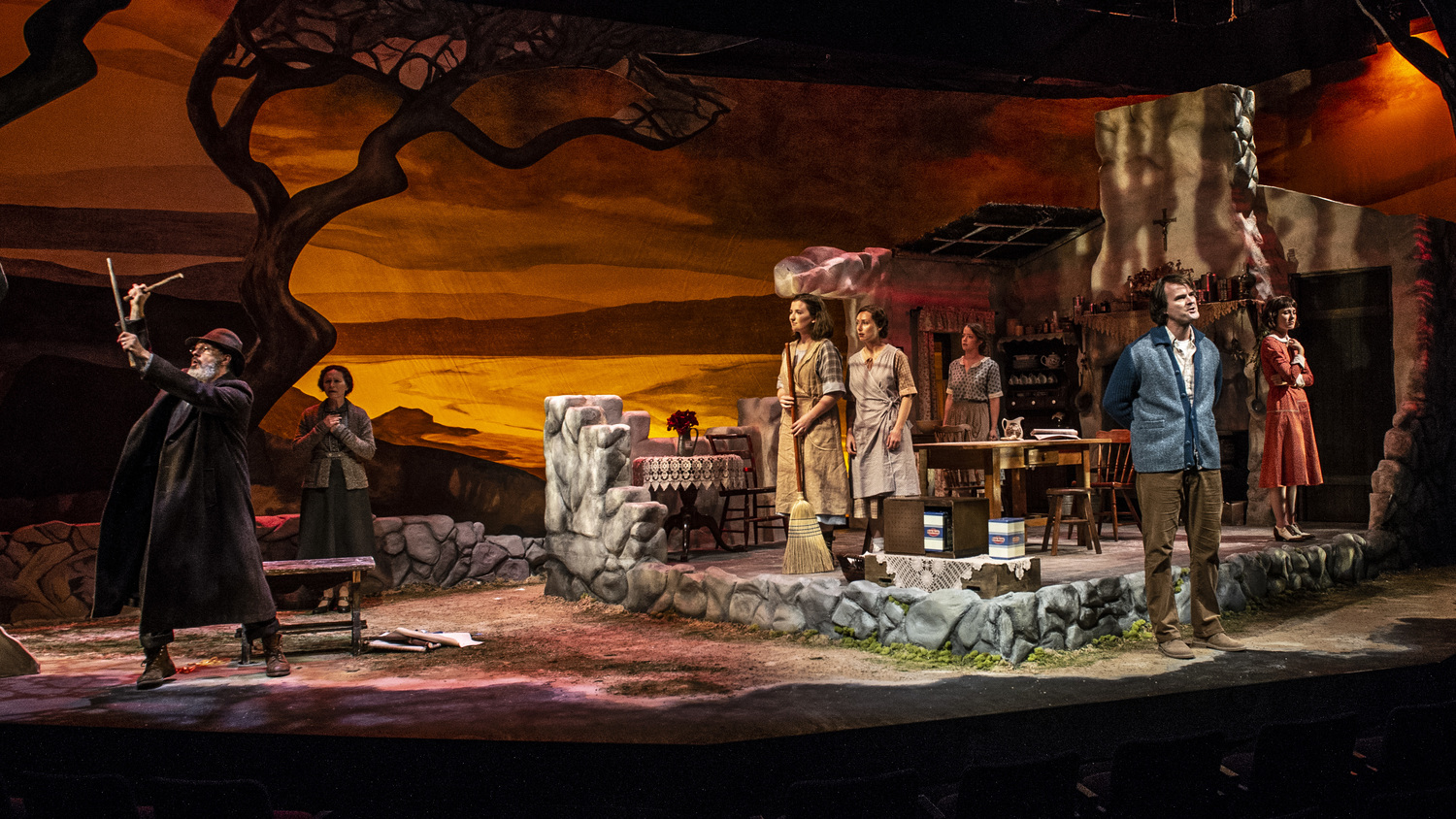 The 2018-2019 season at Everyman Theatre starts this month with the Irish play DANCING AT LUGHNASA. The play written by Brian Friel is set in a small village in Ireland in the 1930s. The story is one of five unmarried sisters and is filled with memories of days gone by. Just before this Tony-award winning play opened on September 4, I had the chance to chat with two of the show's stars. Labhaiose Magee is making her Everyman debut in the role of Rose, while Tim Getman, a member of the Everyman company plays Michael.
As Labhaoise is originally from Ireland, we talked about what brought her to Maryland and Everyman, and her thoughts on starring in an Irish play written by the legendary Friel. Tim Getman on the other hand is originally from the United States, but spent a few years living in Ireland. We spoke about the time he spent in Ireland and just how difficult that beautiful Irish accent is to master.
Labhaoise Magee plays Rose in DANCING AT LUGHNASA
Can you tell me a little about your background? Where are you from originally?
"I was born in Derry, Ireland and grew up fifteen minutes from Baile Beag, Donegal, the setting for our play, DANCING AT LUGHNASA. I'm very proud to be influenced as an artist by the beautiful land and special people of my home in Friel Country along the border counties of Derry/Donegal. I immigrated to America four years ago after receiving a scholarship to attend Sarah Lawrence College in Bronxville, NY. I graduated in May 2017 and have been living in Manhattan ever since."
What drew you to Baltimore and Everyman Theatre?
"I had never been to Baltimore before starting work on the play. I reached out to Noah Himmelstein at Everyman after seeing that they were opening their season with DANCING AT LUGHNASA. In my opinion, Brian Friel is one of the greatest contemporary playwrights to ever live. He is unmatched in his distinct nuance and poetic retelling of my country's turbulent political history. Friel's work elevates Irish voices, claiming space for humanity and humility among the Irish families of these border counties who were and still are erased and overlooked by the continued colonization of modern Northern Ireland. I hope American audiences will consider this brave, semi-autobiographical story that is too often buried by the 'typical' Irish-American narrative, a triumph that ignites conversation and protest. I strongly believe that all theatre is a protest, and Friel is certain on what he has to say."
What have you learned from playing your character, Rose?
"I have learned a lot about love, playing Rose. She is a woman that never gives up on her family and herself. She is light, kindness, magic, wonder and everything good about the innocence of childhood. Friel describes Rose as 'simple', and I've clung to that word throughout rehearsal. Rose looks at the world with a clarity and strength inherent in children, before they are influenced by adults. She exists solely in that heavenly state between absolute freedom and logic, and I've fallen in love with her perspective on life. I think we have a lot to learn from Rose."
What do you think gives this legendary play it's staying power?
"I believe the integrity of Friel's approach to this world is what gives the play its staying power. As a young Irish woman, I can't help but see my aunts and great-aunts in these women. They are hilarious, and their laughter is real and their heartbreaks are real. He is the Irish Chekhov, undoubtedly. He perfectly captures how Irish women have always endured with a dark humor and cool wit that sings to the souls of generations gone and will continue to guide those to come. When I read the play I hear my mother, my grandmother, my sister and I just want to live in that world with them forever. It makes me homesick, but at the same time I've never felt more connected to my family. I'm so lucky that I get to go to work every day and live in this world where we are forced to feel everything to its fullest. It's like being a teenager again and living at home, but wanting to leave, and knowing that I care so bloody much for them all it hurts. There's so much at stake in this world, and we're living in the growing pains of change that all families must suffer. This text will always be relevant, so long as there are families that are willing to die for each other."
What are your plans for after the run? Will you be staying here in the States or heading back to Ireland?
"Following DANCING AT LUGHNASA, I will be returning to New York to work with The Classical Theatre of Harlem's production of ANTIGONE by Sophocles. Starting in December, I will be joining the National Tour of DANIEL TIGER'S NEIGHBORHOOD playing Chrissie, running through June 2019."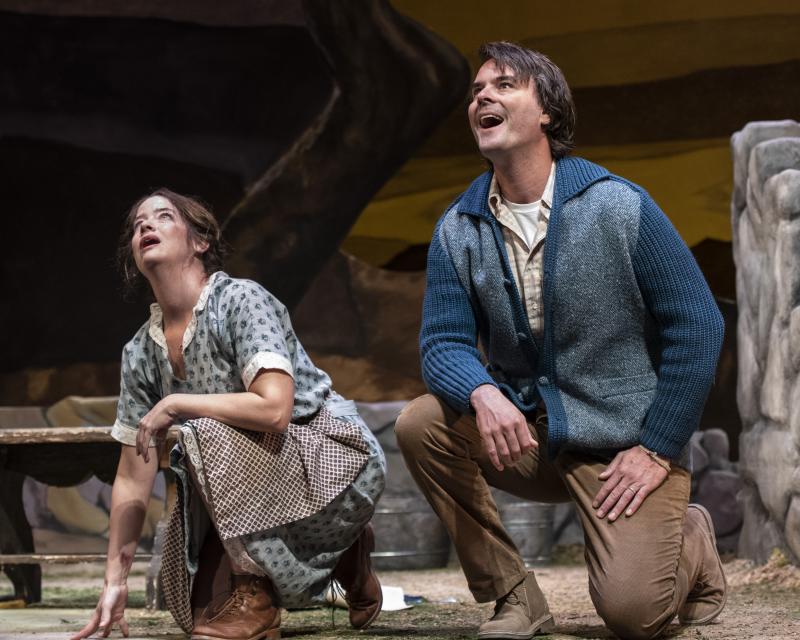 Tim Getman plays Michael in DANCING AT LUGHNASA
I understand you have a personal connection to Ireland. What brought you there?
"I spent my junior year of college there at Trinity College and returned post college for a year to live and study."
Did you work in the theatre while in Ireland? What shows did you work on?
"I did some shows with the Trinity College Players (DR. FAUSTUS, THE CRACKWALKER, and JERUSALEM, an original musical written by my friends at Trinity) My experience with Players was incredible. It taught me invaluable lessons about producing theatre on our own (Players was all student produced) as well as giving me opportunities in varied character work which paved the way for me as a character actor."
How has your time in Ireland prepared you for this role?
"Well I like to think I understand to a certain extent the beautiful balance of joy and sadness in Irish life, culture, and music. Labhaoise can speak to this much better than I can. But I think this play speaks to this as well as any Irish play can. And it's my character (Michael's) journey throughout the play. Acceptance that the world and his family in particular is not visible through a black and white lens, but that it's much more complex and shaded. Friel was challenging the duality of the Catholic Church and Britain's rule over Ireland and how those oppressive forces have damaged a culture and people in very deep ways. He's positing that the pagan in us can be a life affirming and healing piece of who we all are. Despite all of what has happened in Ireland over the centuries, this Celtic heart still beats deeply."
So often the Irish accent is overdone; how difficult is it to master?
"Well I wouldn't say I've mastered it. Labhaoise again has been a great resource for us as she's from the very region this play takes place. Gary Logan our dialect coach was wonderful and totally indispensable on a piece like this. I would say that my ear is more attuned to the regionalities that happen in the Irish accent than most Americans as I travelled all over and spent a lot of time in this region. For a place its size, the variety of accents is unbelievable and this region in particular is especially distinct."
Any tips/tricks you can share?
"Listen. Get your ear adapted to the sounds. Vowel, consonants, musicality. Some actors work with reading it phonetically and sounding it out. I work more like I play and sing music. It's an imitation, a repetition."
What do you think gives this legendary play it's staying power?
"Well I hope it has a staying power. It certainly gets produced a lot. I think that it's very human. As I said before it deals so lyrically and delicately with the nuances and contradictions within us all. The mistake that I think can be made is to produce someone's idea of an Irish pastoral drama. It's more than that. It has muscle and dark shades and pain and comedy. It pushes back against the patriarchy and establishment. It holds up women as the powerful creative forces that they are. But the emotionality is subtle in this play. You can't play it like American drama with a bunch of yelling and emoting. It uses different muscles to playtime. Everything simmers just below the surface. I love it."
DANCING AT LUGHNASA plays through October 7, 2018 at Everyman Theatre. For tickets, purchase online.
Related Articles
Kristen first discovered theater by way of Jesus Christ Superstar in elementary school and fell madly in love with the idea of singing and dancing. (read more...)