Taylor Long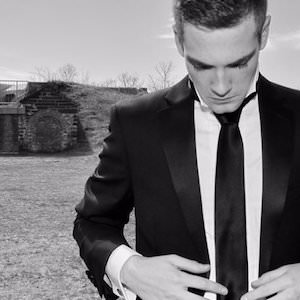 Taylor Long was born and raised on the east coast of Canada in Halifax, NS. Taylor studied opera at Dalhousie University and has performed in various musicals, plays and operas over the past 8 years. Joining BroadwayWorld in April 2017, he is currently the Senior Editor for Toronto.
Writing for BroadwayWorld is a dream job for a theatre nerd. I am beyond grateful that I have the opportunity to experience the incredible talent that Toronto has to offer. I love writing for BroadwayWorld because it gives me a chance to hopefully inspire someone who has never been to the theatre, or never been to an opera or a ballet - to take a chance, and take it in.
Twitter: @taylormlong
MOST POPULAR ARTICLES
LAST 30 DAYS
LAST 365 DAYS
BWW Review: Robert Markus Triumphs in DEAR EVAN HANSEN
Posted: Mar. 30, 2019



BWW Interview: Meet the Hansens of DEAR EVAN HANSEN Toronto
Posted: Mar. 28, 2019


Exclusive Photos! First Day of Rehearsal for Musical Stage Co's NEXT TO NORMAL
Posted: Apr. 3, 2019



FIRST LOOK: Music Video for Soulpepper's ROSE: A NEW MUSICAL
Posted: Nov. 20, 2018



BWW Review: Kids Bring the Rock in SCHOOL OF ROCK at Mirvish
Posted: Dec. 8, 2018


Ravi Jain's PRINCE HAMLET (2017 Review)
Posted: Jan. 17, 2019


BWW Review: Willy Wonka Re-Invented for the 21st Century
Posted: Nov. 23, 2018


BWW TV: Watch the Canadian Cast of COME FROM AWAY Perform 'Welcome to the Rock'

November 30, 2017

The Canadian cast of COME FROM AWAY Performs 'Welcome to the Rock' for the media ahead of their highly anticipated return engagement! Part of the 2017-18 Mirvish Subscription Season, the Canadian production of COME FROM AWAY begins performances February 13, 2018 at the Royal Alexandra Theatre in Toronto, ON.
---
BWW Interview: AJ Bridel Talks Ross Petty's A CHRISTMAS CAROL

November 29, 2017

AJ Bridel (CBC's Over the Rainbow, Mirvish's Kinky Boots) chats about life at the end of the rainbow, and what to expect from her in this year's Ross Petty Production - A CHRISTMAS CAROL - The Family Musical with A SCROOGE LOOSE.
---
TSO's MESSIAH Receives Two 2018 GRAMMY Nominations!

November 28, 2017

The Toronto Symphony Orchestra's recording of Handel's MESSIAH received two 2018 GRAMMY Awards Nominations - Best Choral Performance & Producer of the Year, Classical.
---
Take a Look at Rehearsal Photos of Canadian Stage's HEISENBERG

November 26, 2017

Canadian Stage will present the Canadian premiere of Simon Stephens' critically acclaimed romantic comedy-drama, HEISENBERG. Take a look at photos of the play in rehearsal. Opening for previews November 28 (opening night November 30).
---
BWW Review: The National Ballet's NIJINSKY; The Dancer Trapped in the Man

November 25, 2017

The mind is a fascinating, terrifying and often incomprehensible place. The National Ballet of Canada's production of John Neumeier's NIJINSKY explores the mind through the lens of one of the world's most famous ballet dancers, Vaslav Nijinsky. Neumeier's skilled theatricality encompasses the piece, informing the set, costumes and choreography - creating a work of art that is deliriously captivating.
---
BWW Review: Second City's THE GOOD, THE BAD & THE UGLY SWEATER is a Holiday Must!

November 22, 2017

Everyone loves the holidays, making Second City's holiday show a staple of the season. THE GOOD, THE BAD & THE UGLY SWEATER pokes fun at the cheery period between Remembrance Day and New Year's Day when we stress about gifts, spend too much time with relatives and drink too much liquor at office parties.
---
BWW Review: Gasps All Around at Mirvish's DISGRACED

November 17, 2017

A lesson in what not to say at a dinner party, Mirvish's presentation of Ayad Akhtar's DISGRACED is tense and unsettling. Originally a production from the Hope and Hell Theatre Company, director Robert Ross Parker discusses the play as having 'the power to make us uncomfortable.' Certainly true. As the play dove into controversial discussions of identity politics, gasps were audible all around.
---
BWW Review: Musical Stage Company's UNCOVERED is Unmissable

November 15, 2017

What makes a show unmissable? The perfect combination of smart arrangements performed by an ensemble of artists who are the experts of their instruments. UNCOVERED is all of that. The annual concert, produced by the Musical Stage Company, pays tribute to some of the greatest musicians in the world. This year is no exception - the evening features the music of Bob Dylan and Bruce Springsteen, with music direction, vocal arrangements and orchestrations by Reza Jacobs.
---
BWW Review: GREASE is Not the Word in Toronto's New Production

November 10, 2017

You could escape the cold weather for those 'hot summer nights', but it may not be as warm as you had hoped. GREASE THE MUSICAL takes us all back Rydell High with a newly imagined production by director and choreographer, Josh Prince (Broadway's Beautiful - The Carole King Musical and Shrek - The Musical). A cast of TV leads do their best bringing the beloved show to life, but the performances, especially the singing, fall flat.
---
BWW Review: Soulpepper's THE GOAT OR, WHO IS SYLVIA? Shocks with Gripping Performances

November 9, 2017

'You don't understand,' repeats Martin. You'll have to see it to really understand. Soulpepper presents Edward Albee's shocking Tony Award-winning play, THE GOAT OR, WHO IS SYLVIA? (2002) Featuring an outstanding cast, including Soulpepper's Artistic Director, Albert Schultz, this production is proof that tremendous performances can sell any subject matter - no matter how taboo.
---
BWW Review: Red Sky's Insanely Physical BACKBONE Will Leave You Breathless

November 4, 2017

Exploring the connectedness of everything - BACKBONE, presented by Red Sky Performance in association with Canadian Stage, is a stimulating exhibition of dance.
---
BWW Review: Top 10 Moments from the COC's Ensemble Studio Competition

November 2, 2017

Canada is a country known for its musical talent. The Canadian Opera Company's Ensemble Studio Competition, CENTRE STAGE, showcased a curated selection of that talent last night. The competition auditions singers from across the country and selects a few lucky artists to compete for an invitation to the intensive COC Ensemble Studio training program.
---
BWW Interview: Q&A with National Ballet's Hannah Fischer on THE WINTER'S TALE

November 3, 2017

Hannah Fischer, a First Soloist with the National Ballet of Canada, is taking on the leading role of Hermione in the company's production of Christopher Wheeldon's THE WINTER'S TALE. BroadwayWorld's Taylor Long was lucky to get a few minutes to chat with Fischer about life as a dancer and her role in the production.
---
BWW Review: A Month with FATHER JOHN MISTY

October 29, 2017

Okay, maybe not with Father John Misty. But I did spend a month with his music. Last month, at Massey Hall in Toronto, Father John Misty (FJM) performed to a sold-out crowd of energetic fans. I didn't know what I was getting myself into. His musical style left such an impression on me, I decided to spend some time getting to know it a bit better. FJM's newest album, Pure Comedy strays from melodic, conventional tunes to a land of poetic musical-sermons.
---
BWW Review: Thrilling Vocal Spectacle Distracts From Troubled Book in BAT OUT OF HELL THE MUSICAL

October 28, 2017

'I remember everything!' shouts Strat - a fitting opening to such a nostalgia-stirring show. BAT OUT OF HELL THE MUSICAL takes Jim Steinman's epic and beloved music, originally conceived as a musical, and creates, in the Ed Mirvish Theatre, a spectacle unlike anything else.
---
BWW Interview: Getting to Know the Stars of BAT OUT OF HELL THE MUSICAL

October 24, 2017

An electrifying new musical has roared into the Ed Mirvish Theatre. BAT OUT OF HELL THE MUSICAL, based on Jim Steinman's critically acclaimed album, became one of the best-selling albums in history. Broadway World's Taylor Long sat down with four of the show's leads, Rob Fowler (Falco), Sharon Sexton (Sloane), Andrew Polec (Strat) and Christina Bennington (Raven) to talk about the journey of getting cast, rehearsing and bringing BAT OUT OF HELL THE MUSICAL to Toronto.
---
BWW Review: TSO Honours Maureen Forrester with Howard Shore Premiere and Mahler Favourite

October 20, 2017

One of the greatest Canadian voices in classical music, contralto Maureen Forrester was a legend. The Toronto Symphony Orchestra paid tribute to the beloved singer, in a concert of new works for Mezzo-soprano and one of Forrester's most memorable recital pieces, Mahler's Das Lied von der Erde (The Song of the Earth).
---
BWW Review: Less is More in Ravi Jain's SALT-WATER MOON at Mirvish

October 19, 2017

Pull everything back. Slow everything down. Suddenly you can focus with more intention. This is exactly what Ravi Jain achieves with his Factory Theatre production of David French's SALT-WATER MOON. Presented by Mirvish at its most intimate theatre, the 700-seat Panasonic, the play forgoes props, costumes and set pieces, creating something simply beautiful - a love story between two humans.
---
BWW Review: Mirvish's THE CURIOUS INCIDENT OF THE DOG IN THE NIGHT-TIME is a Surreal Visual Feast

October 16, 2017

Perception-twisting is the best way to describe the effect this play had on me. THE CURIOUS INCIDENT OF THE DOG IN THE NIGHT-TIME, Simon Stephens' Olivier and Tony Award-winning play, based on the novel by Mark Haddon, has finally come to Canada. The National Theatre touring production of Marianne Elliott's ambitious vision is simple yet stunning, emotionally gripping and all-together eye-opening.
---
BWW Review: THE ADVENTURES OF TOM SHADOW is a Fairy Tale Gone Hilariously Awry

October 16, 2017

I was not prepared to laugh that much. Theatre Lab's THE ADVENTURES OF TOM SHADOW could have easily been called Peter Pan Gone Wrong . The musical-comedy takes the familiar story and flips it on its head.
---
4