Taylor Long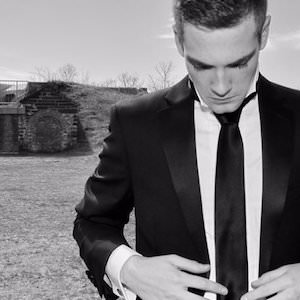 Taylor Long was born and raised on the east coast of Canada in Halifax, NS. Taylor studied opera at Dalhousie University and has performed in various musicals, plays and operas over the past 8 years. Joining BroadwayWorld in April 2017, he is currently the Senior Editor for Toronto.
Writing for BroadwayWorld is a dream job for a theatre nerd. I am beyond grateful that I have the opportunity to experience the incredible talent that Toronto has to offer. I love writing for BroadwayWorld because it gives me a chance to hopefully inspire someone who has never been to the theatre, or never been to an opera or a ballet - to take a chance, and take it in.
Twitter: @taylormlong
MOST POPULAR ARTICLES
LAST 30 DAYS
LAST 365 DAYS
BWW Review: Robert Markus Triumphs in DEAR EVAN HANSEN
Posted: Mar. 30, 2019



BWW Interview: Meet the Hansens of DEAR EVAN HANSEN Toronto
Posted: Mar. 28, 2019


Exclusive Photos! First Day of Rehearsal for Musical Stage Co's NEXT TO NORMAL
Posted: Apr. 3, 2019



BWW Review: Kids Bring the Rock in SCHOOL OF ROCK at Mirvish
Posted: Dec. 8, 2018


Ravi Jain's PRINCE HAMLET (2017 Review)
Posted: Jan. 17, 2019


BWW Feature: Soulpepper Releases Original Cast Recording For Debut Musical ROSE
Posted: May. 30, 2019


BWW Review: New Home, Same COME FROM AWAY
Posted: Feb. 10, 2019


BWW Review: REALITY THEATRE at SummerWorks Panders to the Millennial Attention Span

August 9, 2017

A study by Microsoft in 2015 revealed that the average person's attention span (related to social media) is down to eight seconds - less than that of a goldfish. REALITY THEATRE, written by Julia Lederer and directed by Rebecca Applebaum, satisfies this need for constant change. Part of the SummerWorks Festival, the show features quick, impactful scenes - commenting on evolving technology, diminishing social interaction, the limits of commitment and - time.
---
BWW Review: Marion Abbott Productions' WOMEN OF MUSICAL THEATRE FESTIVAL

August 1, 2017

Toronto's Women of Musical Theatre Festival concluded a week ago today. My conclusion? More please.
---
BWW Review: Shakespeare in High Park Thrills with KING LEAR and TWELFTH NIGHT

July 20, 2017

Some shows are born great, some shows achieve greatness and others have greatness thrust upon them. Presented by Canadian Stage, Shakespeare's KING LEAR and TWELFTH NIGHT are in the hands of a phenomenal group of artists - who thrust greatness on them six nights a week.
---
BWW Review: Design Steals the Show in Soulpepper's VIMY

July 14, 2017

"I've heard the lighting is amazing," a woman whispered to me before the show. Clearly designers Astrid Janson and Andre du Toit are doing something right - Soulpepper's VIMY is a visual feast.
---
BWW Review: Masterful Storytelling in Soulpepper's BILLY BISHOP GOES TO WAR

July 11, 2017

The memory of a fascinating Canadian war hero brought to life by a fascinating Canadian actor. BILLY BISHOP GOES TO WAR is in fine form in Soulpepper Theatre Company's 2017 revival. Aligning with the 150th Birthday of our nation - the musical, written and performed by John MacLachlan Gray and Eric Peterson, is an incredible story of bravery, courage and survival. An intimate reflection - BILLY BISHOP GOES TO WAR reminds us that this is our history. These are our stories.
---
BWW Review: ODYSSEO by Cavalia is a Gorgeous Spectacle

July 9, 2017

A celebration of the majestic unity of man and nature - ODYSSEO is a mammoth of a show. Presented by Cavalia under a 125-foot tall Big White Top, the show features 65 horses of various breeds and 50 versatile artists (horseback riders, acrobats, aerialists, singers and dancers). ODYSSEO is a thrilling experience - and one of the prettiest shows on earth.
---
BWW Review: Empowering Anthems Shine in Mirvish's BEAUTIFUL - THE CAROLE KING MUSICAL

July 6, 2017

Feel the earth move with Chilina Kennedy's powerhouse vocals. Mirvish Productions presents BEAUTIFUL - THE CAROLE KING MUSICAL, with a book by Douglas McGrath and music by Gerry Goffin & Carole King and Barry Mann & Cynthia Weil. The musical follows King's journey - from the sale of her very first song, to her solo performance at Carnegie Hall. Featuring some of the most well-known songs of all time, BEAUTIFUL is a night out at the theatre that promises to have you groovin' in your seat.
---
BWW Review: 4 BY MONK BY 4 at the TD Toronto Jazz Festival

July 5, 2017

Four masters paying tribute to 'the architect'. The 2017 TD Toronto Jazz Festival closed with a concert featuring pianists Kenny Baron, Cyrus Chestnut, Benny Green and Gerald Clayton. 4 BY MONK BY 4 honoured the renown American jazz pianist and composer, Thelonious Monk.
---
BWW Review: HIROMI Duet Featuring EDMAR CASTANEDA at the TD Toronto Jazz Festival

June 30, 2017

Two musicians, engulfed by the spirit of jazz. Presented by the TD Toronto Jazz Festival, Hiromi played the Koerner Hall on Wednesday evening, joined by jazz harpist Edmar Castaneda. A melange of rock, pop, and jazz - the duo proved that the world needs more piano and harp.
---
BWW Review: HARRY POTTER AND THE PHILOSOPHER'S STONE IN CONCERT Will Make You Believe in Magic

June 28, 2017

Has Harry Potter reached cult classic level yet? It certainly seemed to last night. Presented by the Sony Centre for the Performing Arts and Attila Glatz Concert Productions, the Toronto Symphony Orchestra (conducted by Justin Freer) was joined by the Women's Chorus from Amadeus Choir and the Elmer Iseler Singers to present HARRY POTTER AND THE PHILOSOPHER'S STONE IN CONCERT. Performing to an adoring crowd of hardcore fans, the Sony Centre was buzzing with Potter-mania.
---
BWW Review: Decibel-Shattering, Ground-Pounding Applause for CARAVAN PALACE at the TD Toronto Jazz Festival

June 27, 2017

Spell-binding jams that beg you to dance and dance. CARAVAN PALACE 'blew the roof' off of the Phoenix Concert Theatre last night, performing as part of the TD Toronto Jazz Festival. The seven-member virtuosic electro-swing ensemble pushes the boundaries of jazz with an inventive mesh of music - even implementing bass drops for maximum 'danceability'.
---
BWW Review: Opera 5's SUFFRAGETTE

June 23, 2017

Written by women, created by women, performed by women. Featuring two one-act operas by Dame Ethel Smyth, Fete Galante and The Boatswain's Mate, SUFFRAGETTE, presented by Opera 5 is a rare undertaking for classical music - but it shouldn't be.
---
BWW Review: A Sensational Night of Music at the Toronto Symphony Orchestra's CARMINA BURANA

June 22, 2017

The heart-pounding 'O Fortuna' fills the Roy Thomson Hall to the brim with the sound of a full orchestra and over one hundred voices. The Toronto Symphony Orchestra (TSO) presents the finale to their 'Decades Project: 1930-1939', CARMINA BURANA by Carl Orff, featuring the Toronto Mendelssohn Choir, the Toronto Children's Chorus and soloists Aline Kutan (soprano), Daniel Taylor (countertenor) and Phillip Addis (baritone). The evening also featured the world premiere of a TSO-commissioned piece by composer Pierre Simard, The Bastion: Sesquie for Canada's 150th and Karol Szymanowski's Violin Concerto No.2, Op.61 featuring soloist Nicola Benedetti (violin). The triple bill was a grand celebration of orchestral music, bringing the audience to their feet in enthusiastic applause.
---
BWW Preview: HARRY POTTER AND THE PHILOSOPHER'S STONE IN CONCERT with the Toronto Symphony Orchestra

June 20, 2017

Experience the majesty of a live orchestra playing one of the most beloved film scores of all time. Presented by the Sony Centre and Attila Glatz Concert Productions, HARRY POTTER AND THE PHILOSOPHER'S STONE IN CONCERT reinvents the way you experience J.K. Rowling's universe. The first of eight films to be presented in this series, Harry Potter and The Philosopher's Stone will feature the Toronto Symphony Orchestra, the Women's Chorus from the Amadeus Choir and the Elmer Iseler Singers. The evening will be conducted by Justin Freer.
---
BWW Preview: Get Ready for the TD Toronto Jazz Festival

June 19, 2017

Showcasing the very best in jazz this summer, the TD Toronto Jazz Festival runs from June 23rd to July 2nd, 2017. In its 31st year, the festival includes performances from more than 1500 musicians and over 100 free concerts in Yorkville across 10 days. Headliners for this year's festival include Aretha Franklin, Joss Stone, Mavis Staples, Randy Bachman, Caravan Palace and more.
---
BWW Review: LIFE REFLECTED by the National Arts Centre Orchestra at the Luminato Festival

June 19, 2017

Four incredible artists bring to life the stories of four powerful women. LIFE REFLECTED, presented by the National Arts Centre (NAC) is a multi-media journey examining the lives of four women using photography, film, spoken word and music. The NAC Orchestra takes us through four individual pieces, led by conductor and Artistic Director, Alexander Shelley. Shelley describes the works as being united in the way the women 'learned to tread a new path and turn the tables on those who wanted to oppress them.'
---
BWW Review: Akram Khan Company's UNTIL THE LIONS at the Luminato Festival

June 18, 2017

Epic storytelling meets emotional physical theatre in Akram Khan's moving production. Based on the tale of Amba/Shikhandi in the Mahabharata, UNTIL THE LIONS explores notions of gender identity, spirituality and passionate confrontation. Director and choreographer Akram Khan has outdone himself in this expressive masterpiece - moving from start to finish, the pounding rhythmic accompaniment keeps the suspense building until the very end.
---
BWW Review: Heather Ogden is One Strong Swan in the National Ballet of Canada's SWAN LAKE

June 17, 2017

The theme will get under your skin. With some of the most beautiful music ballet has to offer, SWAN LAKE is sure to capture your heart. The National Ballet of Canada is celebrating the 140th anniversary of Tchaikovsky's most iconic ballet with their dark, brooding production designed by Santo Loquasto and Robert Thomson with choreography by James Kudelka. The opening night performance featured ballet's power couple, Heather Ogden and Guillaume Cote. Stunning design meets extraordinary dancing, creating a real-life fairytale on the Four Seasons Centre stage.
---
BWW Review: Toronto is Head Over Heels for HIBLA GERZMAVA

June 9, 2017

Russia seems to be everywhere these days. Conductor and violinist, Vladimir Spivakov and the Moscow Virtuosi Chamber Orchestra performed to an enthusiastic crowd at the Roy Thomson Hall in Toronto, Ontario. The evening was presented by Show One Productions, the same company that recently brought us the Trio Magnifico (Anna Netrebko, Yusif Eyvazov and Dmitri Hvorostovsky) and featured the Canadian debuts of cello soloist Danielle Akta and Russian opera diva Hibla Gerzmava.
---
BWW Review: The National Ballet of Canada's A STREETCAR NAMED DESIRE is Breathtaking From Start to Finish

June 5, 2017

No one yells 'Stella!' at the ballet - because they don't have to. John Neumeier's A STREETCAR NAMED DESIRE, inspired by the Pulitzer Prize winning play by Tennessee Williams, had its National Ballet of Canada premiere on June 3, 2017. The ballet dives deeper into Blanche DuBois' psyche, examining the motivation for her psychological instability. Featuring music by Sergei Prokofiev and Alfred Schnittke, Mr. Neumeier's choreography exposes more vulnerability, fragility and desire than could ever be communicated by words alone. Neumeier's visionary production expands on the context referenced in Williams' play - by showing us more, we feel more.
---
6