Taylor Long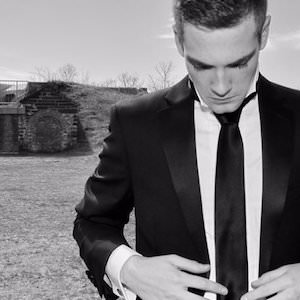 Taylor Long was born and raised on the east coast of Canada in Halifax, NS. Taylor studied opera at Dalhousie University and has performed in various musicals, plays and operas over the past 8 years. Joining BroadwayWorld in April 2017, he is currently the Senior Editor for Toronto.
Writing for BroadwayWorld is a dream job for a theatre nerd. I am beyond grateful that I have the opportunity to experience the incredible talent that Toronto has to offer. I love writing for BroadwayWorld because it gives me a chance to hopefully inspire someone who has never been to the theatre, or never been to an opera or a ballet - to take a chance, and take it in.
Twitter: @taylormlong
MOST POPULAR ARTICLES
LAST 30 DAYS
LAST 365 DAYS
BWW Review: Robert Markus Triumphs in DEAR EVAN HANSEN
Posted: Mar. 30, 2019



BWW Interview: Meet the Hansens of DEAR EVAN HANSEN Toronto
Posted: Mar. 28, 2019


Exclusive Photos! First Day of Rehearsal for Musical Stage Co's NEXT TO NORMAL
Posted: Apr. 3, 2019



BWW Review: Kids Bring the Rock in SCHOOL OF ROCK at Mirvish
Posted: Dec. 8, 2018


Ravi Jain's PRINCE HAMLET (2017 Review)
Posted: Jan. 17, 2019


BWW Review: Willy Wonka Re-Invented for the 21st Century
Posted: Nov. 23, 2018


BWW Feature: Soulpepper Releases Original Cast Recording For Debut Musical ROSE
Posted: May. 30, 2019


BWW Interview: A Season of Two Debuts for National Ballet's BRENDAN SAYE

February 25, 2018

'It's a dream come true,' says dancer Brendan Saye. Recently promoted to First Soloist, Saye will be making two role debuts this season with the National Ballet of Canada - the Lead Man in James Kudelka's 'The Four Seasons' (part of 'Made in Canada') and Prince Florimund in Rudolf Nureyev's production of Tchaikovsky's 'The Sleeping Beauty'. Talking to BroadwayWorld.com's Taylor Long, Saye discusses his love for Riverdance as a child, the illness that forced him to take a two-year break from dancing, and the special place 'The Four Seasons' holds in his heart.
---
VIDEO: Beverley Bass, Kevin Tuerff, Astrid Van Wieren and More Talk COME FROM AWAY at the Toronto Opening

February 20, 2018

The Toronto Production of Come From Away opened February 13th at the Royal Alexandra Theatre. Come From Away tells the heartwarming story of the thousands of travelers who were forced to land in Gander, Newfoundland during 9/11, and the Newfoundlanders who opened their hearts and homes to them.
---
BWW Review: COME FROM AWAY is a Triumph in Toronto

February 18, 2018

Stop the world. COME FROM AWAY has come home. With a book, music and lyrics by Irene Sankoff and David Hein, COME FROM AWAY is one of the biggest Canadian musicals of all time. For any of you thinking you'll miss the original cast - be anxious for nothing - the first Canadian cast does not disappoint.
---
BWW Review: Studio 180's KING CHARLES III is an Underwhelming Think Piece

February 17, 2018

In Mike Bartlett's play, Queen Elizabeth II has just died. As fascinating as it may be to imagine the future, Studio 180's production of KING CHARLES III, directed by Joel Greenberg, is a drab view of a very pessimistic future.
---
BWW Review: Multi-faceted Memories Create a Personalized Experience in DECLARATIONS

February 2, 2018

If you've ever lost someone you loved, you know how uniquely devastating the experience can be. In Jordan Tannahill's stage creation, DECLARATIONS, we see the raw product of that pain delivered through the fascinating mind of Tannahill and his five dancers.
---
BWW Review: A DELICATE BALANCE at Soulpepper is Sophisticated Dysfunction at its Best

January 30, 2018

Compared to the in-your-face absurdity of November's 'The Goat, or Who is Sylvia?' A DELICATE BALANCE displays a softer, more subtle Albee without softening the devastating impact. Directed by Diana Leblanc, Soulpepper's production simmers-exploring dysfunction through the lens of characters that are grounded in reality.
---
BWW Review: Powerhouse Performances Deliver a Riveting LEAR

January 14, 2018

I'll start by saying that LEAR was one of the most powerful theatrical experiences I've ever had. Led by a cast of Shakespeare professionals, with vast Stratford Festival experience, Groundling Theatre's production is a polished, compelling piece of theatre. Dropping 'King' from the title, LEAR explores the play with a female in power - entrapping us with the familiarity of a female monarch. Every aspect of Graham Abbey's production, designed by Peter Hartwell, serves a contemporary emphasis, seducing a modern audience to deeply feel and deeply connect with the humanity that can often feel very distant in Shakespearean drama.
---
BWW Review: Stars of Canadian Musical Theatre Shine in NINE IN CONCERT

January 14, 2018

Podium Concert Productions, led by producer Peter da Costa and music director Mark Camilleri, presents high-calibre concert versions of musicals. Their second production, NINE IN CONCERT, was just that, a mostly high-calibre production featuring a cast of prominent Canadian talent, and a rare opportunity to see a rarely-produced show.
---
BWW Interview: Talking with the Artists Behind Podium Concerts' NINE IN CONCERT

January 8, 2018

After the success of last year's inaugural show, THE SECRET GARDEN IN CONCERT, Podium Concert Productions returns to present NINE IN CONCERT on January 12 and 13, 2018 at Trinity-St. Paul's Centre for the Arts. BroadwayWorld's Taylor Long chats with director Tim French, Stratford Festival-favourite Juan Chioran who is playing Guido, and Tracy Michailidis who is playing Guido's wife, Luisa Contini.
---
BWW Interview: Simon Paisley Day Talks THE LORAX at Mirvish

December 26, 2017

Dr. Seuss' pro-environmental tale, THE LORAX, is on stage at Mirvish's Royal Alex Theatre. As the voracious villain, the Once-ler, Simon Paisley Day helps bring the popular children's story to life in a colourful stage spectacle. Simon Paisley Day took some time to answer a few questions from BroadwayWorld's Taylor Long about performing for kids, working with puppet co-stars and the impact of this morality musical.
---
BWW Review: First Act Soars, Second Act Bores in THE LORAX at Mirvish

December 18, 2017

I am the Lorax, I speak for the trees! screams the puppet with three puppeteers on their knees. Unlike the show, I won't spend this in rhyme - and I promise to not take as much of your time. THE LORAX, presented by Mirvish is vivaciously visual. Dr. Seuss's fictional world becomes livable with colourful, captivating designs, folky tunes and unique, striking costumes that create a dreamy theatrical experience. In David Greig's stage version, adapted from the short children's book, most of the one-line story is covered by intermission, leaving the second act to grumble on and on through an already thin plot.
---
BWW Review: THE ILLUSIONISTS Amazes with Diverse Magic

December 15, 2017

When is the last time you've been awestruck? THE ILLUSIONISTS - LIVE FROM BROADWAY, presented by Mirvish, puts you face-to-face with seven of the world's greatest illusionists, as they deliver an extraordinary, hypnotizing stage show, exploring magic and trickery through the ages.
---
BWW Review: Drayton's MILLION DOLLAR QUARTET at Mirvish Drags Through the Hits

December 14, 2017

Most people love jukebox musicals. Seeing some of the greatest hits from legends like Elvis Presley, Johnny Cash, Jerry Lee Lewis and Carl Perkins performed live, creates a nostalgic experience that is undeniably entertaining. Unless you're not a fan of the jukebox style - and I should state that generally, I am not. Then for you, this type of show drags itself through a seemingly endless list of tunes with little to no emotional journey.
---
BWW Review: Bad Hats' PETER PAN at Soulpepper Inspires the Imagination

December 13, 2017

With a little creativity, anything is possible. Soulpepper's presentation of Bad Hats Theatre's PETER PAN is proof that imagination can push the limits of what is possible on stage. Set in the round, the wonderfully-clever production has chuckling adults and wide-eyed children all believing in fairies.
---
BWW Review: The National Ballet's THE NUTCRACKER is a Dazzling Tradition for All Ages

December 11, 2017

His melodies are timeless. Tchaikovsky's most popular ballet has become a holiday tradition for audiences across the globe. Lucky for us Torontonians, The National Ballet of Canada's annual production of THE NUTCRACKER is a dazzling masterpiece.
---
BWW Review: MR. SHI AND HIS LOVER Croons at the Intersection of Musical and Opera

December 10, 2017

MR. SHI AND HIS LOVER, a new take on an old love story, manipulates perception in a tale of perception manipulation. Through seven non-linear scenes, performed in Mandarin with Chinese and English surtitles, MR. SHI AND HIS LOVER integrates a mix of introspective arias and narrative songs. The themes and boundaries of love are explored in an exploration of music that is difficult to pin down. Is it an opera? Or is it more of a musical?
---
BWW Review: Seduced by the Music of Love at the TSO's BEST OF TCHAIKOVSKY

December 6, 2017

If love had a sound, it would take the form of the colourful melodies pervading the air during the TSO's BEST OF TCHAIKOVSKY. Led by guest conductor Keri-Lynn Wilson, the TSO is showcasing a program of two Tchaikovsky favourites and one rare gem, especially for cellist Joseph Johnson. Wilson demonstrates exquisite leadership throughout the program, shaping the orchestra with sweeping dynamics and wringing an earnest, romantic sound out of a few of Tchaikovsky's most beautiful compositions.
---
BWW Review: Predictability Increases Unpredictability in Canadian Stage's HEISENBERG

December 4, 2017

Uncertainty, or the state of being uncertain, involves not being able to clearly identify or define something. Simon Stephens' HEISENBERG thrives on uncertainty. Using physicist Werner Heisenberg's Uncertainty Principle as the underlying theme, Canadian Stage's Canadian premiere production fuses science and love in a hard-to-follow tale of opposites attract.
---
BWW Review: TSO's HOME ALONE IN CONCERT Creates a Sense of Community

December 2, 2017

A multi-generational community was created at the Toronto Symphony Orchestra's HOME ALONE IN CONCERT. I grew up watching the film and it quickly became a tradition during the holiday season. Spending an evening laughing beside children who are maybe seeing the film for the first time, or grandparents who remember watching the film with their children and are now watching with their grandchildren - all while the score is brought to life by a live orchestra and choir - now that is beautiful.
---
BWW Review: Ross Petty's A CHRISTMAS CAROL Panto is Undeniably Fun

December 1, 2017

Ross Petty's annual holiday musical is a tradition for many Torontonians. With this year's production, A CHRISTMAS CAROL - The Family Musical with a SCROOGE LOOSE!, that tradition is sure to continue. Led by AJ Bridel and Dan Chameroy, A CHRISTMAS CAROL is undeniable fun, performed by an abundantly talented cast in what many are calling 'the best panto yet!'.
---
3