BWW Review: Stars of Canadian Musical Theatre Shine in NINE IN CONCERT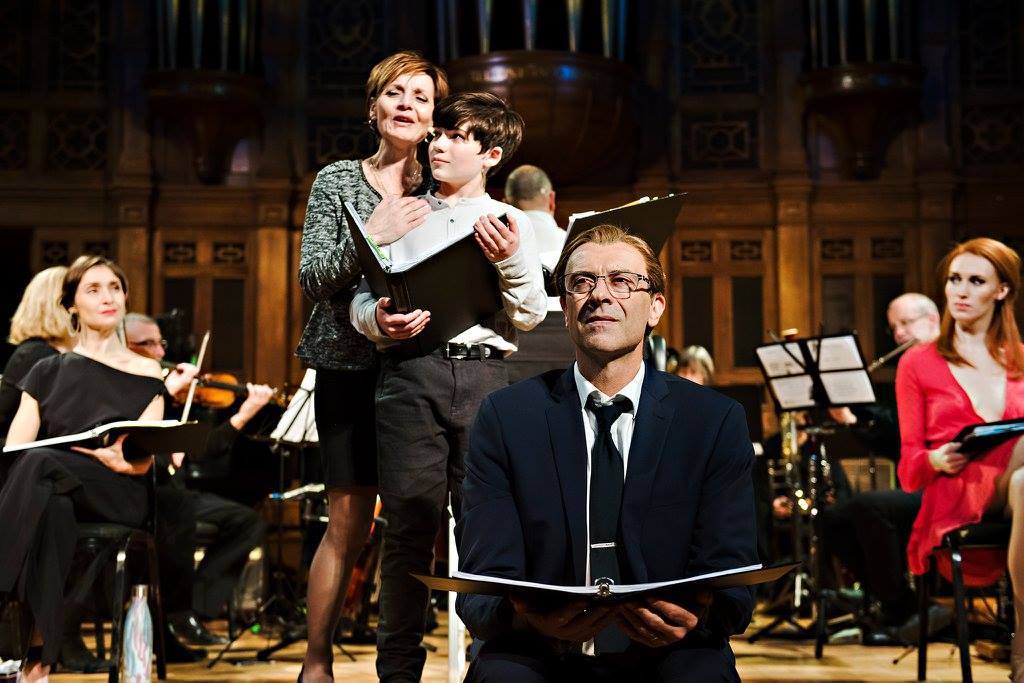 Podium Concert Productions, led by producer Peter da Costa and music director Mark Camilleri, presents grand concert versions of musicals. Their second production, NINE IN CONCERT, was just that, a high-calibre production featuring a cast of prominent Canadian talent, and a rare opportunity to see a rarely-produced show.
The musical centres around Italian film director, Guido Contini (Juan Chioran). Guido is a man with a lot on his mind - his wife of twenty years wants a divorce, he has no script for an overdue film he's promised to his producer, and he's just turned forty. Cue mid-life crisis. Unsure of how to proceed, Guido turns to the stream of women in his life - past and present - for inspirations and answers.
Due to the confines of a concert production, this version of Nine is about as minimalist as it gets. However, the setting, the interior of the magnificent Trinity-St. Paul's Centre for the Arts, lent itself well to the deeply religious themes at the core of the piece.
Even without a set, director Tim French managed to avoid a static presentation. His actors did a tremendous job communicating the nuances of the plot through strategic placement changes. Impressively, French even infused the piece with a bit of simple choreography for numbers like "Follies Bergères" and "Be Italian" - making the most of the foot of space the actors had in front of the 23-member orchestra. The cast was joined by the Etobicoke School of the Arts Women's Chorus, singing some of the most difficult music that musical theatre has to offer.
As the leading (and only) man, Chioran's resume boasts an impressive 15 seasons at the Stratford Festival - and it's easy to see why. The baritone portrayed the aging director as a troubled intellectual with a focused, collected energy - refreshingly different from the exaggerated arrogance that often meets this role. Chioran's first solo "Guido's Song," was beautifully interpreted, showcasing his clear, sharp voice. Gabriel Mattka's Young Guido presented a superb reflection of Chioran's portrayal, his crystalline-voice demonstrating exceptional control in "Getting Tall".
Exuding star-power, Tracy Michailidis gave a ravishing performance from start-to-finish as Guido's wife, Luisa Contini. "My Husband Makes Movies," was practically a masterclass on how to build levels of emotion in a musical number, and Act II's "Be On Your Own," stole the show. At the end of "Be On Your Own," Luisa sings the words, "and all of me," - the perfect explanation for Michailidis' performance - she gave everything over to the music.
Also a Stratford-favourite, Alexis Gordon ensured that Act II was worth the wait. As Claudia, Gordon gets one of the score's most beautiful selections, "Unusual Way," sounding wonderfully lush in its original key (sorry Nicole Kidman). I couldn't decide what I enjoyed more, Gordon's polished soprano, or her sincere emotional performance. Her voice was impressive, its size almost too much for her to control, as she slipped in and out of contemporary and classical styles.
As Mamma Maddalena, Denise Oucharek unleashed her luminous character acting, reaching to the depths of her well-developed chest voice before pulling out soaring high notes in "The Germans at the Spa". Oucharek was a joy to watch, lighting up when it was her time to shine.
Rebecca Poff played Guido's impatient producer, Liliane La Fleur. Poff's Edith Piaf-inspired number, "Follies Bergères," was definitely a musical highlight, giving her a marvelous money note at the end and forcing Jamie McRoberts (as the film critic Stephanie Necrophorus) to duet with her at Sondheim-level speed.
Valerie Stanois brought out intense vocal growls as the sultry Serraghina; Barbara Mantini was all class as Guido's Mother; Kate Suhr, with her Disney-like voice, was a beacon of serenity as Our Lady of the Spa - and Kira Guloien delivered a chilling vocal slide in "A Call From the Vatican," as Guido's one-dimensional mistress, Carla.
I decided to focus this review on the fabulous performances and not on the work itself because I find the piece has a lot of issues - particularly in how it presents some of the women. My only real criticism about this production, NINE IN CONCERT, has to do with the sound. It was definitely beyond the sound designer's control, as the balance was fantastic in the solo numbers - but a near 60-person ensemble in a small space created a sound environment with too many variables, resulting in group numbers that were too loud, especially during the second act's "Grand Canal" sequence.
Other than that, NINE IN CONCERT presented an incredible opportunity to see a cast of outstanding Canadian artists sharing the same stage. I look forward to seeing what the company produces next.
---
For more information on Podium Concert Productions, visit http://podiumconcerts.com/