BWW Review: ANIMAL FARM at Soulpepper Uses Humour to Reel You In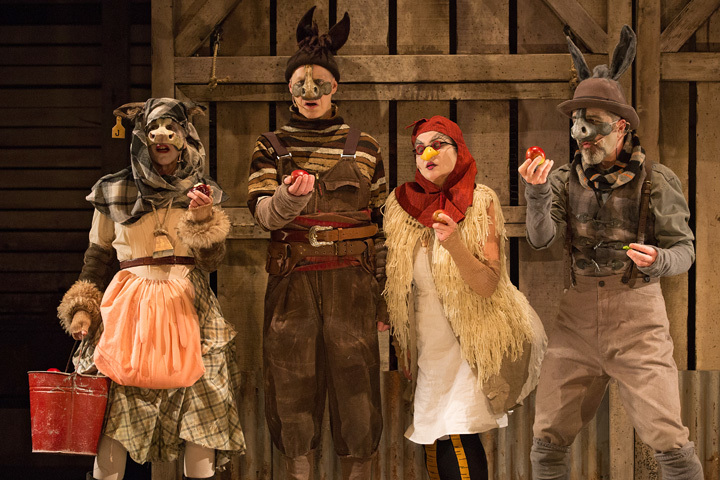 I would watch a Ravi Jain directed production of the phone book. ANIMAL FARM, presented by Soulpepper, is an adaption of George Orwell's famous novel by Canadian playwright Anthony MacMahon. Jain and MacMahon design a campy, satirical world for the farm animals, using humour as a reel to hook the audience into deeper discussions about humanity and society. It's persuasive, troubling, and honestly funny.
In ANIMAL FARM, the animals at Manor Farm are unhappy with the way they are being treated by their owner, Farmer Jones. Hungry for change and preparing for rebellion, they agree on establishing principles for their newfound doctrine, Animalism - mainly the commandment "all animals are equal." Once the humans are driven out, the intelligent pigs quickly assume leadership. Farmer Jones' rule, once fervently rejected by the animals, takes on a familiar form under the head pig, Napoleon. Living lavishly while the other animals work tirelessly, the pigs add an addendum to the once utopian dream of equality: "all animals are equal...but some animals are more equal than others."
Jain has created one wacky world for these animals. In ANIMAL FARM, each actor wears a mic and has their voice distorted through a synthesizer - with the chickens getting the best of this effect. It's nearly impossible not to laugh at their chipmunk-like voices. Combined with Ken MacKenzie's unsettling costumes, the performers are rendered practically unrecognizable. They're free to behave like humans, while at the same time barely resembling humans. It's disturbing to watch for the first few minutes.
Lighting is used as a wonderful foreshadower in this production. André du Toit's design employs footlights at the front of the stage to cast large, frightening shadows of the pigs on the upstage wall - shadows that end up looking identical to the very humans they are rebelling against.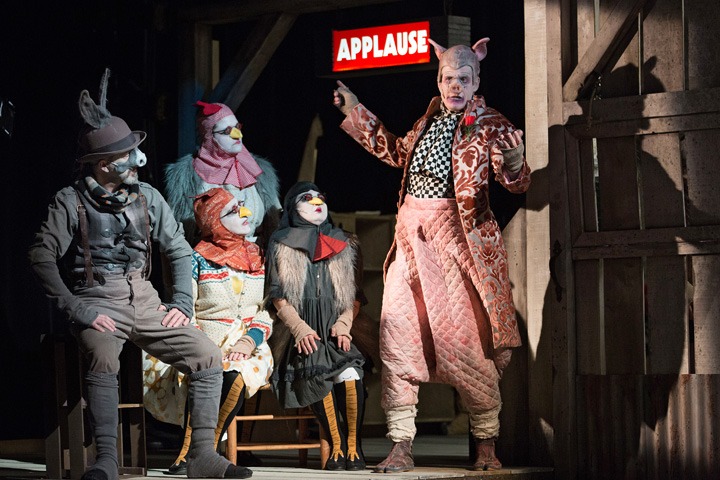 All of Jain's animals take on various recognizable personalities. The chickens, led by Raquel Duffy as Mercy, are an outrageously funny group. Mercy begins as a naïve member of the animal society, enthusiastically questioning everything. Eventually, she blossoms into a major voice of opposition against Rick Roberts' totalitarian Napoleon. Jennifer Villaverde plays one of the most hilarious characters - Poophead - a chicken who has resorted to eating rotten compost in response to food shortages. The compost causes Poophead to turn amusingly evil, proposing the chickens band together to, "kill the fu**ing pigs!"
As the donkey, Benjamin, Guillermo Verdecchia portrays one of the most enlightened members of the farm. Smart but intentionally removed from the drama, Benjamin spends most of the piece trying to educate the simple, well-intentioned horse, Boxer. Oliver Dennis creates a beautifully sympathetic character as Boxer. Earnest, loyal, and devoted - his portrayal is sincerely lovable.
Most resourceful and deemed most fit to rule (by themselves), the pigs represent the colourful villains. It was difficult not to draw similarities between Donald Trump and Roberts' Napoleon - especially with Roberts' thumb and index fingers meeting several times to form the signature Trump speaking hands. Roberts presented the perfect mix of charisma and intimidation as the dictator of the pigs' authoritarian regime.
Things today might not be as problematic as they were leading up to the Russian Revolution in 1917 - but this newly adapted ANIMAL FARM does raise some unnerving concerns. In Napoleon's rhetoric, I see glimpses of some of the latest American ideologies; In Boxer's hope and fatigue, I see hints of the hard-working Americans that elected Trump after promises of change; In Benjamin, I see pensive liberals, enraged but tired of fighting.
Ravi Jain's production is effective by not only framing political history in a new, contemporary light - but by engaging audiences with humour before asking important questions about where we've been, where we are now, and where we are going.
---
ANIMAL FARM is presented by Soulpepper and runs through April 7, 2018 at the Young Centre for the Performing Arts.
For more information and to purchase tickets, visit soulpepper.ca
Main photo: Leah Cherniak, Oliver Dennis, Raquel Duffy, and Guillermo Verdecchia. Photographer: Cylla von Tiedemann