Taylor Long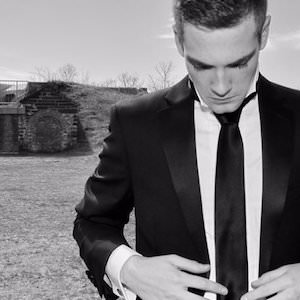 Taylor Long was born and raised on the east coast of Canada in Halifax, NS. Taylor studied opera at Dalhousie University and has performed in various musicals, plays and operas over the past 8 years. Joining BroadwayWorld in April 2017, he is currently the Senior Editor for Toronto.
Writing for BroadwayWorld is a dream job for a theatre nerd. I am beyond grateful that I have the opportunity to experience the incredible talent that Toronto has to offer. I love writing for BroadwayWorld because it gives me a chance to hopefully inspire someone who has never been to the theatre, or never been to an opera or a ballet - to take a chance, and take it in.
Twitter: @taylormlong
MOST POPULAR ARTICLES
LAST 30 DAYS
LAST 365 DAYS
Da Costa Talent Toronto Welcomes New Agent CAT MACFARLANE

July 31, 2019

Toronto casting agency da Costa Talent Management is introducing a new agent to their team! Cat MacFarlane will be transitioning from her illustrious career as a stage manager in Canadian theatre, building a new and fresh roster from scratch with the Toronto division of da Costa Talent Management.
---
VIDEO: Betsy Wolfe & Jeremy Jordan in Toronto for MODERN BROADWAY

June 10, 2019

Broadway stars Betsy Wolfe and Jeremy Jordan have arrived in Toronto for the first of four performances in the Toronto Symphony Orchestra's MODERN BROADWAY, a journey through today's greatest Broadway hits from such Tony Award-winning shows as The Book of Mormon, Once, The Baker's Wife, The Last Five Years, and Newsies, along with songs from modern classics as Les Miserables, Cats, Miss Saigon, Little Shop of Horrors, and more.
---
BWW Feature: Soulpepper Releases Original Cast Recording For Debut Musical ROSE

May 30, 2019

After receiving a record 11 Dora Mavor Moore Award nominations including Outstanding Production and Outstanding New Musical, ROSE, Soulpepper's first original musical, is getting its own Original Cast Recording!
---
BWW Review: NEXT TO NORMAL Needs to Find its Rhythm

May 4, 2019

A high standard of musical drama is expected from the Musical Stage Company that sadly wasn't present at opening night of NEXT TO NORMAL. The three-time Tony Award-winning, Pulitzer Prize-winning rock musical by Tom Kitt and Brian Yorkey is Musical Stage's latest undertaking in its line of family drama shows. After multiple Dora Award wins last year for Fun Home and Life After, expectations were high for NEXT TO NORMAL - however, the show needs some work before it can truly harness the potential of its performers.
---
BWW Interview: Chilina Kennedy Talks BEAUTIFUL - THE CAROLE KING MUSICAL

April 13, 2019

BroadwayWorld Toronto sits down with Chilina Kennedy, star of BEAUTIFUL - THE CAROLE KING MUSICAL, to discuss her childhood, a very pregnant callback audition, and her journey with the show over the past 1000+ performances.
---
Exclusive Photos! First Day of Rehearsal for Musical Stage Co's NEXT TO NORMAL

April 3, 2019

Presented by David Mirvish, the Musical Stage Company production of NEXT TO NORMAL takes over the CAA Theatre (formerly the Panasonic) from April 26 to May 19, 2019. BroadwayWorld Toronto got exclusive access to photos from the company's first day of rehearsal! Take a look.
---
BWW Review: Robert Markus Triumphs in DEAR EVAN HANSEN

March 30, 2019

Pull out your kleenex now. The international premiere of DEAR EVAN HANSEN, written by songwriters Benj Pasek and Justin Paul, with a book by Steven Levenson, has arrived in Toronto. The Grammy and Tony Award-winning musical comes to life at Mirvish's Royal Alex Theatre with an impressive, all-Canadian cast. The magnetic energy created by this cast is so perfectly crafted, you'll be reduced to tears more than once.
---
BWW Interview: Meet the Hansens of DEAR EVAN HANSEN Toronto

March 28, 2019

Toronto is buzzing with anticipation for the opening of the International premiere of DEAR EVAN HANSEN. BroadwayWorld Toronto's Taylor Long sat down with Robert Markus and Jessica Sherman, playing Evan Hansen and Heidi Hansen in the new Canadian production.
---
BWW Review: New Home, Same COME FROM AWAY

February 10, 2019

The grandeur of the historic Elgin Theatre hasn't overwhelmed COME FROM AWAY. Mirvish's production of the smash-hit Canadian musical has officially moved from the Royal Alexandra Theatre to the Elgin Theatre, making space for the Canadian premiere of Dear Evan Hansen which opens at the Royal Alex in March.
---
BWW Review: Ravi Jain's PRINCE HAMLET (2017 Review)

January 17, 2019

A gender-bending, English and American Sign Language (ASL) bilingual production of Shakespeare's Hamlet may sound ambitious - but it plays as compellingly human. Maybe you're not familiar with the story. Maybe you've seen it a hundred times. Regardless, Why Not Theatre's PRINCE HAMLET will defy your expectations. Ravi Jain has adapted Shakespeare's most famous play in a way that is relevant and, as the title suggests, focuses more intimately on its protagonist's struggle to understand human nature.
---
BWW Review: THE PLAY THAT GOES WRONG at Mirvish is Outrageously Fun

January 12, 2019

THE PLAY THAT GOES WRONG has to be the loudest I've ever heard a Toronto audience laugh. The hilarious farce has captured the essence of what most theatre professionals spend their lives fearing. It takes the unpredictable nature of live theatre and exaggerates the hell out of it.
---
BWW Review: Ross Petty's THE WIZARD OF OZ is Pure Magic

December 11, 2018

Ross Petty's panto is back and better than ever! THE WIZARD OF OZ at the Elgin Theatre is a loose adaption of the classic story with a modern/environmentally-conscious twist. Ross Petty's panto has become a staple of the Toronto theatre community, entertaining generations of audiences for over 20 years. It's a communal performance experience unlike any other and a holiday tradition you can't miss.
---
BWW Review: Kids Bring the Rock in SCHOOL OF ROCK at Mirvish

December 8, 2018

Before the show even begins, the voice of Andrew Lloyd Webber informs us all that the kids in SCHOOL OF ROCK play their instruments live. This becomes overwhelmingly impressive as the show progresses. SCHOOL OF ROCK: THE MUSICAL, with music by Andrew Lloyd Webber, lyrics by Glenn Slater, and book by Julian Fellows is an adaption of the successful Paramount movie starring Jack Black. In this musical interpretation, the kids take centre stage as the stars of the show.
---
BWW Review: Sondra Radvanovsky Gives Four Encores in Astonishing Recital

November 27, 2018

It was a, 'I was there when…' kind of evening for opera. Soprano Sondra Radvanovsky appeared at Toronto's beautiful Koerner Hall for her highly anticipated recital, From Bel Canto to Verismo, accompanied by pianist Anthony Manoli. One has to applaud the presenter, Show One Productions, on its commitment to bringing the very best in classical music to this city, year after year.
---
BWW Review: Willy Wonka Re-Invented for the 21st Century

November 23, 2018

This is not your parents' Willy Wonka. CHARLIE AND THE CHOCOLATE FACTORY, the new musical by Marc Shaiman and Scott Wittman, is a bigger, brighter, louder version of the beloved novel by Roald Dahl. Featuring larger-than-life projections, updated characters, and brand-new music - the world of Willy Wonka has never looked flashier. 
---
FIRST LOOK: Music Video for Soulpepper's ROSE: A NEW MUSICAL

November 20, 2018

BroadwayWorld has your first look at Soulpepper's music video for 'Let Love Out' from their highly-anticipated new musical, ROSE. Three years in the making, ROSE will be the company's biggest, most ambitious production to date!
---
BWW Review: AIN'T TOO PROUD Succeeds on its Stunning Talent

October 18, 2018

The soul of Motown is alive in Toronto. On its final stop before Broadway, AIN'T TOO PROUD busts open the Motown catalogue at Mirvish's Princess of Wales Theatre. With explosive vocals that reach every extreme of the human voice, high-energy choreography, and a playlist of 31 Motown favourites - AIN'T TOO PROUD works hard to be a hit.
---
BWW Review: Mirvish's MAMMA MIA! was the Perfect Summer Musical

August 19, 2018

From the first crash of drums, you could feel the excitement ripple through the theatre. The beloved musical MAMMA MIA! returned to the Ed Mirvish Theatre for a limited engagement and audiences could not have been more thrilled. Telling the story of Sophie Sheridan and her mother Donna, the show explores themes of family, identity, and love - all set to a soundtrack of the fabulous music by ABBA.
---
BWW Exclusive: Photos from First Rehearsal of New Musical DR. SILVER: A CELEBRATION OF LIFE

August 17, 2018

After the thunderous success of LIFE AFTER, musical theatre power duo Anika Johnson and Britta Johnson are back with the world premiere of their new musical, DR. SILVER: A CELEBRATION OF LIFE. BroadwayWorld has exclusive photos from the first day of rehearsal!
---
Will You Be Found? DEAR EVAN HANSEN Open Casting Call in Toronto!

July 19, 2018

Calling all Evan Hansens! Mirvish Productions will be doing an open casting call on Monday, July 23, 2018 for the roles of Evan Hansen and Alana Beck. Interested? We have the details here.
---