Click Here for More Articles on COME FROM AWAY
BWW Review: COME FROM AWAY is a Triumph in Toronto
Stop the world. COME FROM AWAY has come home. With a book, music and lyrics by Irene Sankoff and David Hein, COME FROM AWAY is one of the biggest Canadian musicals of all time. For any of you thinking you'll miss the original cast - be anxious for nothing - the first Canadian cast does not disappoint.
Dubbed the "September 12th" musical, COME FROM AWAY shares the stories of the passengers diverted to Gander on that terrifying day in 2001, and explores the stories of the Newfoundlanders who, in the days following the tragedy, opened their doors and opened their hearts.
I am most likely one of the few critics in Toronto who did not see the original Broadway cast during their out of town tryout last year. This new Canadian cast is my first impression of the musical, so instead of offering a comparison, this review will focus on the effect of a first time viewing.
From the beginning of the pounding percussion line, the energy in the theatre was palpable. I've never felt anything like it. The show charges forward without stopping - with never a moment of dead space. It moves so quickly in fact, that it barely gives you a chance to dwell on any one emotion for too long - meaning you spend most of the show on the verge of tears. The frantic pacing does an incredible job of depicting the anxiety and confusion surrounding that tragic day. "Blankets and Bedding" is the perfect example of this structure - layering ascending vocal lines with a beating metronome in the percussion and rapid text over top. ("It's better than being at home alone wondering what's really happening. Everyone's phoning!")
This continual movement slips into the direction as well. Director Christopher Ashley has the cast performing an intricate "ballet of chairs" during the 100-minute musical. If you start paying attention to one ensemble member's track, you become mesmerized by the meticulous choreography. Costumes shift at lightning speed as the ensemble shift in and out of various characters.
It takes a combination of factors to make a show "a triumph". I've picked 12 moments from the new Canadian production that make COME FROM AWAY a must-see musical:
1. The Full Package
As Diane (& others), Barbara Fulton has it all - a multi-faceted character, pipes of gold, and a great sense of humour. "Stop the World" (a song I tended to skip on the cast recording), becomes a display of musical theatre magic in Fulton's hands.
2. Comedic Timing
As Bob (& others), Kevin Vidal owns some of the most hilarious moments in the show. His comedic timing is sensational - paired with an equally-sensational voice.
3. A Unique Interpretation
As Beverley/Annette (& others), Eliza-Jane Scott's performance is wonderfully fresh. With a Tony Award nomination for Jenn Collela, "Me and the Sky" sort of became the "Defying Gravity" of COME FROM AWAY. I don't think we should compare Scott's performance to Collela's because they are diversely different. Scott's upper range soars with power and her softer portrayal allows for a very dynamic vocal performance, pulling you into the remarkable story she's sharing.
4. The One You Root For
As Bonnie (& others), Kristen Peace gets an enormous amount of sympathy as the head of the SPCA who is set on ensuring the animals inside the planes are all taken care of. Peace is a lovely actor, giving a memorable performance as Bonnie.
5. The Rock
As the Mayor of Gander, Claude (& others), George Masswohl gives a warm portrayal of the man forced to undertake more than he could have ever imagined. Masswohl is like a very lovable rock, holding everything together.
6. Impressive Vocals
As Hannah (& others), Saccha Dennis wows with her impressive voice - from her power-belt in "I Am Here," to her breathtaking crescendo into the reprise of the same music near the end of the show.
7. The Triple Threat
As Janice (& others), Steffi DiDomenicantonio is fiercely committed as the brand new Rogers TV reporter. Didomenicantonio is a real triple-threat - her acting, singing, and dancing are all stellar.
8. Emotional Moments
As Kevin J. (& others), Ali Momen gives us some of most emotional scenes in the show as the Egyptian chef struggling in a new world of paranoia towards the East.
9. Gorgeous Singing
As Kevin T. (& others), Jack Noseworthy's rendition of "Prayer" becomes a gorgeous canvas for his crystal-clear voice.
10. Perfect Chemistry
As Nick (& others), James Kall is perfect as the nervous Englishman, creating exceptional chemistry in his scenes with Fulton's Diane.
11. The Most Friendly Cop
As Oz (& others), Cory O'Brien plays Gander's lively officer of the law. O'Brien is also a master of timing, making the audience roar in the amusing Shopper's sequence.
12. The Other Rock
Finally, as Beulah (& others), Lisa Horner beams with compassion and kindness. Like Masswohl, Horner's portrayal helps to ground the show.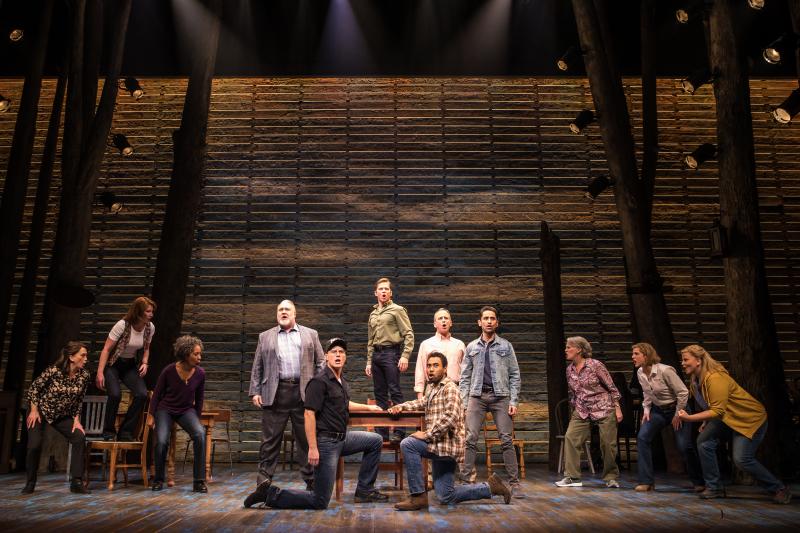 COME FROM AWAY is a true ensemble show. There's really only one solo number, and it slides directly into the next scene. It is the combined effort of these twelve talented performers that makes this production truly magical. Well, and a fantastic band! (They give you a chance to jam with them at the end.)
Everyone knows where they were on September 11th. COME FROM AWAY tugs at this nostalgia, but by highlighting the compassionate humanity that is possible in even our darkest moments - the show shines as an uplifting piece of theatre. Experiencing COME FROM AWAY has the power to make you a better person. It is a show that everyone needs to see.
---
COME FROM AWAY is presented by Mirvish Productions at the Royal Alexandra Theatre, 260 King Street West, Toronto, ON
For more information and to purchase tickets, visit mirvish.com
Tickets are on sale now through September 2, 2018
Photo credit: The cast of COME FROM AWAY - Canadian Company, Photo by Matthew Murphy, 2018.
Related Articles