Taylor Long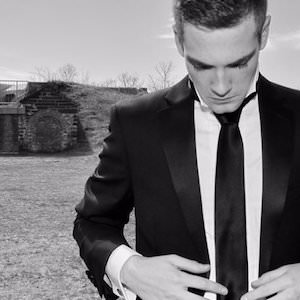 Taylor Long was born and raised on the east coast of Canada in Halifax, NS. Taylor studied opera at Dalhousie University and has performed in various musicals, plays and operas over the past 8 years. Joining BroadwayWorld in April 2017, he is currently the Senior Editor for Toronto.
Writing for BroadwayWorld is a dream job for a theatre nerd. I am beyond grateful that I have the opportunity to experience the incredible talent that Toronto has to offer. I love writing for BroadwayWorld because it gives me a chance to hopefully inspire someone who has never been to the theatre, or never been to an opera or a ballet - to take a chance, and take it in.
Twitter: @taylormlong
MOST POPULAR ARTICLES
LAST 30 DAYS
LAST 365 DAYS
BWW Review: Robert Markus Triumphs in DEAR EVAN HANSEN
Posted: Mar. 30, 2019



BWW Interview: Meet the Hansens of DEAR EVAN HANSEN Toronto
Posted: Mar. 28, 2019


Exclusive Photos! First Day of Rehearsal for Musical Stage Co's NEXT TO NORMAL
Posted: Apr. 3, 2019



FIRST LOOK: Music Video for Soulpepper's ROSE: A NEW MUSICAL
Posted: Nov. 20, 2018



BWW Review: Kids Bring the Rock in SCHOOL OF ROCK at Mirvish
Posted: Dec. 8, 2018


Ravi Jain's PRINCE HAMLET (2017 Review)
Posted: Jan. 17, 2019


BWW Review: Willy Wonka Re-Invented for the 21st Century
Posted: Nov. 23, 2018


Interview: Q&A with OTHER SIDE OF THE GAME's Amanda Parris

October 13, 2017

OTHER SIDE OF THE GAME marks the playwriting premiere for Toronto-raised writer, Amanda Parris. Presented by Cahoots Theatre and Obsidian Theatre, Parris' play gives voice to the stories of Black women, who are too often silenced. Parris chats with BroadwayWorld's Taylor Long about the process of bringing OTHER SIDE OF THE GAME to the stage.
---
BWW Review: HARRY POTTER AND THE CHAMBER OF SECRETS - IN CONCERT at the Sony Centre

October 13, 2017

The magic returns to the Sony Centre. HARRY POTTER AND THE CHAMBER OF SECRETS - IN CONCERT presents the second film in the franchise, accompanied by Joshua Gersen and the Toronto Symphony Orchestra, performing John Williams' epic score.
---
BWW Review: COC's ELIXIR OF LOVE is Charming to the Core

October 12, 2017

Small town charm is the fuel for the Canadian Opera Company's ELIXIR OF LOVE. Set in any town Ontario, Donizetti's beloved characters appear even more appealing and recognizable in James Robinson's quaint production. As part of the bel canto operatic repertoire, beautiful singing is an exceptionally fitting description for this production, masterfully sung by a cast of emerging Canadian artists.
---
The Magic Returns to the Sony Centre for HARRY POTTER AND THE CHAMBER OF SECRETS - IN CONCERT

October 11, 2017

Back by popular demand, HARRY POTTER AND THE CHAMBER OF SECRETS - IN CONCERT will take over the Sony Centre from October 12th - 14th. The Toronto Symphony Orchestra, conducted by Joshua Gersen, will bring the soundtrack to life - performing all of John Williams' cherished score.
---
BWW Review: Canadian Opera Company's ARABELLA Sparkles in Every Way

October 6, 2017

Swanky sets, shimmering voices, sumptuous costumes - it all sparkles when met with sublime Strauss. The Canadian Opera Company presents the Canadian premiere of ARABELLA, a lyric comedy by Richard Strauss. A co-production with Santa Fe Opera and Minnesota Opera, ARABELLA is sung in German with English surtitles, the libretto by Hugo von Hofmannsthal still resonating humorously against Strauss' score. Director Tim Albery has created a fine production, where every detail brims with elegance.
---
Interview: Soprano Simone Osborne Talks ELIXIR OF LOVE at the COC

October 5, 2017

Opera soprano Simone Osborne sits down with BroadwayWorld's Taylor Long to chat about her career, her roots and her excitement in bringing ELIXIR OF LOVE to the stage at the COC.
---
BWW Review: Britta Johnson's LIFE AFTER is Musical Theatre Perfection

September 30, 2017

Sometimes you know, within the first thirty seconds, that you're seeing something truly special. Britta Johnson's LIFE AFTER is exquisite from start to finish. Produced by the Musical Stage Company, Canadian Stage and Yonge Street Theatricals, the new Canadian work is the epitome of well-constructed musical. Johnson's remarkable, complex score binds with a moving story, creating a musical that is concise, complete - perfect.
---
Interview: Soprano Erin Wall Prepares for COC's ARABELLA

September 29, 2017

Soprano Erin Wall is one busy woman. Luckily, the talented (and funny!) singer had some time to sit down with BroadwayWorld's Taylor Long to talk about singing, joke about her composer boyfriends, and share some of the preparation involved in mounting a large-scale opera like ARABELLA.
---
BWW Review: Escape to Serenity with Toronto Symphony's BRAHMS GERMAN REQUIEM

September 29, 2017

Sometimes a striking contrast is just what is needed. The Toronto Symphony Orchestra presents Alexina Louie's Triple Concerto for Three Violins and Orchestra and Brahms' Ein deutsches Requiem (BRAHMS GERMAN REQUIEM). Frantic tension meets wonderful tranquility in this double bill.
---
BWW Review: Technical Wizardry Astounds in Mirvish's NORTH BY NORTHWEST

September 26, 2017

You've never seen anything like it! Mirvish's NORTH BY NORTHWEST, based on Alfred Hitchcock's famous film, fills the gorgeous Royal Alexandra Theatre with suspense and intrigue. Adapted by Carolyn Burns and directed by Simon Phillips, the new stage adaption thrills with witty, technical innovation.
---
BWW Review: TORONTO SYMPHONY Season Launch Delivers Surprises

September 21, 2017

A night of surprises, enthusiastic artistry and brave new compositions graced the Roy Thomson Hall Tuesday night. The TORONTO SYMPHONY ORCHESTRA opened its 2017-2018 season with a program that effortlessly mingled the classical with the contemporary. This is a year of big changes for the orchestra. For the past 14 years, music director Peter Oundjian has been successfully anchoring the TSO as one of the finest orchestras in the world. The audience could not have been more appreciative during the opening night of Oundjian's final season.
---
BWW Interview: Jonathan Watton Tackles Hitchcock in Mirvish's NORTH BY NORTHWEST

September 19, 2017

A North American premiere is set to stun Toronto audiences when NORTH BY NORTHWEST, a stage adaption of Alfred Hitchcock's renown film, graces the stage at the Royal Alexandra Theatre. BroadwayWorld's Taylor Long spoke with leading man, Jonathan Watton, on playing Roger O. Thornhill.
---
BWW Review: Soulpepper's PICTURE THIS is a Weird, Wacky, Whimsical Farce

September 17, 2017

Just when you think you've run out of laughter, PICTURE THIS demands more. Written by Morris Panych and Brenda Robins, Soulpepper's PICTURE THIS is a heap of slapstick, comedic gold wrapped in the packaging of Ken MacDonald's gorgeous, intelligent set. Inspired by Melchior Lengyel's 'The Battle of Waterloo', PICTURE THIS captures the virile hunger of the struggling artist and presents it in a way that is enormously funny.
---
BWW Review: Nothing is Everything in Soulpepper's WAITING FOR GODOT

September 15, 2017

Beckett's masterpiece, WAITING FOR GODOT proves its relevance in Soulpepper's riveting revival, opening their 2017-18 season. GODOT's structure, atmosphere and design plays like a contemplation on mindfulness - a search for meaning, in the seemingly meaningless.
---
North American Regional Premiere of WE WILL ROCK YOU Opens in Thunder Bay

September 8, 2017

Magnus Theatre in Thunder Bay, ON is excited to announce the dynamic and thrilling cast for the North American Regional premiere of the musical WE WILL ROCK YOU, featuring the music of Queen with a book by Ben Elton. Directed by Magnus Theatre's Artistic Director Thom Currie, WE WILL ROCK YOU is the inaugural production of our 2017-2018 season, opening September 8 and running through September 23.
---
National Theatre's Acclaimed Play YERMA Coming to Theatres

September 7, 2017

National Theatre's acclaimed production of YERMA hits the big screen September 21 & 23. Cineplex theatres across Canada, including in Toronto, will broadcast the live transmission of Federico Garcia Lorca's play, directed by Simon Stone and starring Doctor Who's Billie Piper.
---
BWW Interview: Pretty Little Liars' JANEL PARRISH Talks GREASE Toronto

September 5, 2017

GREASE says 'You're the One That I Want' to Pretty Little Liars star, Janel Parrish. With previews beginning November 1st at Toronto's Winter Garden Theatre, Parrish will be taking on the iconic role of Sandy - but did you know that she auditioned for a different role?
---
BWW Review: Laugh at 2017 with Second City's PARTY TODAY, PANIC TOMORROW

August 27, 2017

Are recent events making you feel angry, scared, annoyed, freaky? Laugh them off with Second City's hilarious new revue - PARTY TODAY, PANIC TOMORROW. The funniest performers in Toronto parody the headlines of today in sketches that run from dark, to just plain weird.
---
Exclusive: Get A Look at First Rehearsal of Britta Johnson's LIFE AFTER

August 24, 2017

Britta's Johnson's LIFE AFTER hits the stage at the Berkeley Street Theatre September 23 - October 22, 2017. Broadway World was given an exclusive look at photos from the first rehearsal of the new musical.
---
BWW Review: DIVINE at SummerWorks Entertains with Adventure in a Grim Future

August 10, 2017

Can you imagine life without water? It's something we take for granted. Water is always accessible. It's easy to find. DIVINE, by Natalie Frijia, imagines a world without these luxuries. Directed by Claire Burns, DIVINE presents this one potential future as a post-apocalyptic wasteland - a wild-west complete with bandits, heroes and spies. A mix of fantasy and adventure, DIVINE is a delightfully entertaining glimpse at a dystopia that is too close for comfort.
---
5