Taylor Long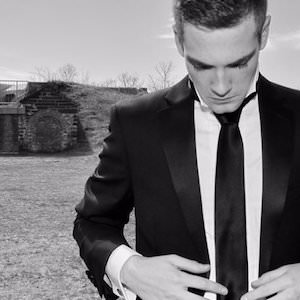 Taylor Long was born and raised on the east coast of Canada in Halifax, NS. Taylor studied opera at Dalhousie University and has performed in various musicals, plays and operas over the past 8 years. Joining BroadwayWorld in April 2017, he is currently the Senior Editor for Toronto.
Writing for BroadwayWorld is a dream job for a theatre nerd. I am beyond grateful that I have the opportunity to experience the incredible talent that Toronto has to offer. I love writing for BroadwayWorld because it gives me a chance to hopefully inspire someone who has never been to the theatre, or never been to an opera or a ballet - to take a chance, and take it in.
Twitter: @taylormlong
MOST POPULAR ARTICLES
LAST 30 DAYS
LAST 365 DAYS
BWW Review: Robert Markus Triumphs in DEAR EVAN HANSEN
Posted: Mar. 30, 2019



BWW Interview: Meet the Hansens of DEAR EVAN HANSEN Toronto
Posted: Mar. 28, 2019


Exclusive Photos! First Day of Rehearsal for Musical Stage Co's NEXT TO NORMAL
Posted: Apr. 3, 2019



FIRST LOOK: Music Video for Soulpepper's ROSE: A NEW MUSICAL
Posted: Nov. 20, 2018



BWW Review: Kids Bring the Rock in SCHOOL OF ROCK at Mirvish
Posted: Dec. 8, 2018


Ravi Jain's PRINCE HAMLET (2017 Review)
Posted: Jan. 17, 2019


BWW Review: Willy Wonka Re-Invented for the 21st Century
Posted: Nov. 23, 2018


BWW Review: THE KING AND I at Mirvish is a Charming Revival of a Problematic Musical

July 17, 2018

There's no escaping it - this Rodgers and Hammerstein classic has not aged well. Bartlett Sher's brilliant production of THE KING AND I has arrived in Toronto at Mirvish's Princess of Wales Theatre. While the cast does an exceptional job revitalizing the work, they can't escape the problematic cultural themes that form the structure of this beloved musical.
---
BWW Exclusive Preview: THE PREPOSTEROUS PREDICAMENT OF POLLY PEEL at Toronto Fringe

July 6, 2018

BWW Toronto presents an exclusive preview, including rehearsal video and stills, of THE PREPOSTEROUS PREDICAMENT OF POLLY PEEL (Act 1), a new musical by Julie Tepperman & Kevin Wong, being presented at the 2018 Toronto Fringe Festival from July 5 - 15, 2018!
---
BWW Review: WICKED Shows No Signs of Slowing Down

June 25, 2018

After nearly 15 years, WICKED is still defying gravity. The North American tour of Stephen Schwartz' blockbuster musical WICKED will be whisking Toronto audiences to Oz this summer at Mirvish's Ed Mirvish Theatre. Lucky for us Torontonians, this touring cast is more than capable at navigating the thrilling, challenging, and...popular score.
---
BWW Review: Andrew Lloyd Webber's Score Shines Through New Staging of PHANTOM OF THE OPERA at Mirvish

June 12, 2018

There's a new chandelier, new sets, and new costumes! But new doesn't necessarily mean improved. Laurence Connor's updated touring production of Broadway's longest-running show, THE PHANTOM OF THE OPERA, has arrived in Toronto. For a first-time Phantom viewer, the experience will be a grand one - but those who have seen the show before will long for the original.
---
BWW Interview: National Ballet of Canada's Jack Bertinshaw Talks FRAME BY FRAME

June 2, 2018

Visionary Canadian director Robert Lepage teams up with Guillaume Cote, Principal Dancer and Choreographer at the National Ballet of Canada to present FRAME BY FRAME. We spoke to Second Soloist Jack Bertinshaw, playing filmmaker Norman McLaren, about his life as a professional dancer, the unique challenges in bringing a man's life to life on the stage, and the incredible three-year collaborative process to prepare FRAME BY FRAME for its world premiere.
---
BWW Review: The Magic Was Still Very Much Alive at HARRY POTTER AND THE PRISONER OF AZKABAN IN CONCERT

May 21, 2018

Nothing brings people together quite like Harry Potter. The Toronto Symphony Orchestra (TSO) joined the Amadeus Choir and the Elmer Iseler Singers to present the third chapter of the Harry Potter: In Concert Series - HARRY POTTER AND THE PRISONER OF AZKABAN IN CONCERT. Beyond hearing the enchanting John Williams' score performed live by an incredible orchestra, the event is an incredible unifier - creating a space for Potter fans to congregate and celebrate.
---
BWW Review: Your Kids Will Love ANNIE at Mirvish

May 1, 2018

Puzzle pieces cover the stage, invoking a sense of kid-centric wonder in Mirvish's ANNIE. With music by Charles Strouse, lyrics by Martin Charnin, and a book by Thomas Meehan, ANNIE has stood the test of time as one of musical theatre's most beloved shows. Mirvish's production keeps the inspirational story and the hummable tunes - but offers a weird production concept that spends the entire show fighting itself.
---
BWW Review: CANDIDE at TSO Gives You Permission to Laugh

April 30, 2018

Conductor Bramwell Tovey began the evening by saying, 'in light of the way things are… I want to give you permission to laugh.' It didn't take very long before the audience was in stitches with laughter. The Toronto Symphony Orchestra performed Leonard Bernstein's CANDIDE last weekend, accompanied by some of the country's greatest classical voices - Judith Forst and Tracy Dahl - and the Toronto Mendelssohn Choir. The evening was a spectacular display of fine music, drama, and comedy.
---
BWW Review: Musical Stage Company's FUN HOME is a Little Show with a lot of Heart

April 22, 2018

The Musical Stage Company has done it again. FUN HOME, presented as part of the off-Mirvish subscription series, is a testament to the power of effective musical theatre. With its gripping exploration of a dysfunctional family struggling with identity - internally and externally - a book and lyrics by Lisa Kron, and music by Jeanine Tesori (Thoroughly Modern Millie, Shrek The Musical), FUN HOME packs a punch. It may be the biggest show in the Musical Stage Company's history, but FUN HOME is really an intimate story about love and acceptance.
---
BWW Review: Broadway Stars Shine Bright in TSO's ON BROADWAY

April 11, 2018

Two of musical theatre's finest voices filled the Roy Thomson Hall last night at the Toronto Symphony Orchestra's ON BROADWAY. Two-time Tony Award-nominee Stephanie J. Block joined Tony Award-nominated Canadian performer Ramin Karimloo and Steven Reineke, Principal Pops Conductor, in a night of Broadway highlights ranging from Rodgers & Hammerstein, to Stephen Sondheim, to Stephen Schwartz.
---
BWW Review: Second City's THE BEST IS YET TO COME UNDONE Delivers Comedy that Packs a Moral Punch

April 11, 2018

It's the type of humour that makes your gut ache from both laughter and contemplation. Second City is presenting their new mainstage revue, TITLE OF SHOW, a sketch comedy piece incorporating music, dance?, and of course, face-melting comedy. The ensemble tackles everything from Weight Watchers, to Google Home, to an exploration of how everything ultimately relates to the musical, CATS.
---
BWW Interview: Stephanie J. Block Talks Childhood, WICKED, and her Upcoming Toronto Symphony Concert!

April 4, 2018

From April 10th-12th, two-time Tony Award-nominee Stephanie J. Block will join the Toronto Symphony Orchestra, Broadway star Ramin Karimloo and conductor Steven Reineke to present ON BROADWAY, an evening of Broadway's greatest hits at the Roy Thomson Hall in Toronto! BroadwayWorld's Taylor Long sat down with Stephanie ahead of her upcoming concert with the TSO.
---
BWW Review: AN AMERICAN IN PARIS at Mirvish is the Gorgeous Show You Can't Miss

April 3, 2018

This must be one of the prettiest shows for the stage. AN AMERICAN IN PARIS, currently being presented at Mirvish, will have you shaking your head in wonder at Bob Crowley's imaginative set design and Christopher Wheeldon's breathtaking direction and choreography. The musical, inspired by the Academy Award-winning motion picture with Gene Kelly and Leslie Caron, features the sublime music and lyrics by George and Ira Gershwin. Although the performances are tremendously uneven, the musical is a feast for the eyes that is an unmissable theatrical attraction in Toronto.
---
FIRST LISTEN: 'Wherever You Go, I Will Go' from Canadian Musical Comedy RUMSPRINGA BREAK!

March 27, 2018

Take an exclusive first listen to the standout Act 2 ballad "Wherever You Go, I Will Go", from the Canadian musical comedy RUMSPRINGA BREAK! by songwriting duo Colleen & Akiva.
---
BWW Review: GOBSMACKED Has Impressive Parts but Struggles as a Unit

March 25, 2018

'The world's best a capella and beatboxing show,' delivers less energy than you'd think. Touring North America, GOBSMACKED is a collection of mainstream hits all performed completely a capella - like a live version of 'Glee' with less musical theatre. Individually the performers are wonderfully talented, but the collaborative team effort struggles to produce enough energy to make the show a hit.
---
Photos: Take a Look at the First Rehearsal for the Musical Stage Company's FUN HOME at Mirvish!

March 21, 2018

FUN HOME, the musical that swept the 2015 Tony Awards is coming to Canada - and BroadwayWorld has photos from the first rehearsal! The Musical Stage Company will present FUN HOME from April 13 - May 6, 2018 as part of the Off-Mirvish Subscription Series at the CAA Theatre (formerly the Panasonic).
---
BWW Review: ANIMAL FARM at Soulpepper Uses Humour to Reel You In

March 20, 2018

I would watch a Ravi Jain directed production of the phone book. ANIMAL FARM, presented by Soulpepper, is an adaption of George Orwell's famous novel by Canadian playwright Anthony MacMahon. Jain and MacMahon design a campy, satirical world for the farm animals, using humour as a reel to hook the audience into deeper discussions about humanity and society. It's persuasive, troubling, and honestly funny.
---
BWW Review: Soulpepper's IDOMENEUS Resonates Through Jarring Storytelling

March 15, 2018

'That's not what happened.' Soulpepper's IDOMENEUS tells the story of a famous Greek myth - but plays with the mode of storytelling to create something remarkable. Roland Schimmelpfennig's modern play comes to life in a timeless zone of monochromatic universality in Alan Dilworth's production, designed by Lorenzo Savoini. Using a chorus of voices, the narrative weaves between past and present, fact and fiction - presenting themes that resonate not only within the world of Soulpepper, but within the world at large.
---
BWW Review: National Ballet Delivers Grand Spectacle with THE SLEEPING BEAUTY

March 11, 2018

Tchaikovsky's exquisite score meets Nureyev's exhilarating choreography in a sensational grand ballet experience. The National Ballet of Canada brings back their celebrated production of Tchaikovsky's THE SLEEPING BEAUTY, choreographed by the late Rudolf Nureyev. A dancer himself, Nureyev's creative stamp on the piece expands the already technically challenging choreography originally created by Marius Petipa - adding depth to the Prince's role with variations of amplified difficulty. Even the most ardent ballet critic is sure to be impressed by the extreme athleticism required to dance this production.
---
BWW Review: National Ballet's MADE IN CANADA Fascinates with a Mixed All-Canadian Program

March 6, 2018

Slip into a painting. Slip into the life of a man. Slip into nature. MADE IN CANADA stimulates the imagination with a program of three invigorating Canadian ballets - Robert Binet's The Dreamers Ever Leave You, James Kudelka's The Four Seasons, and Crystal Pite's Emergence. This program offers something for everyone from classical choreography, to contemporary and everything in between.
---
2