Click Here for More Articles on Ballet!
BWW Interview: National Ballet of Canada's Jack Bertinshaw Talks FRAME BY FRAME
Visionary Canadian director Robert Lepage teams up with Guillaume Côté, Principal Dancer and Choreographer at the National Ballet of Canada to present FRAME BY FRAME - an intimate journey through the life of Scottish-Canadian animator, producer, and filmmaker, Norman McLaren.
Portraying McLaren is NBC's Second Soloist, Jack Bertinshaw. BroadwayWorld's Taylor Long spoke to Bertinshaw about his life as a professional dancer, the unique challenges in bringing a man's life to life on the stage, and the incredible three-year collaborative process to prepare FRAME BY FRAME for its world premiere.
---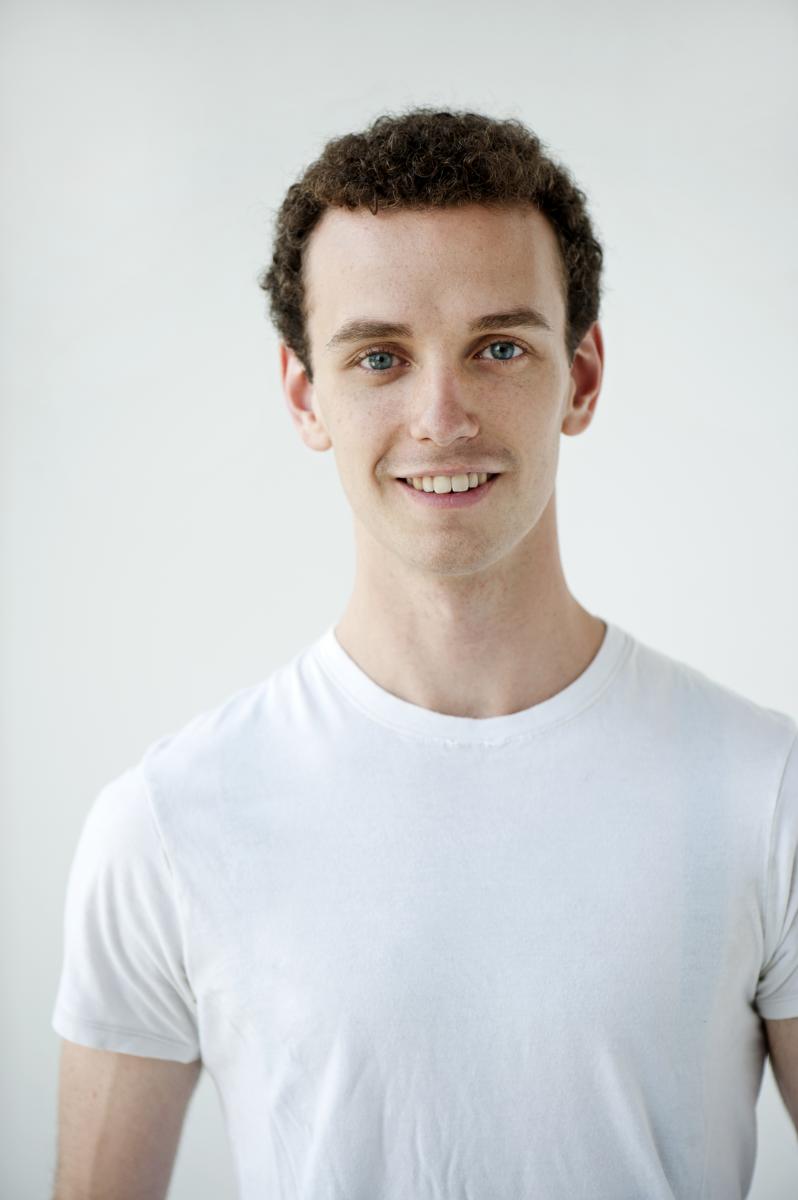 Tell me about your life as a child. Where did you grow up? When did you start dancing?
I'm from Sydney, Australia. I travelled around a lot as a kid. My dad's work took me to Japan at the age of three - so I grew up in Japan from the age of three until about seven or eight. That was pretty cool. Then we moved back to Australia and I continued schooling. Soon after that, about grade four, I started dancing.
Did you start your training in ballet?
I started off with jazz and acrobatics. I did a bit of tap dancing and then ballet and contemporary came about a year later.
Did you siblings or your parents dance?
My sister started when she was younger. I used to go and pick her up from the church hall across the road, and it was through that that I slowly started getting interested in dance.
You must have shown some sort of affinity for dance as a kid for your parents to put you in dance at such a young age?
Oh yes. I was in Australia until I was fifteen, just turning sixteen when I moved to Zurich. I got a scholarship at the Tanz Akademie Zürich (Zurich Dance Academy) and I did my pre-professional training there for three years. Then I went from there to Canada, and I've been at the National Ballet of Canada now for - this is my seventh year that I'm finishing up.
Was there a specific moment in all of that training where you knew that this was going to become a profession?
It was before I moved to Zurich. That was the point that I knew that this was definitely what I wanted to do. I was just so passionate about it. There is something about the high physical demand that I love. Also, the discipline behind it is really intriguing to me - as well the perfectionist side of being a dancer.
All three of those things are things that I love. Just the fact that you can never be perfect...it's an odd thing that drives us all to constantly reach for perfection even though it's not possible. That's what I love - that drive.
Would you say that's one of the most challenging aspects of being a professional dancer?
Oh, of course. I think, right up until you are retiring you are always trying to perfect the art. We all love it at the same time.
What would you say is the most rewarding aspect of dancing professionally?
Performing. We do all of the work and the training in the studios for hours and hours and the reward is being able to perform and entertain people - getting feedback from people and just knowing that you've taken someone on a journey for a moment of time is really special.
Let's talk about some of your journeys. Can you take me through some of your highlights with the National Ballet?
One of the first featured roles I did was actually a tap dancing role with the company in Alice in Wonderland - I was the Mad Hatter. That was a really fun role. It was super crowd-pleasing too because ballets don't ever have tap dancing!
Oddly enough, I've done a lot of fun roles. Mercutio (Romeo and Juliet) as well, was a hoot. You get to be a clown. Another fun part about that is that you die - everyone loves a good death scene.
Another one that's similar to Mercutio was Lescaut in Manon. I had a good drunk solo and then again, you die - he gets shot.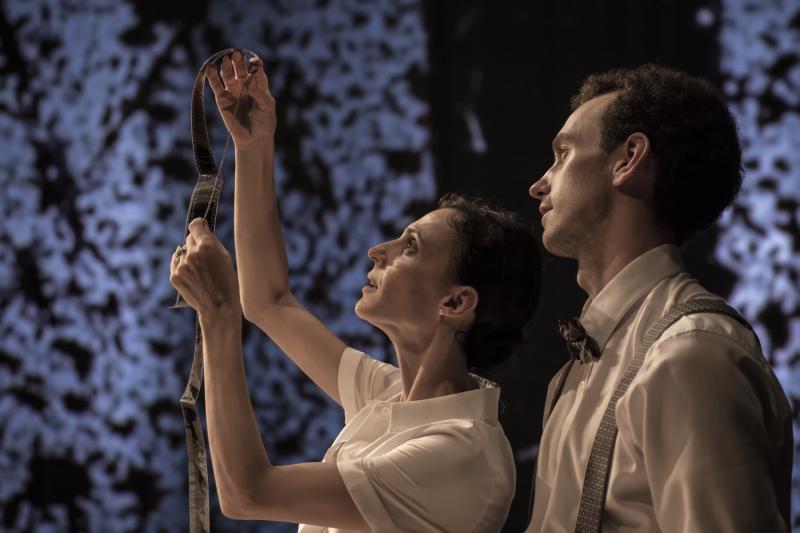 This role in FRAME BY FRAME, Norman McLaren, is this the first time you're fleshing out a human character on stage?
Yes, I believe so.
Tell me a bit about that creative process.
Both teams - the Ex Machina team with Robert Lepage - and Guillaume and us dancers - we've done a lot of research, going back to three or four years ago when we first sat around a table. We literally laid out Norman McLaren's life. We put his face in the middle and then just kind of made one of those spider-web charts that branches out to - this was his life partner, these were the people he worked with, these were the tools he used creating throughout the years, these were his works.
Being part of that process from the very beginning was a rarity for us dancers. We don't normally get to be a part of the process until about three months before opening when the choreographer comes and says, "these are the steps you are going to be doing and this is the character you'll be dancing."
One of the really neat parts about this experience is that for three years for a week or two in the summer, we would go to Quebec and work with Robert Lepage and his company - trying to learn and discover more about Norman McLaren.
I've done a lot of my own research too, to answer your question. I've done some reading and we've all watched a lot of his footage. He definitely put a lot of his personality in his work - a lot of them being funny, quirky and very playful.
Under the direction of Robert and Guillaume, we've created what we believe to be, a really great homage to Norman McLaren - while also having a lot of me in it, naturally.
Is this ballet narrative or is the storytelling more abstract?
I guess it wouldn't necessarily fall under full storytelling. Oddly enough it's a frame by frame version of his life - in a funny way. We do follow his life chronologically, as much as we can, but at some moments we are literally doing a scene as an homage to his works.
We're working with a lot of very high tech projections, lighting, and technology to be able to represent a lot of his works. Sometimes we play the films as well as representing them, and sometimes we take a concept of his and we work with that.
Tell me about the music in the piece. Is it all original music by Antoine Bédard?
Yes. But he's also taken music from other places and re-worked it. There's also original music from Normal McLaren's works - he was very innovative with sound on film. There's one called Synchromy where he literally stretched out what he did on the film and said, "what if I put this through the sound side?" What you see is what you hear and what you hear is what you see. It sounds almost like electronic music that you would hear today, but in fact, that was him putting a piece of film through the sound side, to see what the sound picked up.
We have some jazz music from the 50s as well. There's a wide variety of music being featured - even a Swan Lake excerpt in a scene where we're watching the ballet.
Most ballets have a choreographer who also acts as director. This piece has Robert Lepage directing and Guillaume Côté choreographing. How have they coordinated their work on this project?
It was very collaborative. Guillaume obviously had full control over the dancing aspect. It's the first time that Robert has worked with the National Ballet of Canada. But he's really been a big help with directing Guillaume in each scene. We create the scene and then Robert is very much directing, helping and guiding Guillaume.
For three years we were workshopping and playing. The two of them have worked really well together in that aspect - and they very much both have a say. Robert certainly has a clearer image sitting back, as to what he wants in each scene, when it comes to the acting and what message he wants to be sent out.
But the dancers too, we've been able to be a part of the process by coming up with creative ideas. That was one of the first things that Robert and his team said to us - "Please, there are no bad ideas. This is a collaborative process."
That's been one of the really special parts about this experience. We've all been in it together and we've all created something wonderful.
---
You can catch Jack Bertinshaw as Norman McLaren in the National Ballet of Canada's FRAME BY FRAME, on stage now until June 10, 2018 at the Four Seasons Centre for the Performing Arts.
If past Lepage projects are any indication, this will sell-out fast, so get your tickets now: https://national.ballet.ca/Productions/2017-18-Season/Frame-by-Frame
(main photo: Jack Bertinshaw in rehearsal for FRAME BY FRAME. Photo by Elias Djemil-Matassov)
FRAME BY FRAME TRAILER: