BWW Review: Musical Stage Company's FUN HOME is a Little Show with a lot of Heart
* * * * (out of 4)
The Musical Stage Company has done it again. FUN HOME, presented as part of the off-Mirvish subscription series, is a testament to the power of effective musical theatre. With its gripping exploration of a dysfunctional family struggling with identity - internally and externally - a book and lyrics by Lisa Kron, and music by Jeanine Tesori (Thoroughly Modern Millie, Shrek The Musical), FUN HOME packs a punch. It may be the biggest show in the Musical Stage Company's history, but FUN HOME is really an intimate story about love, acceptance, and family.
As the narrator, lesbian cartoonist Alison Bechdel (Laura Condlln) revisits her past in the process of creating her graphic novel, Fun Home: A Family Tragicomic. The bulk of the story explores the relationship between Alison and her closeted father, Bruce Bechdel (Evan Buliung). From a young age, small Alison (Hannah Levinson) starts to question her sexuality. Years later, Medium Alison (Sara Farb) has her first gay experience in college, opening the door to acceptance and harmony - but things aren't quite harmonious back at the Bechdel Fun Home.
The aspect of this show that immediately stands out is the connection between the three Alisons. Although the actresses look nothing alike, they are united by the strength of the show's libretto and the insightful direction by Robert McQueen. As small Alison, Levinson is a star. She portrays the youngest version of Alison with youthful innocence and curiosity. Her main ballad, "Ring of Keys," is the song you leave the theatre singing - and Levinson's Broadway-quality vocal placements will leave you stunned.
Medium Alison is brought to life by the sensational Sara Farb. Discovering her sexuality, Farb's chemistry with Sabryn Rock's Joan is on fire. Farb has fleshed out an intriguing multi-dimensional character with Alison - ensuring that her take on "Changing My Major," is sincere and compelling. Laura Condlln portrays present-day Alison with a sort of jaded approach to her past that gradually grows to an emotional climax in "Telephone Wire." Condlln's performance is the type of focused acting that brings audiences to tears.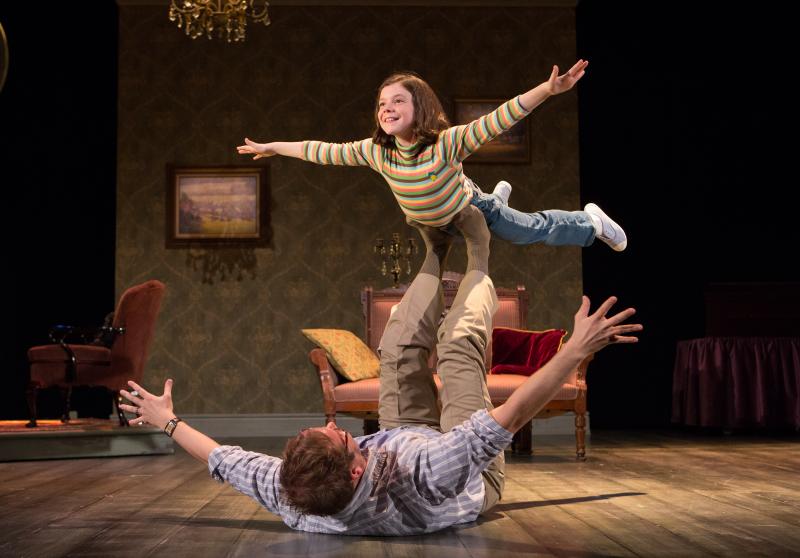 Struggling to keep a busy household together, Bruce and Helen Bechdel (Cynthia Dale) work tirelessly to maintain perfection on the exterior. As the ensemble repeats, "he wants, he wants," "Welcome to Our House on Maple Avenue," gives a sense of Bruce's obsessive characteristics when it comes to the presentation of his home - his life - to the outside world. Dale does a magnificent job crafting the poised matriarch, finally coming undone in "Days and Days," with an explosion of compressed energy.
Buhliung is perfection in his nuanced portrayal of Bruce Bechdel. Buhliung brings passion, guilt, regret, and longing to the father struggling with his sexuality. It was his final number, "Edge of the World," that finally broke me. You could almost see Buhliung's brain spinning out of control as he moved through the spellbinding ballad.
The cast of the Musical Stage Company's FUN HOMEdeliversr gripping performances that shake you to the core. Condlln sums it up nicely in one of her lines in the show, "every so often there was a rare moment of perfect balance." The Musical Stage Company gives you these glimpses of perfect theatrical balance with an outstanding cast - in a little show with a lot of heart.
---
FUN HOME, presented by the Musical Stage Company runs through May 20, 2018 at the CAA Theatre (formerly the Panasonic Theatre) as part of the off-Mirvish subscription series.
For more information or to purchase tickets, visit https://www.mirvish.com/shows/fun-home
(main photo credit: Liam MacDonald, Jasper Lincoln and Hannah Levinson in FUN HOME. Photo by Cylla von Tiedemann 2018)