Richard Allen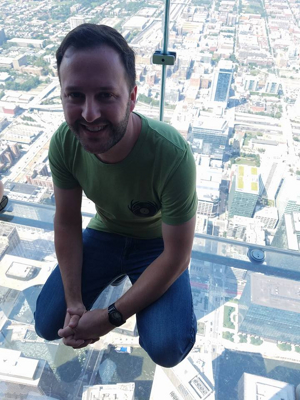 Richard Allen is a Contributing Editor for Broadway World covering theatre in West Virginia and the tri-state area. He currently writes for multiple publications including Gaming Trend, and Fandomize. He recently had his first original work published in the Writing Bloc Anthology "Deception" available now on Amazon in print and Kindle. He can be reached via e-mail at richardallenwrites@gmail.com or at facebook.com/richardallenwrites
MOST POPULAR ARTICLES
LAST 365 DAYS
BWW Review: SOMETHING ROTTEN by The Charleston Light Opera Guild
Posted: May. 4, 2022


Fundraising Concert LIVE! ON OLDE MAIN Comes to The Alban Arts Center, August 7
Posted: Jul. 28, 2021


Catch the Full-Length, One-Woman Play, YOU MIGHT AS WELL LIVE at the ALBAN ARTS CENTER, This Weekend!
Posted: Sep. 16, 2021


BWW Review: SOMETHING ROTTEN by The Charleston Light Opera Guild

May 4, 2022

Occasionally a show comes along that ignores all the established rules of what musical theatre is supposed to be and instead opts to poke fun at, well, the theatre itself. Something Rotten, the acclaimed Broadway hit which opened in 2015 and was nominated for ten Tony awards, including Best Musical, is one of those shows. Unapologetically silly and enthusiastically fun, the audience can't help but be charmed by its chaotic joyfulness.
---
Catch the Full-Length, One-Woman Play, YOU MIGHT AS WELL LIVE at the ALBAN ARTS CENTER, This Weekend!

September 16, 2021

This unique, one-woman performance piece will be performed for two nights only at the Alban Arts Center. Written by Glenn Griffin and presented by The Dorothy Parker Project, You Might As Well Live stars Susan Marrash-Minnerly as Dorothy Parker as she looks back on her life on the eve of her death. With only two performances this weekend, you don't want to miss this fantastic production!
---
Fundraising Concert LIVE! ON OLDE MAIN Comes to The Alban Arts Center, August 7

July 28, 2021

The pandemic has hurt all businesses, but one that was particularly devastated throughout the past year has been the theater. While the arts have slowly begun a revival as pandemic restrictions lift, there is still a long way to go to financially recover.
---
The New West Virginia Museum of Music To Hold Open House on June 12th

June 8, 2021

The West Virginia Music Hall of Fame's newest project, 'The West Virginia Museum of Music,' will host an open house from 1-6 p.m. on Saturday, June 12.
---
Cast List Announced for THE WOMEN at the Alban Arts Center

May 14, 2021

The cast list for The Alban Art Center's production of the 1936 play The Women has been announced.
---
An Interview with Director Adam Bryan about RIKKI TIKKI TAVI, Opening This Weekend at THE ALBAN ARTS CENTER!

April 13, 2021

Alban Arts Center's upcoming production of Rikki Tikki Tavi will be the first show to have a live audience since early 2020. I spoke with Director Adam Bryan about the show, his thoughts on once again allowing audiences inside the Alban, and how the Alban will handle shows in the future.
---
Auditions Announced for SORDID LIVES by On the Edge Theatre Company in Ashland

April 9, 2021

On the Edge Theater Company will be hosting auditions on Saturday, April 10th, 2021 for their upcoming black comedy, Sordid Lives.
---
BWW Interview: Leah Turley and Rachel Sharp of THE DIARY OF ANNE FRANK at Alban Arts Center

February 17, 2021

Anne Frank and her diary have endured as one of history's greatest – yet ultimately saddest – stories. The stage play brings both the highs and the lows of Anne's amazing story to vivid life, recreating her time in hiding in stunning detail. While viewers may know the ending, there is still much to be learned through Anne's unwavering optimism and hope in the face of incredible adversity.
---
BWW Interview: CHRISTMAS SHORTS By the Children's Theatre Of Charleston Begins Streaming, December 11

December 2, 2020

While current guidelines prohibit live audiences and restrict gathering, CTOC has worked diligently to continue their yearly tradition and bring Christmas Shorts - a hilarious comedy show featuring skits, parodies, and musical numbers - to audiences in a way that is both safe and unique by incorporating masks into the production and filming the show for viewers to watch.
---
CHRISTMAS SHORTS Auditions This Weekend at The Children's Theatre Of Charleston!

October 5, 2020

Childrena??s Theatre of Charleston (CTOC) is holding auditions for children aged 8 to 18 for their upcoming production Christmas Shorts. Positions are available for actors, musicians, and vocalists with auditions being held outside at the CTOC Rehearsal Space located at 115 Spring Street in Charleston, WV on October 10th, 2020 from 1:00 PM until 4:00 PM and October 11th, 2020 from 2:00 PM until 5:00 PM. For the safety of everybody involved, interested parties must sign up for an audition spot. There will be no walk-ins allowed.
---
LIVE ON OLDE MAIN WITH ALONDRA at Alban Arts Center

September 29, 2020

The live stream rock concert will feature covers of songs made popular by Led Zeppelin, Cream, Pink Floyd, Jimi Hendrix, The Cars, and more! The live stream will begin at 7:00 PM on Friday, October 2nd, 2020. You can purchase tickets online through Alban Arts Center for $10.00
---
WHEELING SYMPHONY ORCHESTRA ANNOUNCES FALL CHAMBER SERIES at Oglebay Wilson Lodge Glessner Ballroom

August 4, 2020

Wheeling Symphony Orchestra (WSO) announces its fall concert chamber music series, WesBanco presents SoundBites.
---
Interview: Director Bil Neal and Actress Jane Modlin of ALCHEMY THEATRE TROUPE'S Upcoming Production of FOLLIES!

February 28, 2020

a?oeGood times and bum times, I've seen them all and, my dear, I'm still here,a?? sings Carlotta in a pivotal moment in Follies. Like Carlotta, Follies has proven to be a fighter, surviving the yearly onslaught of new musicals while retaining the show's natural, understated charm. With a set consisting of not much more than a few tables and chairs, Follies spins a story about four aging performers confronting the (literal) ghosts of their past.
---
Rudi Arrowood & Emma Alley Of Charleston Light Opera Guild's Upcoming Production of THE SOUND OF MUSIC

January 13, 2020

Charleston Light Opera Guild is kicking off 2020 with their highly anticipated production of the classic The Sound of Music, set to debut on January 17th at The Clay Center in the Maier Performance Hall.
---
FROZEN JR Performed by the CHILDREN'S THEATRE OF CHARLESTON Open Tonight at the CHARLESTON LITTLE THEATER

December 13, 2019

Tonight is the opening night for Children Theatre of Charleston's (CTOC) magical production of Disney's Frozen Jr!
---
BWW Interview: Andrew Edwards & Heather Allen  of ROCK OF AGES At Alban Arts Center

November 11, 2019

'Rock of Ages has been a bucket list show for me ever since I saw the movie,' explained Andrew Edwards, who portrays Drew in the Alban Arts Center's upcoming production of the hit Broadway jukebox musical. 'I realized it was basically an excuse to be a rock star and scream some awesome rock songs that I'd never otherwise be able to do. I knew that I had to participate in this show in any capacity I could.'
---
BWW Interview: Brynna Horswell & Adam Campbell Of OKLAHOMA! At Charleston Light Opera Guild

November 5, 2019

'Oklahoma! Is and will always be my first love,' explained Brynna Horswell, who portrays Laurey in Charleston Light Opera Guild's (CLOG) upcoming production of the Rodgers and Hammerstein classic. 'It was the first musical I remember being exposed to as a very little girl. I grew up singing and dancing to those songs and dreamed that one day I'd be Shirley Jones with my own Gordon MacRae.'
---
WHEELING SYMPHONY YOUTH ORCHESTRA BLUEGRASS BBQ FUNDRAISER at Oglebay Park on September 29th!

September 23, 2019

Wheeling Symphony Youth Orchestra Holds Annual Bluegrass BBQ Fundraiser at Oglebay Park
---
BEAUTIFUL: THE CAROLE KING MUSICAL at KEITH-ALBEE PERFORMING ARTS CENTER on October 9th!

September 23, 2019

Tony Award-Winning Musical Beautiful a?" The Carole King Musical to Inspire Keith-Albee Audiences
---
AUDITION NOTICE: ROCK OF AGES at ALBAN ARTS CENTER! Auditions Begin August 23rd!

August 16, 2019

The Broadway hit musical Rock of Ages is being performed for the first time in West Virginia! Alban Arts Center recently announced audition details and dates as well as performance dates.
---