Feature: Hannah Jane to Bring Her One Woman Show LADY LEGENDS OF BROADWAY to Charleston in February
Lady Legends of Broadway will have performances on Feb 25th and Feb 26th, 2023.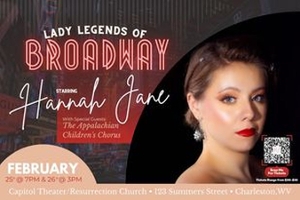 "I often say performing is like air for me - I need theater in the depths of my soul."
Hannah Jane was merely 13 years old when she set her sights on the bright lights of New York City. Despite her young age, Hannah Jane was no stranger to performing. After all, she had already spent years honing her skills on the stages of various theatres around the Charleston, WV area.
"My first show, Annie at The Alban Theater, will always be in my memory bank of major life events. It's what started this whole love of theater journey which landed mom and I in NYC to begin with," explained Hannah Jane. "From the first rehearsal I instantly got the theater bug and it's never left. As a matter of fact, it has just intensified over the years." Hannah Jane went on to perform in a local production of Evita, a role which she credits with making her fall in love with what is now her dream role, Eva Perone.
After years of performing throughout WV, Hannah Jane set out to conquer larger stages, eventually tackling what proved to be a demanding, yet rewarding show in Once. "I will never be able to put into words how much this show changed me as a performer and as a musician," said Hannah Jane. In Once, every performer must play an instrument. Thankfully, Hannah Jane was well-prepared for the challenge as she was already proficient in a multitude of instruments. "Being a guitar, ukulele, mandolin, and piano player worked in my favor when auditioning. I can definitely say that I honed my skills during that run."
Hannah Jane's latest performance was in Jersey Boys, the hit musical which tells the story of Frankie Valli and The Four Seasons. "Jersey Boys is probably the most fun show that I have been able to do. There are only 3 girls in this show and collectively we played 52 different parts. That's a lot of quick changes, lots of wigs, a ton of music and a non-stop show," said Hannah Jane. "I will never forget the energy I felt at opening night bows. It was like I had just run a marathon and finished in the top 10. It was amazing and I truly hope I get to do that show again!"
Moving to NYC from a small-town proved to be eye-opening for Hannah Jane. "The biggest surprise to me after moving to NYC was the realization that theater wasn't the only way that performers released their creativity into the world. I discovered concerts and cabaret - smaller intimate shows, but still very connected to the world of theater. You can see someone in a sold out run of a Broadway show one month and on the Green Room 42 stage in their own show the next," explained Hannah Jane. She quickly set out to take advantage of the incredible number of opportunities available to her in NYC.
"I'm so fortunate to have been given many opportunities to sing in venues throughout the city, including the annual NYC Cabaret Convention held every October at Jazz at Lincoln Center. It's a magnificent venue, and to be a young performer invited to be part of that evening on multiple occasions is an honor that I simply can't put into words," said Hannah Jane. "Through these smaller venues I get to sing all my favorite Broadway music, but I also get to dive into the Golden Age era which is where my heart thrives. That music - the music that really laid the foundation for what we see on Broadway today - settles so well in smaller rooms with an intimate audience where you can really feel their energy and connect with them face to face."
"I'm as grateful for those opportunities as I am for the staged musicals that brought me to NYC in the first place. Having these outlets in addition to theater has allowed me to sing the music I love, grow in my craft, and meet so many amazing performers and musicians."
Through her travels and performances Hannah Jane realized how tight knit of a community the art world is. "New York City is a big place, but still a small community of uber talented people all reaching for the same dreams with the same desires. It's really a wonderful experience to cross paths with people in different venues and types of performances doing what they love alongside of me doing what I love. It's pure magic!"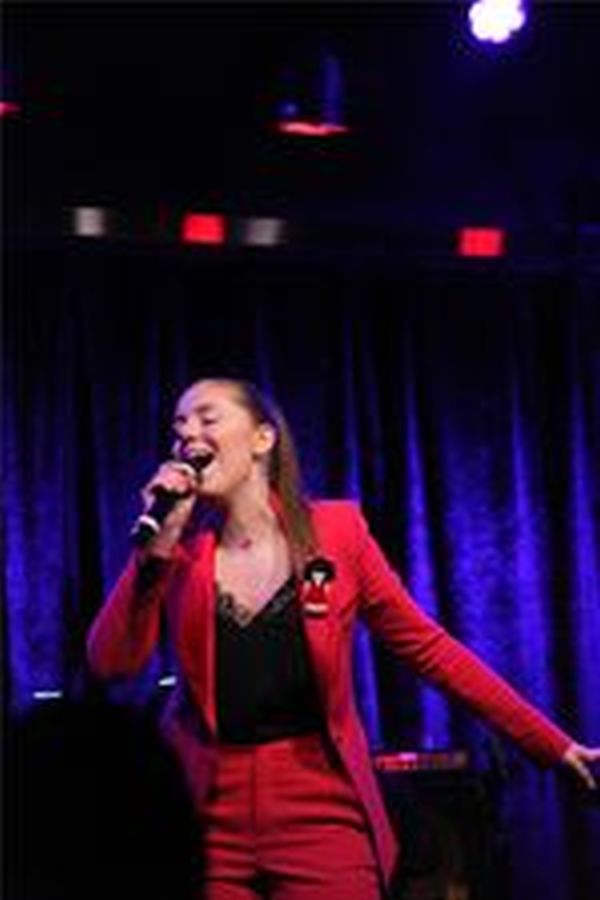 Now Hannah Jane is bringing that magic back to her home state with her one-woman cabaret show, Lady Legends of Broadway. Directed by TV/Broadway/Film star Coco Cohn and legendary Musical Director Jon Weber, Lady Legends promises to delight and surprise audiences in equal measure. Despite her success outside of WV, Hannah Jane hasn't forgotten her roots and will have The Appalachian Children's Chorus join her for a few numbers, along with her friends Steve and Krystal McConihay, Ted Tanzy, and Kennie Bass.
Hannah Jane explained what inspired Lady Legends of Broadway and dived into what audiences can expect from her show. "Lady Legends was born out of my revelation that theater wasn't the only "gig" in town for theater performers. It's actually my second solo cabaret show. My first, On My Way, was nothing short of magic for little 18-year-old Hannah Jane. I think Lady Legends kicks things up a notch with a wiser, older, more mature Hannah Jane who has some more experience under her belt."
"Lady Legends is based on a book called A is for Audra written by John Robert Allman. He takes the reader through the alphabet and shares who he feels is a legendary female performer represented by each letter. I loved this book so much, I decided to use it as a basis for a show," explained Hannah Jane. "I happily take my audience through the 26 letters of the alphabet and sing songs from each of these legendary women who graced the stages of many Broadway theaters over the last 50 years or so. "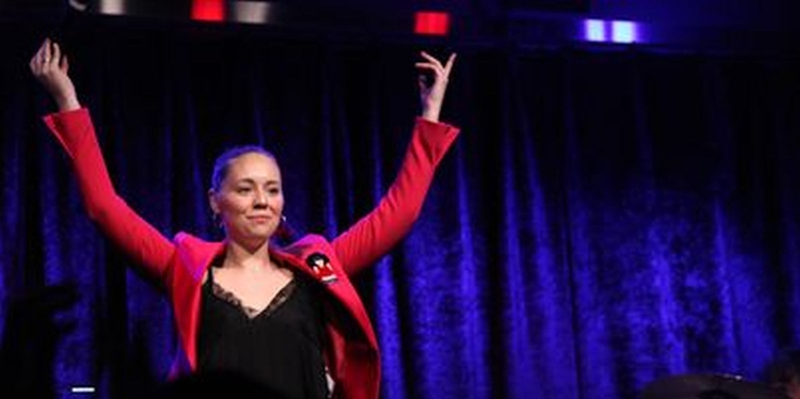 "There will be music from well-known shows like Wicked, The Music Man, and Thoroughly Modern Millie, but also some maybe not so well know shows like Lady in The Dark and Light in the Piazza. There is something for everyone. I tried to mix all of this up with a little humor and maybe even a little dancing, "stated Hannah Jane. "I'm definitely going to sing some stand out numbers from these shows, but I hope to introduce the audience to some songs they may not remember, or have ever heard, that will warm their spirits. I believe that's what music should do so I always set out to build a show that brings many levels of emotion to the audience. I want to take them on a journey, and I truly believe Lady Legends does that."
As for what's next, Hannah Jane said that her and her mother are already hard at work on her next show. "It's been in the works for a bit, but we are really putting some fire behind it, and we hope to have it out in NYC later this spring," said Hannah Jane. "My mom has been an integral part of my journey from day one. She is crazy creative and is always part of the creative process when I am building a new show."
Despite her work on a new show, Hannah Jane is always happy to perform Lady Legends and is always on the lookout for new opportunities. "I hope to do Lady Legends a few more times in the Spring," said Hannah Jane. "I am always looking at auditions for shows of all kinds, Broadway, regional theater, and summer stock! It's early in the year so who knows where I will end up this summer, but I am ready to jump in wherever the auditions lead me - which could be anywhere across the country!"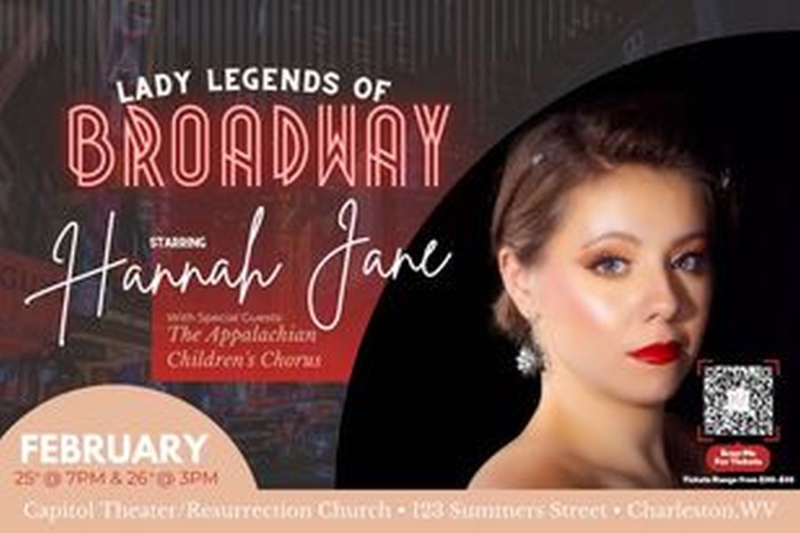 Lady Legends of Broadway will have two performances, one on Saturday, February 25th, 2023, at 7:00 PM and another on Sunday, February 26th, 2023, at 3:00 PM. Both performances will take place at the Capitol Theater/Resurrection Church located on 123 Summers Street in Charleston, WV 25301. Tickets are available now for $30.00 to $35.00. You can purchase tickets here.
For more information on Hannah Jane or to keep up to date with what she's up to, you can check out her website at https://www.hannahjane.nyc/