Vanessa Hudgens, Eden Espinosa, Ana Villafañe and More Will Star in IN THE HEIGHTS at the Kennedy Center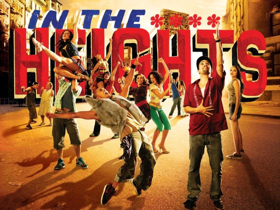 The John F. Kennedy Center for the Performing Arts continues the inaugural season of Broadway Center Stage with In the Heights, Lin-Manuel Miranda's debut Broadway musical with a book by Pulitzer Prize finalist Quiara Alegría Hudes. Winner of four 2008 Tony Awards® including Best Musical and Best Score, In the Heightstells the universal story of a vibrant community in New York's Washington Heights neighborhood-a place where the coffee from the corner bodega is light and sweet, the windows are always open, and the breeze carries the rhythm of three generations of music. It's a community on the brink of change, full of hopes, dreams, and pressures, where the biggest struggles can be deciding which traditions you take with you and which ones you leave behind. Presented as a part of Broadway Center Stage, a Kennedy Center-produced series of musicals in semi-staged concerts, In the Heightswill run March 21-25, 2018 in the Eisenhower Theater.
Due to popular demand, an additional performance has been added to the original, sold-out run of six performances. Tickets for the added performance on Sunday, March 25 at 8 p.m. are on sale through at the Kennedy Center box office, the website, or by calling(202) 467-4600 or (800) 444-1324.
Returning to the Kennedy Center following her turn in the pre-Broadway production ofGigi, Vanessa Hudgens, will take on the role of Vanessa, with newcomer Joshua Grosso as Usnavi, Ana Villafañe (On Your Feet!) as Nina, local D.C. actor Mateo Ferroas Sonny, Eden Espinosa (Wicked) as Daniela, J. Quinton Johnson (Hamilton) as Benny, original Broadway cast member Blanca Camacho as Camila, Saundra Santiago (Nine) as Abuela Claudia, Broadway cast member Rick Negron returning to the role of Kevin, Virgil Gadson (After Midnight) as Graffiti Pete, Arianna Rosario (On Your Feet!) as Carla, and original Broadway cast member Eliseo Roman reprising the role of Piragua Guy.
The production is directed and choreographed by Stephanie Klemons, who recently choreographed the NFL Super Bowl ad featuring Eli Manning and Odell Beckham Jr. AnIn the Heights original Broadway cast member and Assistant Dance Captain, Klemons has a long history with Miranda's work, having gone on to serve as Associate Choreographer for both Hamilton and Bring it On.
"When planning the first Broadway Center Stage season, I knew that In the Heights had to be a part of the series," said Jeffrey Finn, Vice President of Theater Producing and Programming at the Kennedy Center. "With Lin-Manuel Miranda's electrifying score and moving story about home and family, this Tony Award®-winning musical is timeless. Plus, I'm elated that Lin personally chose Stephanie Klemons to helm the production and put together this brilliant team."
The In the Heights ensemble includes David Baida, Nico DeJesus, John Edwards,Hope Easterbrook, Rosie Fiedelman, Henry Gainza, Carlos Gonzalez, Morgan Marcell, April Ortiz, Khori Petinaud, and Voltaire Wade-Greene.
The Broadway Center Stage series begins with CHESS, the epic rock opera about love and political intrigue set against the backdrop of the Cold War as two superpowers attempt to manipulate an international chess championship for political ends, February 14-18, in the Eisenhower Theater. Following In the Heights, How to Succeed in Business Without Really Trying, the Tony® and Pulitzer Prize­­-winning musical lampooning life on the corporate ladder, with an exhilarating score by Frank Loesser, will take to the Eisenhower Theater stage, June 6-8, to complete the season.
Broadway Center Stage: In the Heights will be performed Wednesday, March 21-Sunday, March 25, 2018 at 8 p.m. with matinees at 2 p.m. on Saturday, March 24 and Sunday, March 25. For more information please visit the Kennedy Center website, in-person at the Kennedy Center box office, or call (202) 467-4600 or (800) 444-1324.