Click Here for More Articles on NEW YORK CITY
Soomi Kim's MY LITTLE CHINA GIRL to Play Dixon Place This Fall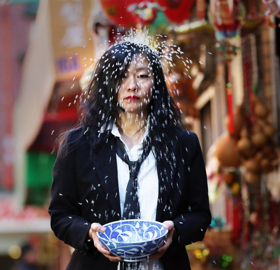 Dixon Place presents the world premiere of acclaimed downtown theater artist Soomi Kim's MLCG (MY LITTLE CHINA GIRL), written and choreographed by Soomi Kim and directed by Leta Tremblay.
The production plays a limited engagement of six performances only, Fridays and Saturdays at 7:30 pm, November 3 through November 18 at Dixon Place (161A Chrystie Street).
Tickets are $21 in advance and $24 at the door. For tickets and further information, visit dixonplace.org/performances/mlcg-my-little-china-girl or call (866)-811-4111.
When David Bowie died, performing artist and choreographer Soomi Kim was suddenly reminded of her own coming of age as a Korean-American in the MTV generation and her adolescent desire to be the exotic Asian woman in Bowie's "China Girl" video. MLCG (MY LITTLE CHINA GIRL) is a high-octane solo performance that deals with Ms. Kim's experiences as a first generation Korean-American, tackling themes of Western standards of beauty, the deep and physical pain of loss, and yearning for approval - from her father, from society, and from the white male icon on her TV screen.
In MLCG (MY LITTLE CHINA GIRL), the fourth piece in Soomi Kim's series of theatrical works as she continues to explore her central artistic theme of the Asian-American experience. As a member of one of the few immigrant families in her Oregon hometown, Ms. Kim felt compelled to hide her culture as an adolescent and now seeks to reclaim those buried parts of her identity through her art. Told through dance and text - drawn from excerpts of her childhood diary - MLCG (MY LITTLE CHINA GIRL) expands on this recurring theme to include the devastating loss of Kim's mother at an early age and her father's swift remarriage via arrangement just five months later. This autobiographical show sees Kim struggling to bridge both a cultural and generational divide while navigating the sensitivities of adolescence and the yearning to be heard and understood.
Soomi Kim is a performing/movement artist who is most well known for spearheading a trilogy of plays inspired by Bruce Lee (Lee/gendary 2008) artist Theresa Hak Kyung Cha (Dictee: bells fall a peal to sky 2012), and performance artist & political activist Kathy Change (Chang(e) 2015, HERE Arts Center project). Her works were co-devised and directed by Suzi Takahashi and have been presented at the 1st, 3rd and 4th Consortium for Asian American Theater Artists in NYC (Samuel Beckett Theatre), LA (Inner City Arts) and Philadelphia (InterAct). Awards and Residencies: NPN Creation and Forth Fund, Urban Arts Initiative, NYITA winner, Mabou Mines, Hemispheric Institute and Asian Arts Initiative. Upcoming: Dec. 2017: Boomarts presents Chang(e) in Portland, OR. She has been a Guest artist at Harvard, Oregon State University, and NYCAASC.
LETA TREMBLAY (Director) is a freelance director based in New York City. She has presented work at 59E59 Theaters, Theatre Row, Ensemble Studio Theatre, Eugene O'Neill National Theater Center, Cherry Lane Theatre, The Lark, New World Stages, Access Theater, The Kraine Theater, Paradise Factory, The Brick, FringeNYC, IRT Theater, The Gym at Judson, The Secret Theatre, The Cell, Davenport Theatre and site specifically. She is a graduate of Smith College and the Eugene O'Neill National Theatre Institute and has trained with the Wooster Group and Siti Company. Leta is the Producing Artistic Director of Caps Lock Theatre. Stage Directors and Choreographers Society Associate Member. www.letatremblay.com
MIA CHUNG's (Dramaturg) plays include You for Me for You, Catch as Catch Can, and This Exquisite Corpse. You for Me for You had a Korean premiere at the National Theatre Center of Korea, a UK premiere at The Royal Court Theatre, a US premiere at Woolly Mammoth Theatre (DC), and multiple productions around the country, including Company One, Crowded Fire Theater, InterAct, Mu Performing Arts/Guthrie Theater, and Portland Playhouse. In 2018, the play will run in Chicago, Michigan, and upstate NY. The play is published by Bloomsbury Methuen Drama. Recently, Mia received a Playwrights' Center Jerome Fellowship and the Stavis Playwright Award.
An artistic incubator since 1986, Dixon Place is a Bessie and Obie Award-winning non-profit institution committed to supporting the creative process by presenting original works of theater, dance, music, puppetry, circus arts, literature and visual art at all stages of development. Presenting over 1000 creators a year, this local haven inspires and encourages diverse artists of all stripes and callings to take risks, generate new ideas and consummate new practices. Many artists, such as Blue Man Group, John Leguizamo, Lisa Kron, David Cale, David Drake, Deb Margolin and Reno, began their careers at DP. In addition to emerging artists, Dixon Place has been privileged to present established artists such as Mac Wellman, Holly Hughes, Justin Bond, Karen Finley, Kate Clinton and Martha Wainwright. After spawning a salon in her Paris apartment in 1985, founding Artistic Director Ellie Covan pioneered the institution in her NYC living room for 23 years. Covan was a recipient of a Bessie, a New York Dance and Performance Award and a Bax10 Award for her service to the community. Dixon Place received two Obie Awards, and an Edwin Booth Award for Excellence in Theater. Dixon Place has organically developed and expanded into a leading professional, state-of-the-art facility for artistic expression.
Pictured: Soomi Kim. Photo by Peter Yesley.