Richard Schiff, Asia Kate Dillon, Molly Ranson and More Sign on for Vassar & New York Stage and Film's 2017 Powerhouse Season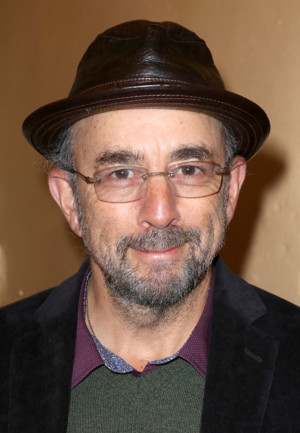 Vassar & New York Stage and Film have announced the latest wave of casting for their highly anticipated 33rd Powerhouse Season in Poughkeepsie, NY, which is currently running through July 30, 2017:
The 'Inside Look' Workshop of Lauren Yee's The Great Leap, directed by Will Davis, will star Emmy winner Richard Schiff alongside Jeffrey Omura, David Shih, and Jeena Yi. This production will play the Susan Stein Shiva Theater from July 7-9.
Kevin Armento's Good Men Wanted, directed by Jaki Bradley and with choreography by Ani Taj, will feature Asia Kate Dillon ("Billions," "Orange Is The New Black"), Molly Ranson (Carrie, Jerusalem), Mayaa Boateng, Tom Coiner, Alex Esola, Emma Meltzer, Doron Mitchell, and Flor De Liz Perez. This mainstage production will play the Powerhouse Theater from July 20-30.
Casting for The Secret Life of Bees and other projects will be announced shortly. Season casting for Vassar & New York Stage and Film's Powerhouse Theater is by Telsey + Company / Will Cantler, CSA; Karyn Casl, CSA.
For tickets and more information on the season, visit Powerhouse.Vassar.edu.
As previously announced, Michael Chernus, Abigail Spencer, and David Patterson star in Powerhouse alum and "How I Met Your Mother" star Josh Radnor's playwriting premiere Sacred Valley, the first mainstage play of the 2017 Powerhouse Season, directed by Sheryl Kaller (June 29 - July 9, 2017).
Also previously announced: The Stephen Trask, Peter Yanowitz & Rick Elice musical This Ain't No Disco, directed by Trip Cullman, will feature Broadway favorites Adam Chanler-Berat, Rebecca Naomi Jones, and Lindsay Mendez, plus Krystina Alabado, Ryan Cassata, Will Connelly, Chris Dwan, Antwayn Hopper, Jahi Kearse, Jo Lampert, Carson McCalley, andSamantha Marie Ware. This workshop presentation will play the Martel Theater at the Vogelstein Center for Drama and Film from June 30 - July 2.
---
The 33rd Powerhouse Season features two mainstage productions in the Powerhouse Theater:
Sacred Valley (June 29 - July 9)
by Josh Radnor
directed by Sheryl Kaller
Narby and Natalie can't remember a time when they weren't friends. But their seemingly rock-solid friendship is upended when Narby takes Natalie's husband Brian out for his first mushroom trip. The next day, a confused Brian leaves Natalie, an enraged Natalie blames Narby, and three people are forced to ask themselves the deepest questions about love, friendship, and growing up in this bittersweet comedy from Josh Radnor (Liberal Arts, "How I Met your Mother," Powerhouse's The Babylon Line).
Good Men Wanted (July 20 - July 30)
directed by Jaki Bradley
choreographed by Ani Taj
Good Men Wanted brings to life the incredible true stories of renegade women who disguised themselves as men to fight in the Civil War. In a searing drama punctuated by explosive dance sequences set to contemporary pop music, five women of vastly different backgrounds become warriors and spies, endure prison camps and midnight raids, and ultimately intersect at America's most storiEd Battlefield, Gettysburg. These unsung heroes circumvented the limitations of their time, with a boldness that speaks loudly to our own.
The musical workshop presentations, presented in the Vogelstein Center for Drama & Film, include three exciting new projects:
Stilyagi (June 23-25)
lyrics by Lisa Kron
music by Peter Lerman
Based on the motion picture The Hipsters, produced by Red Arrow Films
directed by Michael Mayer
"This is musical about me, Mels Yefimovich Vasnetsov, about difficult time in my life when I was young (hard to believe) and good looking (harder to believe) in no-longer-existing world of 1950s Moscow, when I was pulled from promising future in Komosomol Leninist Youth Brigade by beautiful, corrupt and dissipated Stilyaga girl by name of Polly, who ruined my life in best and worst possible manner, which, to this day, I am not reconciling. Obviously, this is complicated Soviet story, not fit subject for frivolous American musical. But they ask for blurb so here is blurb so if you are interested, please, I invite you, come. But if you ask me this is terrible idea."
This Ain't No Disco (June 30 - July 2)
music and lyrics by Stephen Trask & Peter Yanowitz
book by Stephen Trask & Peter Yanowitz
and Rick Elice
directed by Trip Cullman
Set against the garbage strikes, the grit, the graffiti of NYC 1979, This Ain't No Disco tells the story of drifters and dreamers who search for their place in the night world of Studio 54 and the Mudd Club. Ultimately, it's about finding community and purpose in a city where one's fate can turn on a dime bag, where every few steps gives you a chance to pick a new direction, to take a new path. From the creator of Hedwig and the Angry Inch and the director of Six Degrees of Separation.
The Secret Life of Bees (July 27-29)
book by Lynn Nottage
music by Duncan Sheik
lyrics by Susan Birkenhead
based on the novel by Sue Monk Kidd
directed by Sam Gold
It's 1964 in South Carolina, and restless white teenager Lily Owens wrestles with her controlling father and a haunting memory of her dead mother. When Rosaleen, her Black caretaker, is beaten and jailed for attempting to vote, Lily's rebellious spirit is awakened and she and Rosaleen escape their circumstances on an adventure, to find the truth about her mother's death. One portentous clue leads them to a colorful bee farm run by three eccentric and spiritual Black sisters, whose wisdom, warmth and motherly love help both Lily and Rosaleen grow and heal. Written by two time Pulitzer Prize winning playwright Lynn Nottage, lyrics by Tony and Drama Desk nominee Susan Birkenhead, composed by Tony Winner Duncan Sheik, and directed by Tony winner Sam Gold.
This summer's 'Inside Look' Workshops to be presented in the Susan Stein Shiva Theater are:
The Great Leap (July 7-9)
by Lauren Yee
directed by Will Davis
San Francisco, spring 1989. Manford Lum, locally renowned on the sidewalk basketball courts of Chinatown, talks his way onto a college team, just before they travel to Beijing for a "friendship" game. His background is a mystery, but he can sink 100 free throws in a row, so who cares? When they arrive, China is in the throes of the post-Cultural Revolution era, and Manford must juggle international politics and his own personal history. There's more at stake on the court than just who wins or loses. Inspired by events from the life (and short-lived basketball career) of playwright Lauren Yee's father.
The Homecoming Queen (July 28-30)
directed by Awoye Timpo
A bestselling novelist returns to Nigeria to care for her ailing father, but before she can bury him, she must relearn the traditions she's long forgotten. Having been absent for over a decade, she must collide with her culture, traumatic past, painful regrets, and the deep, deep love she thought she could never have.
The annual Readings Festival #1 include:
Kid Prince and Pablo (June 24) by Brian Quijada
Ironweed (June 24) by William Kennedy and Jodie Markell, based on the novel by William Kennedy, directed by Jodie Markell
Little Orphan Danny (June 25) with book, music, and lyrics by Dan Finnerty, directed by Sean Daniels
Paris, Actors (June 25) by Hamish Linklater
Jane Says (July 15) by Diana Son
The Readings Festival #2, which will run July 21-23, will include:
Amy and the Orphans by Lindsey Ferrentino, directed by Scott Ellis
Diana, a new musical about Princess Diana with book & lyrics by Joe DiPietro, music & lyrics by David Bryan, direction by Christopher Ashley
The Fit by Carey Perloff, directed by Daniel Aukin
One Good Egg by Annie Evans, directed by Melia Bensussen
Serious Moonlight by Adrienne Shelly, co-adapted by Liz Tuccillo and Andy Ostroy
Members of the noted Powerhouse Theater Training Program will present reimaginings of William Shakespeare's Hamlet (July 14-16) adapted and directed by Emily Mendelsohn andCymbeline (July 21-23) adapted and directed by Andrew Willis-Woodward. Members of the Training Company will continue Soundpainting (July 6, 13, 20, 27), a series of improvisational performances featuring music, dance, and acting in a dynamic and unique type of ensemble performance; as well as Workshop Performances of 12 Ophelias (a play with broken songs) (July 23-24) by Caridad Svich, directed by Heidi Handelsman; One Act Plays Festival (July 26); and Not, Not, Not, Not, Not Enough Oxygen (July 28) by Caryl Churchill. Young actors, playwrights, and directors from around the country and internationally, along with an exceptional faculty of artists, comprise this important component of the Powerhouse artistic community.
---
Vassar & New York Stage and Film's Powerhouse collaboration continues to be the launching pad for some of the most groundbreaking new works for the American theater, with countless productions in New York City, regionally and internationally. Notably, Lin-Manuel Miranda's Hamilton and Stephen Karam's The Humans-2016 Tony winners for Best Musical and Best Play, respectively-received early development at Powerhouse. Most recently, during its 32nd Season last summer, Powerhouse presented first-look productions of two daring new works that were just named finalists for the 2017 Pulitzer Prize for Drama: Sarah DeLappe's The Wolves, which moved directly from its Powerhouse premiere to a recent celebrated run at The Playwrights Realm in NYC; and Taylor Mac's A 24-Decade History of Popular Music. Among 30 other projects developed recently at Powerhouse with new or upcoming major productions: Richard Greenberg's The Babylon Line at Lincoln Center Theater; The Light Years at Playwrights Horizons; Ayad Akhtar's Junk at Lincoln Center Theater; and Anna Ziegler's The Last Match at the Roundabout Theatre Company.
Now in its 33rd year, Powerhouse Theater is a collaboration between New York Stage and Film and Vassar College dedicated to both emerging and established artists in the development and production of new works for theater and film. The Powerhouse program consists of an eight-week residency on the Vassar campus during which more than 300 professional artists and 40 participants in the Powerhouse Training Program live and work together to create new theater works. In 2016, three productions that trace their developmental roots to Powerhouse ran simultaneously on Broadway - Hamilton, Bright Star, and The Humans - and in the 2016/17 theater season, ten projects premiered in New York City that had been developed and presented at Powerhouse: The Wolves (Playwrights Realm); The Babylon Line (Lincoln Center Theater); Rancho Viejo, The Light Years, and The Profane (Playwrights Horizons); Marry Harry (The York Theater); Nollywood Dreams (Cherry Lane Theater); The View Upstairs (Lynn Redgrave Theater); The Mother of Invention (Abingdon Theatre Company); and Taylor Mac's epic A 24- Decade History of Popular Music (St. Ann's Warehouse). Later this year, they will be joined by Ayad Akhtar's Junk (Lincoln Center Theater on Broadway) and Anna Ziegler's The Last Match(Roundabout Theatre). Other projects developed at the Powerhouse include the Tony Award-winning Side Man and Tru; the multi-award-winning Doubt by John Patrick Shanley; the groundbreaking Broadway musical American Idiot; and A Steady Rain.
New York Stage and Film (Johanna Pfaelzer, Artistic Director; Thomas Pearson, Executive Director; Mark Linn-Baker, Max Mayer, Leslie Urdang, Producing Directors) is a not-for-profit company dedicated to both emerging and established artists in the development of new works for theater and film. Since 1985 New York Stage and Film has played a significant role in the development of new plays, provided a home for a diverse group of artists free from critical and commercial pressures, and established itself as a vital cultural institution for residents of the Hudson Valley and the New York metropolitan region www.newyorkstageandfilm.org.
Vassar College (Ed Cheetham, Michael Sheehan, Producing Directors) is a highly selective, coeducational, independent, residential, liberal arts college founded in 1861. Consistently ranked as one of the country's best liberal arts colleges, Vassar is renowned for its long history of curricular innovation, and for the natural and architectural beauty of its campus. More than 50 academic departments and degree programs - from Anthropology to Cognitive Sciences to Urban Studies - encompass the arts, foreign languages, natural sciences, and social sciences, and combine to offer a curriculum of more than 1,000 courses. Vassar College is sited in New York's beautiful Hudson Valley in Poughkeepsie, NY. Go to www.vassar.edu.
Photo Credit: Walter McBride