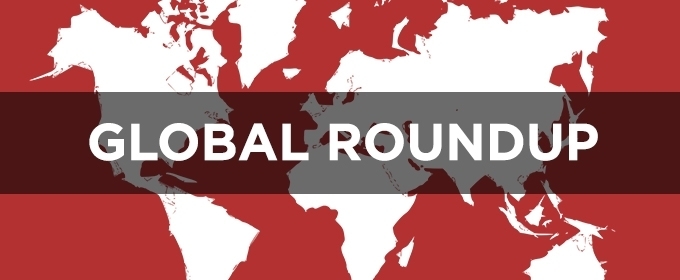 Regional Roundup: Top New Features This Week Around Our Broadway World 5/18 - NEXT TO NORMAL, BEAUTIFUL, and More!
BroadwayWorld presents a comprehensive weekly roundup of regional stories around our Broadway World, which include videos, editor spotlights, regional reviews and more. This week, we feature NEXT TO NORMAL, HEDWIG, OKLAHOMA, BEAUTIFUL, and More!
Check out our top features from around the BroadwayWorld below!
---
Los Angeles: Contributor Gil Kaan reviews Next to Normal! She writes: "In their current production of NEXT TO NORMAL, the East West Players present a first-rate, extremely well-executed musical look at mental illness. 2009 Tony winners for Best Original Score - Brian Yorkey for lyrics and Tom Kitt for music - would be most proud of this delicious convergence of incredible creative talents that gel so well together (onstage and off). Nancy Keystone smoothly directs this two-hour-plus performance at a steady, non-stop, heart-wrenching pace with barely enough time for the audience to catch their respective breaths or wipe their teary eyes before the next song happens. And the songs happen through the collectively A.MA.ZING voices of the ultra-talented cast of six."
---
Long Island: Contributor Melissa Giodano reviews Oklahoma! She writes: "Kaitlyn Davidson splendidly portrays Laurey, a sassy, independent farmgirl working on her Aunt Eller's ranch. Ms. Davidson makes a great Laurey with a fiery disposition and head strong demeanor. Speaking of Aunt Eller, Jane Blass is terrific in the role of the respected community leader. Her one liners bring many laughs. Bryant Martin portrays Curly, a cowboy who is in love with Laurey. Ms. Davidson and MR. Martin make a great team especially when they adorably tease each other when we first meet them. Jud, a worker on Aunt Eller's farm, is portrayed by Nathaniel Hackmann in a return engagement to the Engeman. Jud is very mysterious... a loaner; and he is exceedingly enamored by Laurey. Mr. Hackmann's intense and chilling take on Jud is superb. Also a highlight is Danny Gardner as Persian peddler Ali Hakim who brings many laughs throughout the show. And BriAnne Kennedy is also stellar as the sweet, but ditzy (and easy), Ado Annie."
---
Toronto: Contributor Taylor Long reviews The Musical Stage Company's Onegin! He writes: "The performances by the talented ensemble are electric. Hailey Gillis is impeccably addictive as Tatyana. Her voice, like beautiful steel, transitions easily from a soft, emotional head voice to a full, mixed belt with excellent control. It's hard to take your eyes off of her whenever she's on stage. Josh Epstein flaunts his flawless tenor as Vladimir Lensky, showing off the extremes of his voice with an epic belt that never quits. Elena Juatco commits fully to Olga's wholesomeness - her voice Disneyesque in clarity and tone. As the mother, Rebecca Auerbach nails comedic naivety. Shane Carty and Peter Fernandes play "many others", providing the show's necessary comedic relief. In the title role, Daren A. Herbert has the difficult task of playing a character that is never granted sympathy. Herbert has some nice moments, especially in his higher register."
---
Kentucky: Contributor Taylor Clemons reviews Beautiful on Tour! He writes: "The cast is uniformly strong. Julia Knitel as Carole King is absolutely spellbinding. She convincingly embodies Carole King, while never seeming like she's just doing an impression. She effortlessly pays homage to King, while letting bits and pieces of her own personality and vocal style shine through. The supporting cast is strong as well. Erika Olson and Ben Fankhauser were especially delightful as Cynthia and Barry. They had wonderful chemistry, and provided a lot of comedic relief (as hard as it is to believe, there are some really dark moments in King's story). Mr. Fankhauser was easily an audience favorite, with almost every line being met with explosive laughter. While I'm talking about the cast, I must take some time to single out the incredible ensemble. They are easily one of the best sung ensembles I have seen in a really long time. Many of them play multiple roles including the various recording artists throughout the story."
---
Las Vegas: Contributor Teresa Rodrick reviews Hedwig and the Angry Inch! She writes: "The show starts with a drum beat and the other instruments join in to get to the full sound of the band. Yitzhak is the backup singer and we find out later, Hedwig's spouse. Yitzhak is on stage and he introduces Hedwig, who will only come out if the audience makes enough noise. So if the audience isn't into it, I guess the show's over. Well, the audience was into it and we find out that the show starts and it's 1961 in the city of Berlin. This is where the story of Hedwig begins. Before she was Hedwig, she was Hansel Schmidt. He (Hansel) met an American soldier in 1980's who fell in love with him. The only way the soldier could take him away would be to marry and take Hansel back to the US with him. But gay marriage didn't exist and Hansel would have to become Hedwig."
---
Appleton: Contributor Meredith Kreisa reviews Mamma Mia! She writes: "Together, Betsy Padamonsky, Cashelle Butler and Sarah Smith (as Donna, Tanya and Rosie) make up the former girl group "Donna and the Dynamos." They are completely believable as friends, and each performer has an exceptionally strong, full voice. Betsy Padamonsky is sympathetic as Donna, while Cashelle Butler as Tanya and Sarah Smith as Rosie are an excellent comedic duo. Sarah Smith's superb physical comedy makes her a particular standout. She also pairs well with Marc Cornes, who plays Bill, and their duet, "Take a Chance on Me," is one of the funniest numbers in the show."
---
Regional Editor Spotlight:
Debbie Hall
Las Vegas Contributing Editor
Debbie Hall has lived in Las Vegas for over 40 years. She writes for a number of publications and a big supporter of the arts and theater. The University of Nevada Las Vegas is her alma mater and Debbie is thrilled to write about actors, directors and musicians that have also attended UNLV. More importantly Debbie proudly writes for BroadwayWorld.com about touring Broadway shows coming to Las Vegas, residency theater companies, college productions including College of Southern Nevada and UNLV and high school productions including the Las Vegas Academy of the Arts and Faith Lutheran high. She's an avid theater goer and is thrilled to share the experience with her readers.
---
This week we welcome Lizzie Stricklin to Broadwayworld Philadelphia!
---
Join Team BroadwayWorld! Interested in joining our team, but not exactly sure what we do? All of your questions are answered, along with every open position from guest and student bloggers, Regional Editors, and more! Find out where we have open positions available here!

Related Articles