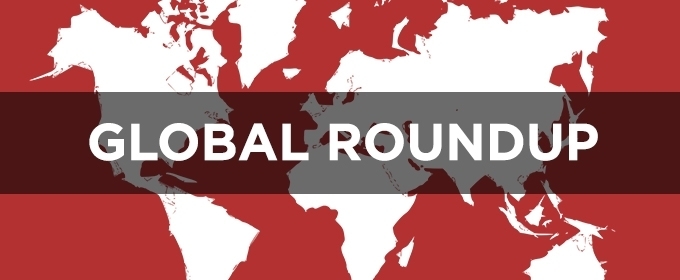 Regional Roundup 7/28: WEST SIDE STORY at the Lyric Theatre, MAMMA MIA! at The Gateway, and SOMETHING ROTTEN in Kansas City!
BroadwayWorld presents a comprehensive weekly roundup of regional stories around our Broadway World, which include videos, editor spotlights, regional reviews and more. This week, we feature West Side Story, Mamma Mia!, Something Rotten, and More!
Check out our top features from around the BroadwayWorld below!
---
St. Louis: Check out video highlights from The Muny's production of UNSINKABLE Molly Brown! Hannibal Missouri's own brash and beguiling Molly Brown shines in this exhilarating adaptation of Meredith Willson's 1960 musical. Her rags-to-riches story sparkles with a new book by Dick Scanlan (Thoroughly Modern Millie), and new songs from the Meredith Willson songbook. The tempestuous can't-live-with-him/can't-live-without-him love story that survived the Silver Boom, Gold Rush and sinking of the Titanic returns to the stage with more fun and flair than ever. This is one of those classic musicals that will have your heart soaring! The show is directed and choreographed by Kathleen Marshall, with Michael Rafter as Music Adaptation, Music Director, Vocal and Incidental Arrangements.
---
---
Oklahoma: Contributor Ronn Burton reviews WEST SIDE STORY at the Lyric Theatre! He writes "Matthew Gardiner directs this show with conviction and authenticity. Placing the acting front-and-center (let's face it, acting is often the forgotten component in many musical productions) Gardiner carefully crafts the scenes for maximum emotional impact, building the symphony of Arthur Laurents' script as precisely as he does Leonard Bernstein's score. It's definitely worth noting how fabulous the orchestra sounds, led by the baton of music director Jan McDaniel. Choreographer Amy Reynolds-Reed recreates the critical and iconic moments of Jerome Robbins' original staging, but adds quite a few novel and contemporary surprises without ever taking us out of the world of the play."
---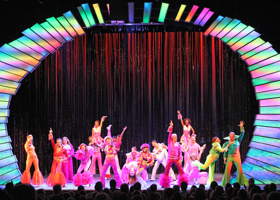 Long Island: Contributor Melissa Giordano reviews MAMMA MIA at The Gateway! She writes "Briana Rapa is adorable as Sophie. An outstanding voice and a youthful quality make her a natural for the role. Donna is effortlessly and beautifully portrayed by Joan Hess. Indeed an audience favorite is Ms. Hess's lead on the iconic title song and a heart tugging rendition of "The Winner Takes It All". Also a treat is Patrick Cassidy who portrays Sam, one of the men believed to be Sophie's father. It is especially entertaining to see Mr. Cassidy share the stage with David Engel and Fred Inkley who portray Harry and Bill, respectively (the other men believed to be Sophie's father). They appear like old buddies rather than strangers."
---
Kansas City: Contributor Alan Portner reviews SOMETHING ROTTEN on tour! He writes "This is where the show really takes off and never lands. There are more funny allusions to musical shows of the next three hundred years than a retrospective at the Tony Awards. Some of them you get - Others fly on by. It is like watching an Elizabethan Henny Youngman throwing out one-liners. Their first idea for a show subject is the "Black Death." Close, but no cigar. Back to Shakespeare! The real man was a little pudgy and bald. This Shakespeare is a blond, nasty, literal rock star who presides over a rave. If this sounds a little bit like Mr. Peabody and his boy Sherman, you've got the idea. It is the kind of creative anachronism you enjoyed in "A Knight's Tale" with the late Heath Ledger."
---
Seattle: Contributor Jay Irwin reviews CURIOUS INCIDENT at the Paramount. He writes "Director Marianne Elliott took the genius tact of staging the entire show so the audience is forced to see the world the way Christopher does with intense lights, overlapping sounds, and stylized movement making the piece a fully immersive journey into an already emotional tale. And this is where we may lose some people. I find the world they've created fascinating and revel in the innovation of it all but it's not a comfortable show. This is certainly not a happy little jaunt where you can wander through the story, these folks make you work for it and even when you think you've finally got the rhythm of the show down they make a sharp left turn to throw you off again. But if you are up for the work, the payoff is immense."
---
Raleigh: Contributor Jeffrey Kare reviews BEAUTY AND THE BEAST at North Carolina Theatre. He writes "As for this production, it's got a very talented cast led by Catherine Charlebois, who perfectly captures all of the characteristics of Belle. She's spunky, funny, charismatic, and a woman who can easily stand up for herself. As the Beast (a role originated on Broadway by NCT alumni Terrence Mann), actor Ben Michael not only shows us the monster that character can be on the outside, but also the human he is on the inside. He very successfully sells the audience on the arc he goes on from selfish prince, to a real gentleman. Peter Saide steals the show as the narcissistic, yet villainous Gaston, who will stop at nothing to marry Belle. Heartfelt performances come from Ann Van Cleave as the maternal head of the castle's kitchen turned teapot, Mrs. Potts and Lamont Wade as Belle's loving, yet eccentric father, Maurice. Comedic highlights include Dirk Lumbard as the maitre turned candelabra, Lumiere; Michael Brian Dunn as the head of the castle turned mantle clock, Cogsworth; Matthew Simpkins as Gaston's bumbling sidekick, Lefou; Talia Robinson as the maid turned feather duster, Babette; and Aimee Henderson as the opera singer turned wardrobe, Madame de la Grande Bouche."
---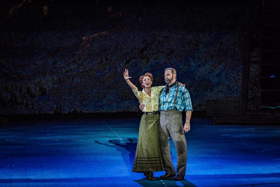 St. Louis: Contributor Chris Gibson reviews The Muny's THE UNSINKABLE Molly Brown. He writes "Beth Malone is a self assured wonder as Molly, engaging and full of life, she brings her knowledge of the role to the stage of the MUNY and completely captures your heart with her performance. Since we view every other character through her prism, it's essential that she stands out, and Malone definitely does. Mark Kudisch fights a tug of war with Molly as her beleaguered, but supportive husband, J.J. Brown. Molly isn't typical of the times by anyone's standards, so it's a true test of love that keeps them together when that bond is strained, and it is, often. Whitney Bashor is quite good as a recent widow (there's that miner superstition coming true) Molly encounters, and Justin Guarini (Vincenzo), David Abeles (Erich), and Paolo Montalban (Arthur) contribute nicely as miners. The ensemble also does splendid work."
---
Connecticut: Contributor Sherry Shameer Cohen reviews GROUNDED at Wesport Theatre. She writes "This portrait, flawlessly played by Stahlmann, is not unusual. Many soldiers suffer from PTST. The play evokes questions about that, especially since women are twice as likely to get it. How do women soldiers reconcile their ability to kill and their ability to give life? StahlmAnn Humanizes the pilot and her meltdown in a credible way. Riccardo Hernandez's simple military/industrial set design complements the dismal work conditions of the drone operators. Kate Marvin's sound design and Solomon Weisbard's lighting are perfect. But Yana Birÿkova's projections are spectacular. Kudos also to Liz Diamond for her excellent direction. This is a play that is especially timely because this year is the 100th anniversary of the U.S. military service's using clones (also referred to as unmanned aerial vehicles) and the fact that the U.S. is still at war in Afghanistan after nearly 16 years. The Air Force is training more pilots for drones than for conventional aircraft. As of mid-2016, there have been an estimated 4,189 militants and 479 civilians killed by drones."
---
Central NY: Contrinutor Natasha Ashley reviews AMERICAN IDIOT at the Centreal NY Playhouse. She writes "The set is not the only strong element though. Let's discuss the dancing and music. The production features high energy choreography by Sami Hoerner which consisted mostly of moshing, a type of dance that is commonly seen at punk rock live music show. It, along with the music performed by a talented orchestra under the direction of Abel Searor, helped fuel the electric atmosphere. Together, they offer a headbanging good time, but unfortunately, at times the sound design/mixing work by Robert Searle (Sound Designer) and Dusten Blake (Sound Mixer) made it hard to hear and/or understand the lyrics in various musical numbers.:
---
Baltimore: Contributor Charles Shubow reviews THE KING AND I on tour at the Kennedy Centre. He writes "The hit musical has been revived four times on Broadway. The latest incarnation was the Lincoln Center Theatre production in 1995 which garnered four Tony Awards starring Kelli O'Hara in the leading role of Anna and the DC production is based on that success with about 1/3 of the Lincoln Center cast still involved and has a total of 37 actors on stage. "Anna" is now played by lovely Laura Michele Kelly who I listen to almost every day on the CD of the hit musical FINDING NEVERLAND. Kelly is just plain marvelous."
---
Regional Editor Spotlight:

Ronn Burton
Oklahoma Contributing Editor
Ronn Burton splits his time between NYC and OKC working as an actor, filmmaker, and director. Selected credits... ACTOR: TV/Film: Celebrity Ghost Stories, Enchantments. Off-Broadway/New York Theatre: Carnegie Hall concerts with Kelli O'Hara and Stephen Sondheim, Iron Curtain, Wonderful Town, The House of Blue Leaves, Marat/Sade, Angelina Ballerina the Musical. Regional Theatre: Red, Dog Sees God, Twelfth Night, Taming of the Shrew, Little Women, The Last Five Years, Rent, You're A Good Man Charlie Brown, Chitty Chitty Bang Bang, Hello, Dolly! DIRECTOR: Stage: The Agony and The Agony, Beauty and the Beast, Grease, Hello Again; Film: Encounters, Abandon, and the firsr live webseries Watch Us Fail. Follow him @RonnBurton.
---
Join Team BroadwayWorld! Interested in joining our team, but not exactly sure what we do? All of your questions are answered, along with every open position from guest and student bloggers, Regional Editors, and more! Find out where we have open positions available here!