Latest News on Ann Van Cleave
Stage Credits
  [Broadway]
Broadway Transfer, 2001
Felicia (Standby)
Lucy (Standby)
Sophie (Standby)
Stage
Performances
  [Broadway]
Broadway Transfer, 2001
Felicia (Standby)
Lucy (Standby)
Sophie (Standby)
Ann Van Cleave News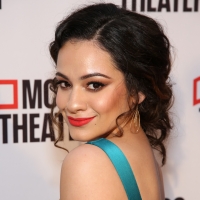 Isabelle McCalla and Jeremy Benton to Lead Reading of SUMMER STOCK - THE MUSICAL
by Chloe Rabinowitz - Oct 11, 2021
This week in NYC a cast of top Broadway performers will come together for an AEA 29-hour reading of Summer Stock - The Musical, based on the beloved Judy Garland & Gene Kelly 1950 MGM movie of the same name.
BWW CD Review: THANKFUL: A BENEFIT ALBUM FOR JERAD BORTZ Provides Broadway Inspiration
by Brady Schwind - Dec 13, 2020
BWW Review: THANKFUL: A BENEFIT ALBUM FOR JERAD BORTZ Provides Broadway inspiration on Rock-It Science Records
New and Upcoming Releases For the Week of November 9 - JAGGED LITTLE PILL Book, MOULIN ROUGE! Songbook, and More!
by Stephi Wild - Nov 11, 2020
Need something new to read, watch, or listen to? Check out this week's list of new and upcoming releases! This week's list includes a book of stories behind the musical Jagged Little Pill, the Moulin Rouge! songbook, and more!
Photo Flash: Broadway Takes Over the Caribbean with Seth's Big Fat Broadway Cruise!
by Nicole Rosky - Feb 26, 2020
Just last week, the Eastern Caribbean got a great big dose of Broadway when Seth's Big Fat Broadway Cruise took over the Celebrity Equinox. Broadway favorite Seth Rudetsky was joined by Beth Leavel, Christine Pedi an Lillias White for an exotic cruise from Fort Lauderdale to San Juan, Nassau and more! Now Seth looks back on favorite moments from this latest Caribbean adventure!
Photo Coverage: Theatre Forward Honors August Wilson, David Yazbek at Chairman's Awards Gala
by Jennifer Broski - Apr 10, 2018
Theatre Forward and Chairman John Thomopoulous just led a celebration to support American theatre at the annual Chairman's Awards Gala last night, April 9th at The Pierre New York (2 East 61st Street at Fifth Avenue). The Chairman's Awards Gala supports the work of Theatre Forward, currently celebrating its 40th Anniversary season, which is dedicated to advancing American theatres and its communities through its Educating Through Theatre and Advancing Strong Theatre initiatives.
Regional Roundup 7/28: WEST SIDE STORY at the Lyric Theatre, MAMMA MIA! at The Gateway, and SOMETHING ROTTEN in Kansas City!
by BWW Special Coverage - Jul 28, 2017
BroadwayWorld presents a comprehensive weekly roundup of regional stories around our Broadway World, which include videos, editor spotlights, regional reviews and more. This week, we feature West Side Story, Mamma Mia!, Something Rotten, and More!
BWW Review: North Carolina Theatre's BEAUTY & THE BEAST
by Jeffrey Kare - Jul 26, 2017
Based on Disney's 1991 Academy Award-winning animated film of the same name as well as the classic French fairy tale by Jeanne-Marie Leprince de Beaumont, Beauty & the Beast tells the story of a bright, beautiful young woman who doesn't seem to fit in with her hometown. She later finds herself trapped in the enchanted castle of a cold-hearted prince who had been magically transformed into a hideous beast as punishment for his selfish ways. To revert back into his true human form, the Beast must first earn the love of this woman before it's too late.
BWW Interviews: Broadway Actress Ann Van Cleave
by Gregory G. Allen - Apr 15, 2013
Northern NJ is full of so much talent and many Broadway performers cross the river to make New Jersey their home. It is great to speak to performers about that first big break and their career to hear all the different stories of how people 'get to NYC'. Broadway World spoke to one of those performers, Ann Van Cleave, as she and her husband prepared for an upcoming concert in NYC.
Ann Van Cleave Videos
STAGE TUBE: HAIRSPRAY Onstage at Westchester Broadway Theatre
by Stage Tube - May 7, 2012
Westchester Broadway Theatre presents HAIRSPRAY now through June 3, starring Erin McCracken as the unstoppable Tracy and Tad Wilson, donning his heels to play Edna Turnblad. Bruce Rebold is appearing as Wilbur, Kara Dombrowski as Amber, Ann Van Cleave as scheming villain, Velma Von Tussle, Pat McRoberts as Corny Collins, Stacie Gogo as Penny, Tripp Hampton as Link, Inga Ballard as Motormouth, Elgin Giles as Seaweed, and Sydni Beaudoin as Little Inez. Watch a video of highlights from the show below!
Ann Van Cleave Frequently Asked Questions
How many Broadway shows has Ann Van Cleave been in?
Ann Van Cleave has appeared on Broadway in 1 shows.
How many West End shows has Ann Van Cleave been in?
Ann Van Cleave has not appeared in the West End