BWW Review: The MUNY's Amazing and Wonderful THE UNSINKABLE MOLLY BROWN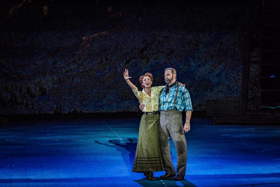 Dick Scanlan (revised book and additional lyrics) deserves a hand for the long process that led to a reinvigorated and refocused version of Meredith Willson's THE UNSINKABLE Molly Brown. A few years ago he started tinkering with this venerable classic, having workshops and readings before finally hitting the stage. Scanlan retains more than a half dozen of the original numbers, and adds some of Willson's trunk songs, as well as some songs written for the movie, to flesh out this tale, which truly highlights the life of Molly Brown in more accurately historical fashion. It's the current production playing at the MUNY, and it's a breath of fresh air, led by Beth Malone's scintillating performance, and staged with a scope that opens the show up like a piece of Colorado real estate. It's an invigorating must-see!
Willful and driven, Molly Brown raises herself above the poverty that she endured as a child to become something else indeed. Moving backward from her famous survival of the sinking of the Titanic, we witness her journey through life as she doggedly pursues her dreams during the late 1800's.. She heads for the gold mines of Leadville, Colorado, much to the chagrin of the superstitious male miners who see a woman's presence in their ranks as death incarnate. But it's there that her life truly begins.
Beth Malone is a self assured wonder as Molly, engaging and full of life, she brings her knowledge of the role to the stage of the MUNY and completely captures your heart with her performance. Since we view every other character through her prism, it's essential that she stands out, and Malone definitely does. Mark Kudisch fights a tug of war with Molly as her beleaguered, but supportive husband, J.J. Brown. Molly isn't typical of the times by anyone's standards, so it's a true test of love that keeps them together when that bond is strained, and it is, often. Whitney Bashor is quite good as a recent widow (there's that miner superstition coming true) Molly encounters, and Justin Guarini (Vincenzo), David Abeles (Erich), and Paolo Montalban (Arthur) contribute nicely as miners. The ensemble also does splendid work.
Kathleen Marshall's direction and choreography are well mounted and bring a freshness to the proceedings. With the large ensemble and vast expanse of stage to work with, the show is always bustling with energy. That's also due to Paul Tate DePoo III and Derek McLane's scenic design which doesn't box the scenes in, but instead takes advantage of the space with simple touches that work extremely well. Paul Tazewell's costumes are a mix that embraces the period and blossoms during Molly's visit to Europe. Rob Denton's lighting is sharp, and Nathan E. Scheuer's video designs are tasteful, and enhance rather than distract. Michael Rafter's music direction and arrangements take advantage of the seasoned MUNY orchestra to produce some truly captivating sounds.
This take of THE UNSINKABLE Molly Brown is well worth your time and attention. It's fascinating to see how the work has changed and evolved. Visit the MUNY through July 27, 2017 to catch this marvelously reworked classic!