BWW Review: The Gateway's MAMMA MIA!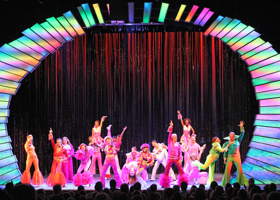 The Gateway's latest offering is an absolutely thrilling production of the worldwide blockbuster hit Mamma Mia!. Running through August 5th at Long Island's Patchogue Theatre For The Performing Arts, this incarnation is excellently directed by Larry Raben. Indeed, this uplifting show, set to the fun music of ABBA, will leave you smiling and humming the score for days.
The story centers on Sophie and her mother Donna as they prepare for Sophie's wedding at the hotel that Donna owns on a Greek island. Twenty year old Sophie has never met her father, but found out it could be one of three men when she snuck a read of her mother's private journal. Sophie then, unbeknownst to Donna, invites the men to her wedding and laughter and twists ensue.
Immediately you can see that the talented and energetic cast is having a great time in this production.
Briana Rapa is adorable as Sophie. An outstanding voice and a youthful quality make her a natural for the role. Donna is effortlessly and beautifully portrayed by Joan Hess. Indeed an audience favorite is Ms. Hess's lead on the iconic title song and a heart tugging rendition of "The Winner Takes It All". Also a treat is Patrick Cassidy who portrays Sam, one of the men believed to be Sophie's father. It is especially entertaining to see Mr. Cassidy share the stage with David Engel and Fred Inkley who portray Harry and Bill, respectively (the other men believed to be Sophie's father). They appear like old buddies rather than strangers.
The entire cast is truly top-notch as is Mr. Raben's creative team.
Adam Koch's set is smart and effective. Beach walk-ways are on moveable platforms to indicate the outdoor scenes and a large structure descends from the rafters to indicate the indoor scenes. This is enhanced stunningly by Doug Harry's lighting and Winfield Murdock's lovely costumes. And special kudos to sensational band headed up by Keith Levenson as they perform the classics with panache. The whole production is really visually stunning.
And so, Mamma Mia! is certainly another hit for The Gateway in their very busy summer season. A stellar cast and fun music make for a thrilling night of theatre.
Mamma Mia! is presented by The Gateway theatre company at the Patchogue Theatre For The Performing Arts through August 5th. For more information and to purchase tickets, please call (631) 286-1133.
Score by Benny Andersson & Björn Ulvaeus (some songs with Stig Anderson), Book by Catherine Johnson, Originally conceived by Judy Cramer, Additional material and arrangements by Martin Koch
Directed by Larry Raben, Choreography by Richard Hinds, Musical Direction by Jeffrey Campos, Music Conducted by Keith Levenson, Set Design by Adam Koch, Costume Design by Winfield Murdock, Lighting Design by Doug Harry, Stage Management by John "JP" Pollard, Casting by Michael Baker
Starring Patrick Cassidy, Kate Chapman, David Engel, Fred Inkley, Joan Hess, Angie Schworer, Briana Rapa, Mike Heslin, Sarah Faye Beard, Taylor Broadard, Drew Geraci, DJ Petrosino, and Andy Tofa with Taylor Fields, Sara Gallo, Rose Iiannaccone, Alex Levy, Maryella Maloney, Zac Norton, Jonathan Ragsdale, Frankie Paparone, and Heather Jane Rolff
Photo by Jeff Bellante