Photo Flash: Sing for Hope Shares HOLIDAY HARMONIES
Sing for Hope, the country's leading "artists' peace corps," mobilizes a roster of 2,000 artists of all disciplines who volunteer their time and talent in under-resourced schools, hospitals, and communities, transforming lives through the power of the creative arts. The organization's flagship program is The Sing for Hope Pianos, which is made possible in large part by The Fosun Foundation and 28 Liberty.
On December 14th, in the expansive lobby of 28 Liberty, Sing for Hope offered a special holiday concert as a thank you to The Fosun Foundation and 28 Liberty. The event paid tribute to Fosun's philanthropic leadership, which ensures the continuation of Sing for Hope's programs and delivers on the promise of an extended creative future for under-resourced communities across all five boroughs of New York City.
The festive, informal concert featured eight renowned Sing for Hope Artists in musical selections from around the world, including China, Europe, Latin America, and the United States. Pianist Michael Fennelly ("flair and energy" - The New York Times), performing on a 2016 Sing for Hope Piano painted by Volunteer Artist Victoria Wrubel, opened the concert with selections from Tchaikovsky's The Nutcracker. String Quintet Sybarite 5 ("not your grandparents' chamber music" - The Observer) followed with a selection of boldly innovative selections composed especially for them. Then, lyric soprano Laquita Mitchell ("lovely tonal sheen and soaring high notes" - Opera News) thrilled the audience with European art songs and Christmas classics, and coloratura soprano Megan Weston ("remarkable virtuosity and charm" - The Financial Times) delighted listeners with stunning art songs, including a beautiful traditional song performed in Mandarin.
Fosun's support of Sing for Hope takes the form of a beautiful full floor of 28 Liberty, the iconic 60-story tower in Lower Manhattan, which houses The Fosun Sing for Hope Center. A creative hub impacting communities across the five boroughs of New York City and beyond, Fosun's Sing for Hope Center at 28 Liberty allows for a broad array of creative activity, including rehearsals, master classes, workshops, and the creation of The Sing for Hope Pianos, NYC's most beloved citywide public art initiative. In addition to bringing music to NYC parks and public spaces each summer, The Sing for Hope Pianos benefit under-resourced NYC youth year-round, as all of the pianos go to permanent homes in public schools following their summer days in the parks. In 2016 alone, thanks to the support of 28 Liberty and The Fosun Foundation, Sing for Hope placed 50 SFH Pianos in 50 NYC public schools, reaching an estimated 16,000 school children.
As visitors and passers-by gathered to enjoy the hourlong concert, many were inspired to join in on their favorite holiday songs. As the concert drew to a close, one visitor was overheard to say, "At last! This concert finally put me in the holiday mood. It's been a tough time recently, but this music brings me hope for the new year."
Since 2006, Sing for Hope's arts outreach programs have brought hope and inspiration to thousands of individuals in under-resourced schools, public hospitals, hospices, veterans' centers, after-school programs, neighborhood centers, nursing homes, and disability networks. To date, Sing for Hope has partnered with over 250 nonprofit organizations, involved over 3,500 artists in community volunteerism, and placed over 335 artist-created Sing for Hope Pianos throughout NYC's parks and public spaces for everyone to play - a symbol and celebration of art for all. Learn more at www.singforhope.org.
Fosun has made a long-term commitment to 28 Liberty and to the surrounding community. Since acquiring the property in December 2013, Fosun has initiated a renovation program, including the lobby, elevators, and critical infrastructure. Fosun, in collaboration with the Downtown Alliance, has initiated free Wifi service for the convenience of visitors to the building's plaza. Other community initiatives have included the Dine Around Downtown food festival and the River to River arts festival. Originally One Chase Manhattan Plaza, 28 Liberty was designed by renowned architect Gordon Bunshaft, and was once the headquarters of Chase Manhattan Bank. In 1961, David Rockefeller, as head of the bank's building committee, selected the site and oversaw its construction. Given its historical significance, architectural uniqueness and public impact, One Chase Manhattan Plaza was designated as a landmark by the New York City Landmarks Preservation Commission in 2009. This historically significant building is situated within the heart of the Wall Street Financial District, with modern amenities and direct connection to six subway lines, providing convenient access to public transportation.
To learn more about Fosun's transformative support of Sing for Hope and the communities it serves, visit http://www.fosun.com/language/en/p/9526.html.


String Quintet Sybarite 5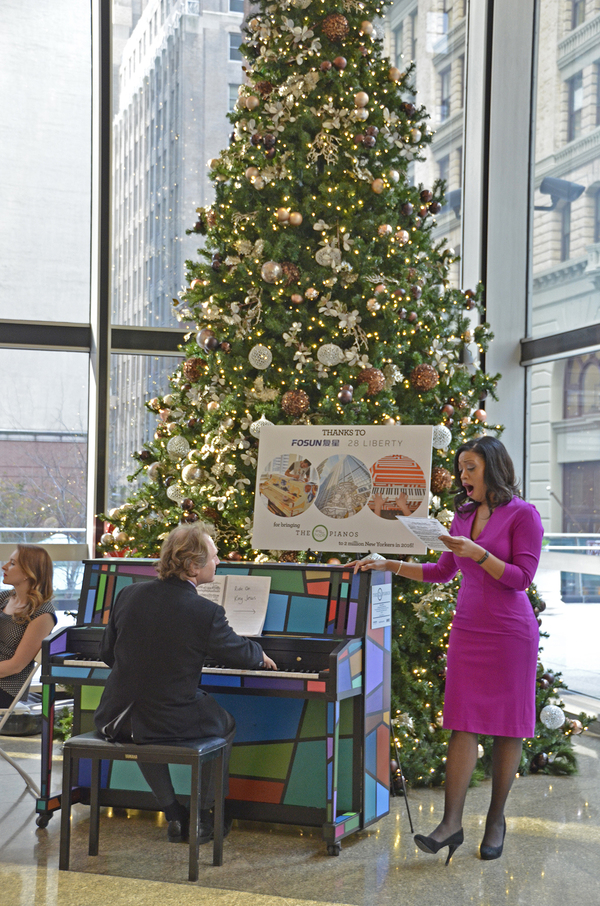 Soprano Laquita Mitchell and Pianist Michael Fennelly

Sing for Hope Pianos at The Fosun Sing for Hope Center at 28 Liberty

Soprano Megan Weston

A Sing for Hope Piano (created by the cast of Broadway's FUN HOME) arrives at its new home at City Knoll Middle School
Related Articles
More Hot Stories For You