Photo Coverage: Broadway Takes Part in Shellac Flash Mob in Times Square fo Fashion Week
On Septembet 14th in the Heart of Times Square, 60 New York City Theatre Professionals (ranging from Broadway Veterans, to Radio City Rockettes) began to arise from the hustle and bustle to sing and dance their hearts out about the hottest nail product on the market: Shellac, created by CND (www.CND.COM). This was one of the biggest and most exciting Musical Theatre Flashmob's ever produced in Times Square, not just a random step touch dance number but a fully stage production number with ladies belting their faces and kicking about as high as the second floor of the A.E.A building.
It was written, directed, choreographed and produced by Unique New York Productions (www.UniqueNewYorkProductions.com) run by two NYC Actors themselves Mike Kirsch (Death Takes A Holiday, Asst. Choreo.) and Brian Golub ("When In Rome"). Starring Broadway's Robyn Hurder (Grease, Chitty Chitty Bang Bang, Chicago) and Moeisha McGill (Rent, Mamma Mia), this mob created a huge crowd lining up the streets and pressing their faces against windows of buildings as these leading ladies belted out "S-H-E-L-L-A-C" - a parody to Aretha Franklin's "R-E-S-P-E-C-T." Broadway's J.Elaine Marcos (Priscilla, A Chorus Line, Wedding Singer, "Morning Glory") and Kaitlyn Davidson (Pride and Pejudice, NYMF, They're Playing Our Song, Actor's fund) started off the event as news reporters awaiting the arrival of a celebrity "Heidi Vanicek"(played by Hurder). McGill interrupts the interview and the chaos begins! Before you know it a sea of 60 girls dressed in red CND/Shellac T-shirts flood the island. What happens when the cops stop them...watch and find out! (hint...the cops may take their shirts off!) Watch
the full video here! https://www.youtube.com/watch?v=p00AWGyIFYY.
Also featuring, Joi Parker, Julia Moss and
Erin West
as well as Alexa Erbach, Alissa Alter, Alyssa Germano,
Amanda Schoppe
, Anotinette Dipietropolo,
Ashley Arcement
,
Beckley Andrews
,Candice Renee, Carolina Monerat, Cecelia Jones, Courtney Hammond,
Elizabeth Stacey
,
Emily Afton
, Freya List, Jenna Petok,
Karen Hyland
,
Karen Webb
,
Katie Mitchell
, Kelli Joelle Bartlett, Kelly Sheehan, Kelly Shook, Kimberly Hamilton, Latoya Everett, Laura Crago,
Laura Ma
llon,
Lauren Strigari
, Lindsay Howe, Lindsey Smith,
Liz O'Donnell
, Mary Callahan, Megan Mekjian, Megan O'Leary, Monica Meadows, Morgan Paige Fluss,
Morgan Rose
, Rachel Borgman, Rebecca Larkin, Rebecca Magazine, Sarah Behrens, Sarah Hicks,
Sarah Johnson
,
Sarah Pfeifer
, Shari Katz, Stephanie Linn,
Tara Bruno
,
Vanessa Russo
,
Jack Leahy
, Brent Reams,
Claybourne Elder
,
Freddie Kimmel
, Rian Bodner,
Timothy Hughes
, Tim Roller.
Below, BroadwayWorld brings you photo coverage of the event!
Photo Credit: Gebevieve Rafter Keddy


J. Elaine Marcos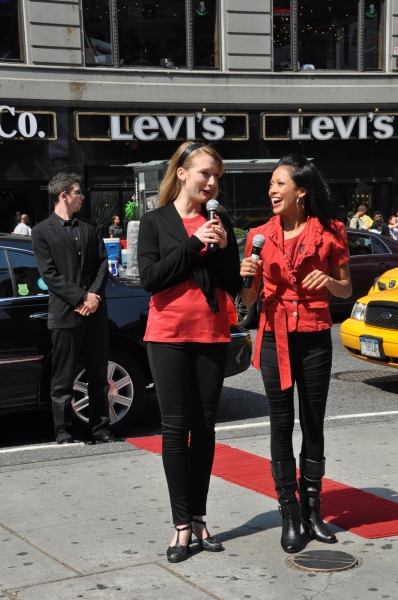 Brent Reams, Kaitlyn Davidson and J. Elaine Marcos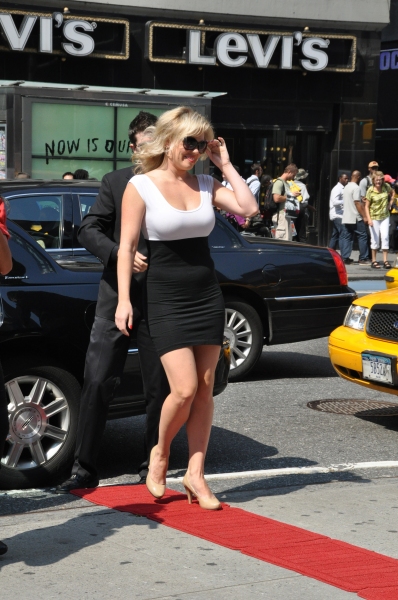 Robyn Hurder

Moeisha McGill

Moeisha McGill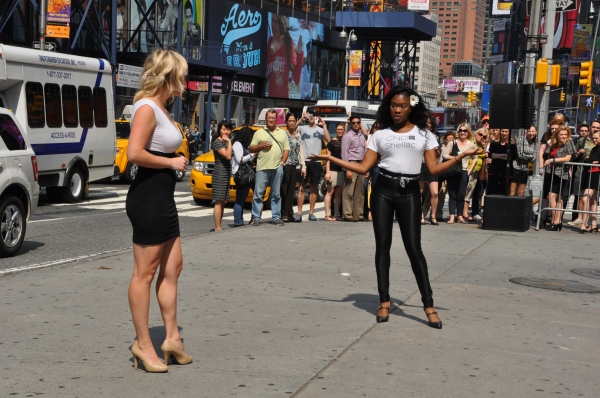 Robyn Hurder and Moeisha McGill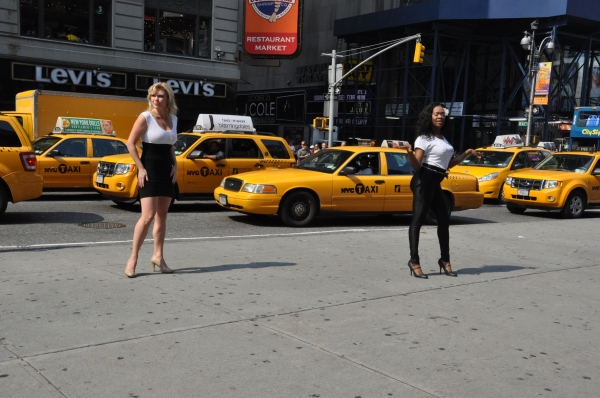 Robyn Hurder and Moeisha McGill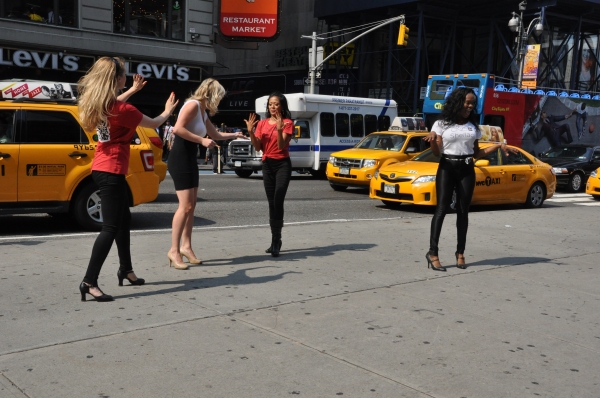 Kaitlyn Davidson, Robyn Hurder, J. Elaine Marcos and Moeisha McGill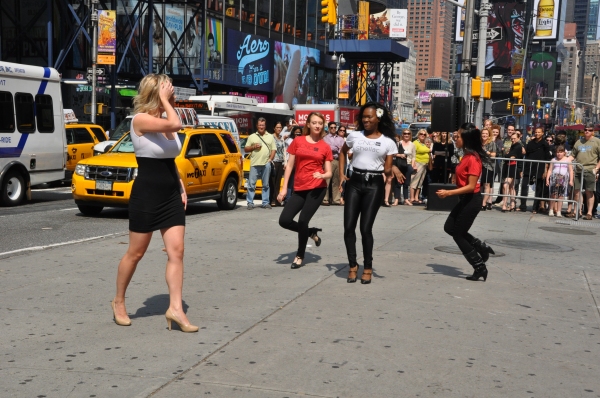 Robyn Hurder, Kaitlyn Davidson, Moeisha McGill and J. Elaine Marcos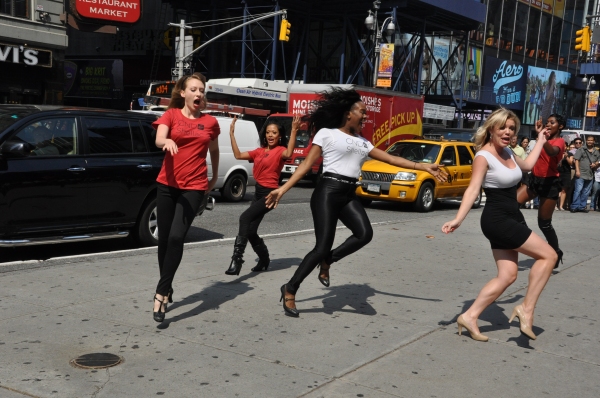 Kaitlyn Davidson, J. Elaine Marcos, Moeisha McGill, Robyn Hurder and Joi Parker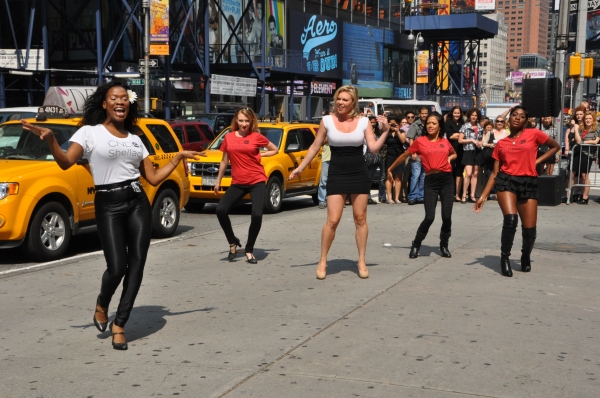 Moeisha McGill, Kaitlyn Davidson, Robyn Hurder, J. Elaine Marcos and Joi Parker

The "Shellac Police"-Jack Leahy, Claybourne Elder, Freddie Kimmel, Rian Bodner, Timothy Hughes and Tim Roller

Jack Leahy, Claybourne Elder, Freddie Kimmel, Rian Bodner, Timothy Hughes and Tim Roller

Jack Leahy, Claybourne Elder, Freddie Kimmel, Rian Bodner, Timothy Hughes and Tim Roller carry Robyn Hurder

The dancers taking over Times Square

The dancers taking over Times Square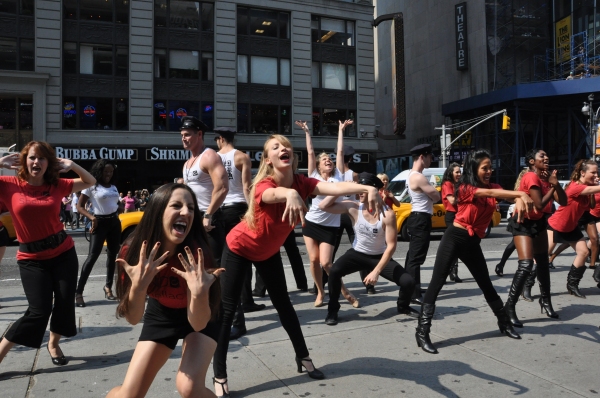 The dancers taking over Times Square

Robyn Hurder

Robyn Hurder

Moeisha McGill, Robyn Hurder with Jack Leahy, Claybourne Elder, Freddie Kimmel, Rian Bodner, Timothy Hughes and Tim Roller

Robyn Hurder and the dancers

Robyn Hurder, Moeisha McGill and the dancers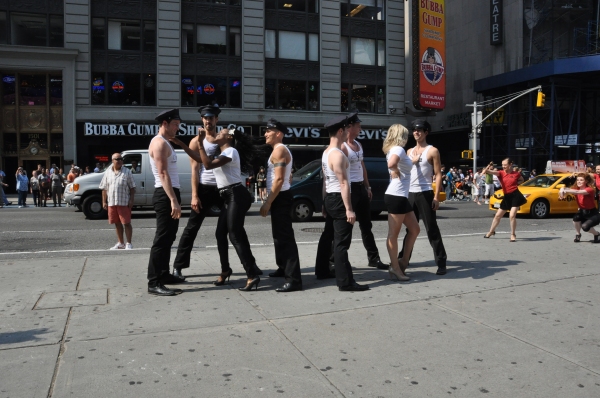 Moeisha McGill, Robyn Hurder with Jack Leahy, Claybourne Elder, Freddie Kimmel, Rian Bodner, Timothy Hughes and Tim Roller

Robyn Hurder and Moeisha McGill

Robyn Hurder

Elizabeth Stacey, Rebeccca Larkin and Sarah Hicks

The end of the routine

Cast and Crew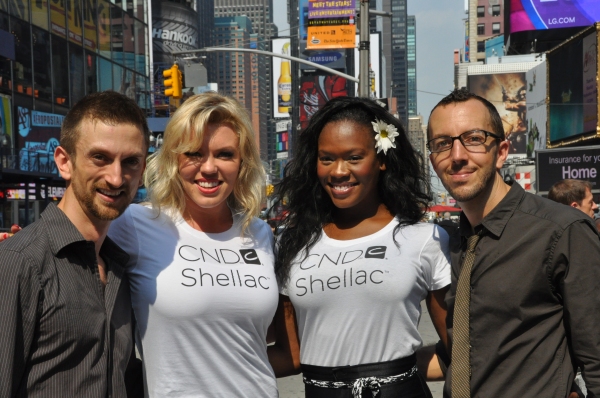 Mike Kirsch, Robyn Hurder, Moeisha McGill and Brian Golub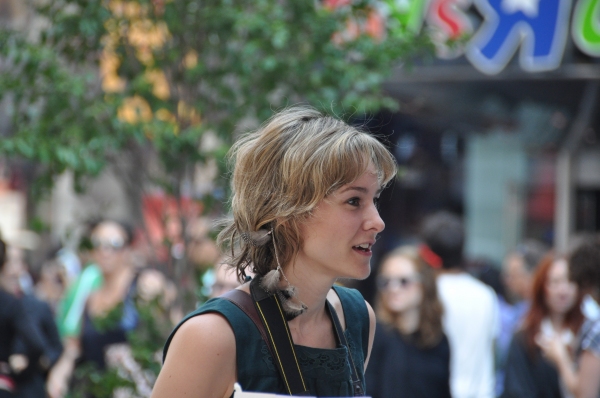 Jill Paice in the crowds watching the dancing

Eden Wood was there also

Eden Wood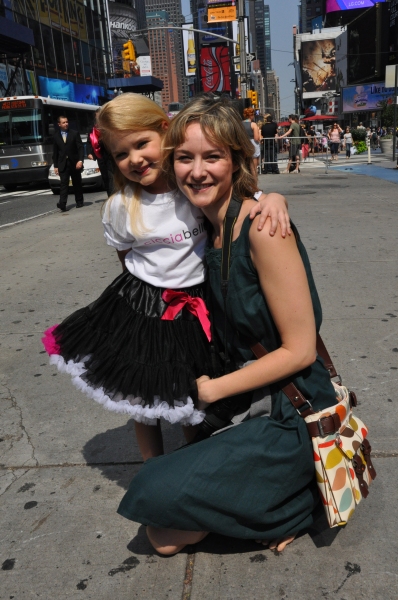 Eden Wood and Jill Paice

Featured This Week on Stage Door
Shoutouts, Classes, and More from Your Favorite Broadway Stars
Related Articles