Hostos Center Presents Bobby Sanabria And The MultiVerse Big Band Performing WEST SIDE STORY: Reimagined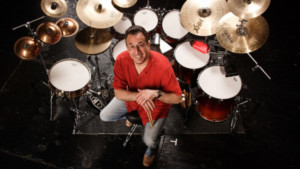 Celebrating the centennial (1918 - 2018) of its composer -- Leonard Bernstein -- the multi-Grammy nominated Bobby Sanabria and the MultiVerse Big Band pay tribute to West Side Story, the theatrical production that redefined the American musical, reimagined with an all new instrumental Latin jazz score. The 21-piece ensemble will perform the work at the Hostos Center for the Arts & Culture, 450 Grand Concourse (at 149th Street) in the Bronx, on Saturday, March 17, 7:30 PM in the Main Theater. Tickets range from $25 to $35 with student tickets at $5 and can be purchase online at www.hostoscenter.org or by calling (718)-518-4455. The box office is open Monday to Friday, 1 PM to 4 PM and will be open two hours prior to performance.
According to Sanabria, Bernstein's "genius of utilizing the tri-tone, the interval of jazz harmony, along with several Latin American musical styles is something that was never heard on the Broadway Stage." Reimagined expands upon the original Latin American styles utilized by Bernstein to include: Venezuelan joropo, Puerto Rican bomba and plena, Dominican merengue, Brazilian samba and samba cansao, Cuban mambo, cha-cha-cha, bolero, son montuno, West African-rooted bembé, and American funk and swing. The combination provides the musicians an "explosive platform as jazz soloists," says Sanabria.
Sanabria commissioned a number of New York-based arrangers to take on the reimagining of the work including: Jeremy Fletcher, Niko Seibold, Jeff Lederer, Matt Wong, Danny Rivera, Eugene Marlow, Nathan Sparks, Andrew Neesley and Takao Heisho. The work was debuted at the Manhattan School of Music with the MSM Afro-Cuban Orchestra in February 2017, with Bernstein's son Alexander in attendance, and then for a sold-out run with the four-time Grammy nominated MultiVerse Big Band, led by Sanabria, at Jazz at Lincoln Center in November. A live recording from those peformances will be released later this year.
West Side Story is a musical with a book by Arthur Laurents, music by Leonard Bernstein, lyrics by Stephen Sondheim and conception and choreography by Jerome Robbins. It was inspired by William Shakespeare's play Romeo and Juliet. The story is set in the Upper West Side neighborhood in New York City in the mid-1950s, an ethnic, blue-collar neighborhood (in the early 1960s, much of the neighborhood was cleared in an urban renewal project for the Lincoln Center, which changed the neighborhood's character). The musical explores the rivalry between the Jets and the Sharks, two teenage street gangs of different ethnic backgrounds. The members of the Sharks, from Puerto Rico, are taunted by the Jets, a white gang. The young protagonist, Tony, a former member of the Jets and best friend of the gang's leader, Riff, falls in love with Maria, the sister of Bernardo, the leader of the Sharks. The dark theme, sophisticated music, extended dance scenes, and focus on social problems marked a turning point in American musical theatre. The 1961 musical film version won ten Academy Awards.
About Bobby Sanabria
Seven-time Grammy nominee as a leader, drummer, percussionist, composer, arranger, educator, documentary film producer, and activist, Bobby Sanabria is a native Nuyorican born and raised in New York's South Bronx. His unique perspective comes from having performed and/or recorded with every major figure in the development of what today is known as Latin jazz. From the genre's acknowledged creator, maestro Mario Bauzá, for whom Bobby recorded three Grammy-nominated CDs and worked as the drummer in his Afro-Cuban Jazz Orchestra for ten years, to Mongo Santamaria, with whom he started his career, to Tito Puente, Chico O'Farrill, Ray Barretto, Larry Harlow, Candido, Dizzy Gillespie, Marco Rizo, and many more.
He is the Co-Artistic Director/Curator of the Bronx Music Heritage Center and the Artistic Director/Artist in Residence of the Roberto Ocasio Memorial Latin Jazz Camp for High School Students in Cleveland, Ohio.I Like It Like That: The Story of Latin Boogaloo (PBS, 2009), and Latin Music U.S.A. (PBS, 2007), From Mambo to Hip Hop (Bravo, 2003), The Palladium Where Mambo Was King (2011). He has worked as a producer, advisor, and on-air personality on the award-winning documentaries Tito Puente: Masterworks Live!!! album, and Kenya (2009), a tribute and re-working of the Machito Afro-Cubans' legendary Kenya Revisited Live!!! (2008) and, with the MSM Afro-Cuban Jazz Orchestra, Big Band Urban Folktales was hailed by the jazz press worldwide for its futuristic take on the big band Latin jazz tradition. Grammy nominations followed for his Live & In Clave!!!A noted educator and clinician, Bobby Sanabria is on the faculty of Manhattan School of Music and of the Jazz & Contemporary Music Program at the New School and directs both schools' Afro-Cuban jazz orchestras. In 2000 Sanabria's groundbreaking Grammy-nominated CD
MUSIC FROM WEST SIDE STORY TO BE PERFORMED
"Prologue" (arranged by Jeremy Fletcher)
"Jet Song" (arranged by Niko Siebold)
"America" (arranged by Jeff Lederer)
"Gee, Officer Krupke" (arranged by Jeremy Fletcher)
"Tonight" (arranged by Matt Wong)
"Gym Scene / Mambo" (arranged by Danny Rivera)
"Gym Scene / Cha Cha Cha" (arranged by Nathan Sparks)
"Maria" (arranged by Eugene Marlow, additions by Bobby Sanabria)
"One Hand, One Heart" (arranged by Jeremy Fletcher)
"Cool" (arranged by Andrew Neesley)
"The Rumble" (arranged by Takao Heisho)
"Somewhere" (arranged by Jeremy Fletcher)
"Finale" (arranged by Jeremy Fletcher)
Bobby Sanabria MULTIVERSE BIG BAND
Trumpets: Kevin Bryan, Shareef Clayton, Max Darchè, Andrew Neesley
Saxophones: David Dejesus (alto, clarinet, soprano, flute), Andrew Gould (alto, soprano, flute), Peter Brainin (tenor, flute), Jeff Lederer (tenor, flute), Danny Rivera (baritone, bass clarinet)
Trombones: Dave Miller, Tim Sessions, Armando Vergara, Chris Washburne (tuba also)
Flute/Piccolo: Gabrielle Garo
Electric Violin: Ben Sutin
Rhythm: Silvano Monasterios (piano), Leo Traversa (electric bass), Oreste Abrantes (congas), Matthew Gonzalez (bongó/cencerro, baríl de bomba), Takao Heisho (percussion), Bobby Sanabria (drums)
Related Articles
More Hot Stories For You
Ellen's Stardust Diner Will Reopen Its Doors on October 1
Ellen's Stardust Diner will reopen its doors once again! The restaurant, famous for its singing wait staff, will be open for patrons beginning on Thur...

Steps on Broadway Announces Passing of Founder Carol Paumgarten
Steps on Broadway, the internationally recognized dance training center, announced today that its Founder, Carol Paumgarten, passed away on Thursday e...

Broadway Jukebox: 25 Songs for Falling Into Autumn!
Bust out your chunky sweaters, heat up your pumpkin spice latte, and get ready to roll in the leaves. Autumn is here and we're falling into the season...

Photo Flash: BACK TO THE FUTURE: THE MUSICAL Marquee Goes Up at the Adelphi Theatre
BACK TO THE FUTURE The Musical will transfer to the Adelphi Theatre in London's West End following an out-of-town opening at Manchester Opera House in...

7 More Broadway Choreography Tutorials You Can Follow Along with At Home!
Looking for something fun to do? We've rounded up even MORE Broadway dance tutorials from productions like Kinky Boots, The Lion King, The Prom, and m...

18 Shows Streaming on BroadwayWorld Events This Week!
BroadwayWorld Events is bringing you incredible talent right into your home!...