HERE Honors Tony-Winner Eve Ensler and Star Attorney Bethany Haynes At 25th Anniversary Gala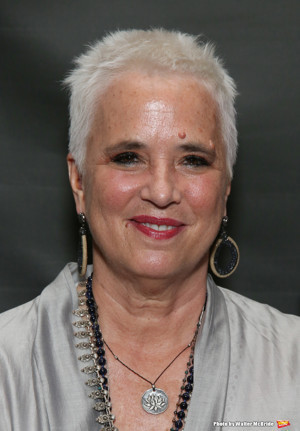 On June 4, the OBIE-winner HERE will honor Tony Award-winner Eve Ensler and HERE's Board Chair and star attorney Bethany Haynes at Out of the Box for 25 Years, HERE's 25th Anniversary Gala. The evening celebrates HERE's quarter of a century history as a leader in thinking creatively, reimagining performance practice and taking audiences to new frontiers. HERE has been a champion for unconventional theater artists, puppeteers, musicians, and dancers for 25 years including Ensler, whose groundbreaking The Vagina Monologues was developed and premiered at HERE in 1996.
The evening's program will be emceed by author, producer, performer, and activist Tanya Selvaratnam and will include performances by singer-songwriter and cellist Leah Coloff, internationally acclaimed soprano Lauren Flanigan, and composer Paul Pinto, and features event design by master puppeteer and MacArthur "genius" Basil Twist. Manhattan Borough President Gale Brewer serves as the honorary co-chair. The gala is hosted by HERE's Board of Directors, and HERE's Kristin Marting and Kim Whitener.
The Out of the Box for 25 Years gala will take place at City Winery (155 Varick Street, Manhattan) at 6:00pm on Monday, June 4. Individual tickets start at $500 with tables available starting at $5,000. Tickets can be purchased online at here.org, by calling 212.647.0202 ext. 326 or by emailing brenna@here.org.
Eve Ensler
is the Tony Award-winning playwright, activist, and author of the theatrical Obie Award-winning phenomenon, The Vagina Monologues, published in 48 languages and performed in over 140 countries. Her other credits include Broadway and National Tour of The Good Body. Her plays include Lemonade, Extraordinary Measures, Necessary Targets, OPC, and Emotional Creature. Her books include Insecure At Last: A Political Memoir and The New York Times bestseller I Am An Emotional Creature. She recently finished performing In the Body of the World at Manhattan Theatre Club, a one-woman show, which she adapted for the stage from her critically acclaimed memoir and first debuted at the American Repertory Theater. Film credits include "The Vagina Monologues", airing on HBO in 2002, and co-produced the film "What I want My Words to Do to You". Ms. Ensler is the founder of V-Day, the 20-year-old global activist movement to end violence against women and girls, which has raised over $100 million. V-Day led her to also found One Billion Rising, the biggest global mass action to end violence against women in over 200 countries. She is a regular contributor for The Guardian. She was named one of Newsweek's "150 Women Who Changed the World" and The Guardian's "100 Most Influential Women." Ms. Ensler is the Lortel Awards 2018 recipient of their Lifetime Achievement Award. Her new play The Fruit Trilogy will open in June 2018 at Abingdon Theatre Company at the
Lucille Lortel
Theatre.
Bethany Haynes is a partner at Sloss Eckhouse LawCo LLP, a boutique entertainment law firm based in New York City, where she focuses on advising clients who are working in all aspects of film, television, new media and virtual reality. She has been on the Board of Directors of HERE Arts Center for over 10 years, including 2 years as a Co-Chair and 5 years as the Chair of the Board. While Bethany's own acting career ended with a not entirely convincing portrayal of Jack's aged mother in a high school rendition of Into the Woods, her love of theater, provocative stories and boundary-pushing artists has only grown and she has found her life richer because of the vast array of performances she has seen and the artists she has met at HERE over the years. In a prior life, Bethany toiled in the corporate finance department at Skadden, Arps, Slate, Meagher & Flom LLP. She is a proud graduate of Bryn Mawr College and the University of Chicago Law School. She is also a member of the Board of Directors of Reel Works, a Brooklyn-based organization that provides free filmmaking programs, one-on-one mentoring and paid internship opportunities for NYC youth. Bethany can sometimes be found on the third Saturday of June dancing down the boardwalk in Coney Island with a troop of mermaids. She is an NYC native, having spent her first 8 years on the Upper West Side, and now lives in the West Village with her wife Megan, their (nearly) one-year old daughter and two senior Boston Terriers.
The OBIE-winning HERE (Kristin Marting, Founding Artistic Director and Kim Whitener, Executive Director), which celebrates its 25th Anniversary this season, was named a Top Ten Off-Off Broadway Theatre by Time Out New York, is a leader in the field of producing and presenting new, hybrid performance viewed as a seamless integration of artistic disciplines-theater, dance, music and opera, puppetry, media, visual and installation, spoken word and performance art.
Standout productions include Eve Ensler'sThe Vagina Monologues, Basil Twist's Symphonie Fantastique and Arias with a Twist, Trey Lyford & Geoff Sobelle's all wear bowlers, Young Jean Lee's Songs of the Dragons Flying to Heaven, James Scruggs Disposable Men, Corey Dargel's Removable Parts, Taylor Mac's The Lily's Revenge, Kamala Sankaram's Miranda and Robin Frohardt's The Pigeoning, and original works by Founding Artistic Director Kristin Marting, among many others. In 2008, following an extensive renovation, HERE re-opened the doors to its long-time downtown home for the arts, where it continues as a vibrant, welcoming haven for artists and audiences alike.
Purchase:
here.org
; 212.647.0202 ext. 326;
brenna@here.org
.
Related Articles
More Hot Stories For You