Entire Off-Broadway Ensemble to Return for INDECENT on Broadway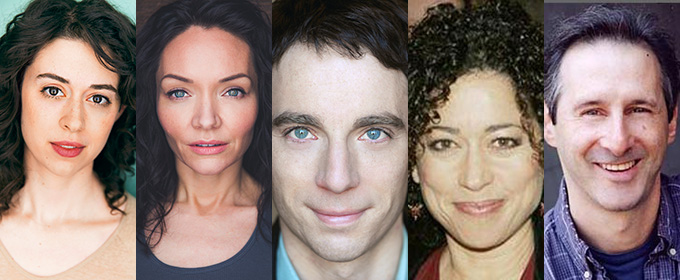 Daryl Roth, Elizabeth Ireland McCann and Cody Lassen, the producers of Indecent -- the newest work by Pulitzer Prize-winning playwright Paula Vogel (HOW I LEARNED TO DRIVE) -- have announced that the entire original Off-Broadway ensemble will travel to Broadway when the production begins previews at the Cort Theatre (138 West 48th Street, between Sixth and Seventh Avenues), on April 4, prior to its official opening night on April 18.
A new play with music, Indecent is written by Paula Vogel, created by Paula Vogel and Rebecca Taichman, and directed by Rebecca Taichman.
The magic that was created during the play's debut in NYC last year will return in the hands of the outstanding ensemble from previous productions: Katrina Lenk (ONCE, THE BAND'S VISIT), Mimi Lieber (ACT ONE), Max Gordon Moore (RELATIVELY SPEAKING), Tom Nelis (THE VISIT), Steven Rattazzi (THE FOURTH SISTER), Richard Topol (FISH IN THE DARK, THE NORMAL HEART), and Adina Verson (HIM). Joining the Broadway company will be Ben Cherry (FIDDLER ON THE ROOF), Andrea Goss (CABARET), and Eleanor Reissa (New Yiddish Rep's GOD OF VENGEANCE).
In fact, the Broadway cast of Indecent has - not unlike the theater troupe depicted in the play itself - been performing the play together for more than two years: during its development with the Sundance Theater Institute and Oregon Shakespeare Festival, followed by productions at Yale Rep, La Jolla Playhouse and the Vineyard Theatre, where Indecent had its NYC debut last summer.
INDECENT is produced on Broadway by Daryl Roth, Elizabeth Ireland McCann and Cody Lassen in association with Vineyard Theatre, La Jolla Playhouse and Yale Repertory Theatre. The play was hailed by critics as one of the best plays of 2016, and made the Best of 2016 Theatre lists from The New York Times, Time Out New York, Newsday, Deadline, The Advocate and TheaterMania, among others.
INDECENT is the new play with music from Pulitzer Prize winner Paula Vogel (HOW I LEARNED TO DRIVE), inspired by the true story of the controversial 1923 Broadway debut of Sholem Asch's GOD OF VENGEANCE about a Jewish family that lives above a brothel, hoping to gain respect by having their daughter marry into a prestigious family. Hailed as one of the best plays of the year by critics, Indecent charts the journey of an incendiary drama and the artists who risked their lives to perform it. Created by Vogel and director Rebecca Taichman (STAGE KISS) Indecent set at a time when waves of immigrants were changing the face of America, this play with music is a riveting look at an explosive moment in theatrical history and comes to Broadway from its critically acclaimed, sold-out run at the Vineyard Theatre.
INDECENT features music composed by Lisa Gutkin (THE LAST SHIP, The Klezmatics) and Aaron Halva (RED NOSES) who play onstage along with cast members throughout the show. The production is choreographed by David Dorfman (GREEN VIOLIN). Scenic design is by Riccardo Hernandez; costume design is by Emily Rebholz; lighting design is by Christopher Akerlind; sound design is by Matt Hubbs and projection design is by Tal Yarden.
ABOUT THE ARTISTS:
Katrina Lenk Broadway: Once, Spider-Man: Turn Off the Dark, The Miracle Worker. Off-Broadway/Regional includes: Indecent (Vineyard Theatre, Yale, LaJolla Rep), The Band's Visit (Atlantic Theater), iWitness (Mark Taper Forum), Lost Land (Steppenwolf Theater), Caucasian Chalk Circle (South Coast Rep), Camille (Bard Summerscape), Lovelace: A Rock Opera (The Hayworth/Edinburgh). Film/TV includes: Look Away, Evol, Crime Fiction, "Elementary," "The Get Down," "The Blacklist." Co-creator of the web series "Miss Teri," and ringleader of her band moxy phinx. www.katrinalenk.com
Mimi Lieber Indecent at Vineyard, Yale Rep, La Jolla. Broadway: Act One (Lincoln Center), Brooklyn Boy, I'm Not Rappaport (revival). Off-Broadway: Distracted (Roundabout). Regional: Two Things You Don't Talk About at Dinner (Denver Center); Persephone, The Sisters Rosensweig (Huntington); We Won't Pay! We Won't Pay! (Long Wharf); Taking Sides, The Greeks Love Council, Five Women Wearing the Same Dress (Odyssey); Leon & Lena (and Lenz) (Guthrie); Figaro Gets a Divorce (La Jolla); Much Ado About Nothing, Othello (L.A. Shakespeare). National: The Heidi Chronicles. Film/TV: The Thing About My Folks, Arranged, Cold Souls, Permanent Midnight, Bulworth, Corrina, Corrina, Wilder Napalm, Just Another Story, "The Sopranos," "Law & Order," "Medium," "Friends," "The Practice," "Seinfeld," "ER," "The X-Files," "NYPD Blue."
Max Gordon Moore Broadway: Relatively Speaking. Off-Broadway: Indecent (Vineyard). Recent: The Master Builder with John Tuturro (BAM); Arcadia, The Caucasian Chalk Circle (Yale Rep); Time and the Conways (Old Globe); Constellations (Seattle Rep); Man and Superman, It's A Wonderful Life (Irish Rep); Tragedy: A Tragedy (Berkeley Rep); The Seagull (Cleveland Playhouse); Richard III, The Merchant of Venice (California Shakespeare Theater); Pleasure and Pain (Magic Theatre); Private Jokes, Public Places (Aurora Theatre). Film/TV: Gods Behaving Badly, The Terrors of Basket-Weaving, "Madam Secretary," "The Good Wife." MFA, Yale School of Drama, Hershel Williams Prize in Acting.
Tom Nelis Broadway: The Visit, Enron, The Caine Mutiny Court Martial, AIDA. Off-Broadway: The Pearl Theater, The Public Theater, New York Theater Workshop, Playwrights Horizons, The Signature Theater, Classic Stage Company, Theater for a New Audience, Manhattan Theater Club, BAM, En Garde Arts. Mr Nelis is a founding member of Siti Company, now in its 25th year. Awards: Eliot Norton Award, OBIE, San Diego Critics Ensemble Award, Drama League Nomination, Barrymore Nomination. MFA, UC San Diego.
Steven Rattazzi Broadway Debut. Off-Broadway: Indecent (Vineyard); Henry V with Liev Schrieber (Public Theater); Galileo with F. Murray Abraham; The Tempest with Mandy Patinkin, (CSC); Stunning (Lincoln Center); Dinner Party (Target Margin); Painted Snake on a Painted Chair (OBIE); McGurk (ERS); Richard Foreman's Samuel's Major Problems (Ontological). Regional: Indecent (Yale Rep/La Jolla Playhouse); Marie Antoinette (ART/Yale Rep); The School for Wives (Two River Theater); The Lovesong of J. Robert Oppenheimer (Cincinnati Playhouse). Film: The Family. TV: "Venture Brothers."
Richard Topol Broadway: Larry David's Fish in the Dark, The Merchant of Venice with Al Pacino, Tony winning revivals Awake & Sing! and The Normal Heart, Julius Caesar with Denzel Washington, Cymbeline, The Country Girl, School for Scandal. Off-Broadway: Bronx Bombers, Opus (Primary Stages), When the Rain Stops Falling (LCT), Regrets (MTC), Lear, Twelfth Night, Winter's Tale (Public), and new plays at Playwrights Horizons, New Group, EST, Soho Rep, Vineyard among others. Film/TV: Lincoln, Indignation, Party Girl, recurring on "Billions," "Perception," "Covert Affairs," and "The Practice," and upcoming as Fritz Haber opposite Geoffrey Rush in producer Ron Howard's "Genius: Einstein" on Nat Geo Channel.
Adina Verson Broadway Debut. Previous credits include Indecent (Vineyard, La Jolla, Yale Rep), The Servant of Two Masters (TFANA, Seattle Rep, Guthrie, ArtsEmerson), As You Like It (Shakespeare Theatre Company, DC), The Winter's Tale (Yale Rep), 4000 Miles (Cincinnati Playhouse), peerless (Barrington Stage), and Machine Makes Man (OldSoundRoom), which she co-created with Michael McQuilken. TV: "Mozart in the Jungle", "The Strain". Founding company member of OldSoundRoom Performance Ensemble. BFA, The Boston Conservatory. MFA, Yale School of Drama. For Mama.
Paula Vogel (Playwright) is Playwright in Residence at Yale Repertory Theatre. Indecent was commissioned by Oregon Shakespeare Festival's American Revolutions and Yale Repertory Theatre in close collaboration with director Rebecca Taichman, and co-produced by La Jolla Playhouse. Indecent was developed at the Sundance Theatre Lab in 2013 and has been produced at Yale Repertory Theatre, La Jolla Playhouse and the Vineyard Theatre. Her play How I Learned To Drive received the 1998 Pulitzer Prize for Drama, the Lortel Prize, Drama Desk, Outer Critics Circle, and New York Drama Critics Awards for Best Play, as well as her second Obie Award. Other plays include Don Juan Comes Home From Iraq, The Long Christmas Ride Home, The Mineola Twins, The Baltimore Waltz, Hot 'N' Throbbing, Dedesmona, And Baby Makes Seven, The Oldest Profession, and A Civil War Christmas. In 2004-05, she was the playwright in residence at New York's Signature Theatre. TCG has published four books of her work: The Mammary Plays, The Baltimore Waltz and Other Plays, The Long Christmas Ride Home, and A Civil War Christmas. Most recent awards include the Theatre Hall of Fame, Lifetime Achievement Award from the Dramatists Guild, and the 2015 Thornton Wilder Award. She is honored to have two awards to emerging playwrights named after her: the Paula Vogel Award, created by the American College Theatre Festival in 2003, and the Paula Vogel Playwriting Award, given annually by the Vineyard Theatre since 2007. Ms. Vogel won the 2004 Award for Literature from the American Academy of Arts and Letters, the Obie for Best Play in 1992, the Rhode Island Pell Award in the Arts, the Hull-Warriner Award, The Laura Pels Award, the Pew Charitable Trust Senior Award, a Guggenheim, an AT&T New Plays Award, the Fund for New American Plays, the Rockefeller Foundation's Bellagio Center Fellowship, several National Endowment for the Arts Fellowships, the McKnight Fellowship, and the Bunting Fellowship from Radcliffe College. She is a fellow of the American Academy of Arts and Sciences. She was recently awarded a Thirtini from 13P in New York. She has been a fellow at the MacDowell Colony, the Double UCross Colony, as well as Yaddo. She has taught for 24 years at Brown University and for five years at Yale School of Drama where she was the Eugene O'Neill Professor of Playwriting. She is honored by Philadelphia Young Playwrights and Quiara Hudes, who is curating the Paula Vogel Mentors Project.
Rebecca Taichman (Creator/Director) directed Indecent at Vineyard Theatre, La Jolla Playhouse and Yale Repertory Theatre. Off-Broadway credits include Familiar by Danai Gurira (Playwrights Horizons); The Oldest Boy by Sarah Ruhl (Lincoln Center Theater); The Luck of the Irish (LCT3); Stage Kiss, Milk Like Sugar (Playwrights Horizons); Orlando (Classic Stage Company); Orpheus (New York City Opera); Dark Sisters (Music Theater Group, Gotham Chamber Opera); Rappaccini's Daughter (Gotham Chamber Opera); Marie Antoinette (Soho Rep.); The Scene (Second Stage, Humana Festival of New Plays); and Menopausal Gentleman (Ohio Theatre). Regional credits include Sleeping Beauty Wakes, Milk Like Sugar (La Jolla Playhouse); Twelfth Night, Time and the Conways (The Old Globe); Marie Antoinette (A.R.T.); She Loves Me (Oregon Shakespeare Festival); The Winter's Tale (McCarter Theatre Center, Shakespeare Theatre Company); Cymbeline, Twelfth Night, The Taming of the Shrew (Shakespeare Theatre Company); Twelfth Night, Sleeping Beauty Wakes (McCarter); Dead Man's Cell Phone and The Clean House (Woolly Mammoth Theatre Company), the world premieres of Familiar by Danai Gurira and David Adjmi's The Evildoers and Marie Antoinette at Yale Rep. She received her MFA from Yale School of Drama.
David Dorfman (Choreographer) and David Dorfman Dance have toured the world since 1987, most recently to Greece - and Armenia, Turkey and Tajikistan via DanceMotion USA/US State Department/Brooklyn Academy Of Music, where DDD has appeared in the Next Wave Festival. David has received NEA's, a Guggenheim, a "Bessie" and a "Barrymore" (Green Violin, Rebecca Taichman). He is honored to work with Rebecca again and with Paula Vogel and this incredible cast. Look for DDD's Aroundtown in 2017. Daviddorfmandance.org
Lisa Gutkin (Co-Composer and Co-Music Director, Musician) is the Grammy Award-winning violinist, singer and songwriter of The Klezmatics. She played in Sting's The Last Ship, had a cameo appearance in "Sex and the City," and is a MacDowell Fellow. Lisa appears on hundreds of recordings including From Here On In, a CD of her original songs produced by John Lissauer, and Play Klezmer Fiddle!, an instructional DVD. She has co-authored songs with Woody Guthrie, Anne Sexton, and Maggie Dubris, and composed for symphony orchestra, dance, and film.
Aaron Halva (Co-Composer and Co-Music Director, Musician) is honored to make his Broadway debut strapped to an accordion. Off-Broadway/regional: Servant of Two Masters (Theatre For a New Audience, Yale Rep, Guthrie, ArtsEmerson, STC, Seattle Rep), A Doctor In Spite of Himself (Intiman Theatre, Berkeley Rep). The Moliere Impromptu (Trinity Rep). TV/Film: "Wall Street II". 2016 Connecticut Critic's Circle Award for Musical Direction and Composition. Aaron directed the Latin music group nu guajiro playing tres (Cuban guitar) for over two decades.
Daryl Roth (Producer) holds the singular distinction of producing seven Pulitzer Prize-winning plays: Anna in the Tropics; August: Osage County (2008 Tony); Clybourne Park (2012 Tony); How I Learned to Drive; Proof (2001 Tony); Edward Albee's Three Tall Women; and Wit. The proud recipient of ten Tony Awards and London's Olivier Award, her over 100 award-winning productions include: Kinky Boots (2013 Tony, 2016 Olivier); Absolute Brightness; Buyer & Cellar; Caroline, or Change; Curtains; A Delicate Balance; The Front Page; Edward Albee's The Goat or Who is Sylvia (2002 Tony); The Humans (2016 Tony); It Shoulda Been You; Love, Loss, and What I Wore; The Normal Heart (2011 Tony); Shuffle Along; The Tale of the Allergist's Wife; A View from the Bridge (2016 Tony); War Horse (2011 Tony); Wiesenthal; and The Year of Magical Thinking. Spring 2017: Groundhog Day; Hello, Dolly!; Indecent; Present Laughter; and Sunset Boulevard. Love to Steven, my wonderful family, Louie, Lucy & Leo ever in my heart. www.DarylRothProductions.com.
Elizabeth Ireland McCann (Producer) Broadway productions include Well, Who's Afraid of Virginia Woolf?, The Goat, Copenhagen, A View from the Bridge, Dracula, Elephant Man, Morning's at Seven, Mass Appeal, Amadeus, Home, Piaf, Rose, Leader of the Pack, Stepping Out, Orpheus Descending. With Royal Shakespeare Company: A Midsummer Night's Dream, The Life and Adventures of Nicholas Nickleby, All's Well That Ends Well and Cyrano de Bergerac, Much Ado About Nothing, Good, Les Liaisons Dangereuses, Sherlock Holmes, London Assurance. With James M. Nederlander: My Fat Friend, Otherwise Engaged, Habeas Corpus, The Dresser. Off-Broadway: Beckett/Albee, The Play About the Baby, Three Tall Women. West End: Three Tall Women, Who's Afraid of Virginia Woolf?, A Delicate Balance, The Unexpected Man and The Three Sisters.
Cody Lassen (Producer) is a Tony-nominated producer and live entertainment consultant, most recently represented on Broadway by Significant Other, Spring Awakening, and Macbeth. Upcoming productions include Untitled #4 and The Australian Theatre Company's Holding the Man. In addition to producing his own projects, Cody consults for producers, theatres and agencies to help them discover how they should market their shows for the best chance of financial and critical success. He serves on the board of NY's Vineyard Theatre and previously oversaw marketing efforts for Los Angeles' Center Theatre Group and its three theatres: the Ahmanson Theatre, Mark Taper Forum and Kirk Douglas Theatre. More at codylassen.com.