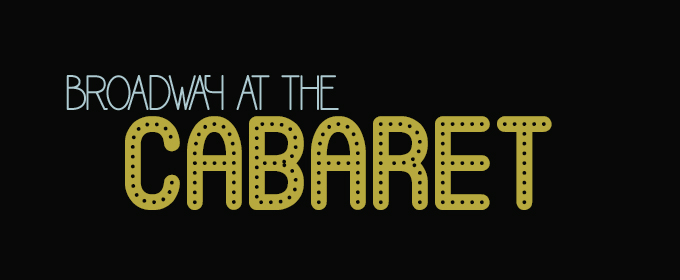 Click Here for More Articles on Broadway at the Cabaret
Broadway at the Cabaret: Ensembles feat. Robin DeJesus, Jai'len Christine Li Josey, Olivia Puckett & More!
What good is sitting alone in your room this week? If you don't already have plans to see a Broadway show, come out to see your favorite Broadway stars in a cabaret act instead. After Broadway orchestras begin their overtures, ensemble members take their dance breaks, and performers belt out their eleven o'clock numbers, the party continues at various cabaret venues throughout New York City.
Below, BroadwayWorld brings you our top Broadway acts that can't be missed this week, July 1 - July 7, 2018. Come hear the music play!
---
The Songs of Silver and Stein
July 1 at Feinstein's/54 Below- BUY TICKETS!
New writers Jordan Silver and Luke Steinhauer will be making their Feinstein's/54 Below debut with a collection of their favorite original songs sung by Broadway knockouts like Jai'len Christine Li Josey (Spongebob Squarepants), Matt Rodin (BROadway), and Ryan Vasquez (Waitress, Hamilton). Be the first to hear their fresh music, ranging from heart-break ballads to your new favorite bop. These young composers met at Stagedoor Manor theatre camp, at the age of 15, and went on to major in musical theatre at The University of Michigan (Stein) and Ithaca College (Silver). They recently premiered Your Favorite Actor Friends at The Green Room 42 and Welcome to Ridgington at Signature Theatre's Soundbites Festival to great acclaim. You can expect to hear songs from Actor Friends such as "It's Exhausting Pretending Not to Hate You," and from their musical in development, Mr. Manhattan, about the arising Culture Clash in "Way Way Uptown, U.S.A." Come through for an incredible line-up of Broadway performers paired with a full band, serenading you with the songs of Silver & Stein. Don't miss out on Jai'len Christine Li Josey, the stand out star of Spongebob Squarepants, who will be performing - check her out below!
---
The Heat Is On: The Miss Saigon Revival Reunion Concert
July 2 at Feinstein's/54 Below - BUY TICKETS!
Six months after closing, the revival cast of Miss Saigon will reunite for one night only at Feinstein's/54 Below, just one block north from their home at the Broadway Theatre. Audiences can expect to hear a variety of music including covers, original tunes, and maybe even a couple of songs from Miss Saigon itself. Come live The American Dream with this talented cast and celebrate as if it was The Last Night of the World. Featuring Mike Baerga, Jace Chen, Suri Chen, Julian DeGuzman, Graham Scott Fleming, Casey Garvin, Nkrumah Gatling, Dan Horn, Devin Ilaw, Lina Lee, Casey Lee Ross, Dorcas Leung, Edelle Rapada, Elie Rapada, Daniel Shin, Antoine L. Smith, Lianah Sta. Ana, Samuel Li Weintraub, Jessica Wu, Gregory Ye, Minami Yusui and more!
---
54 Sings 1776
July 3 & 4 at Feinstein's/54 Below - BUY TICKETS!
Join Broadway favorites Allison Bailey (Wicked, 54 Sings Heathers), Devin Ilaw (Miss Saigon, Les Misérables), Dorcas Leung (Hamilton National Tour, Miss Saigon), and more for the perfect theatrical celebration of our nation's birthday. The Fourth of July meets the Great White Way in this concert staging of the beloved musical, 1776. Celebrate our country's Independence Day as John Adams, Thomas Jefferson, Abigail Adams, Benjamin Franklin, and others sing "Sit Down, John," "He Plays the Violin," "Molasses to Rum," and more. Feinstein's/54 Below proudly waves the American flag as some of Broadway's brightest stars present this beloved score for four very special performances over the July 4th holiday.
---
54 Sings Ariana Grande
July 7 at Feinstein's/54 Below- BUY TICKETS!
From her Broadway roots in 13 the Musical to her newest hit album Sweetener and everything in between, for the first time ever... 54 Below Sings Ariana Grande! You will have No Tears Left to Cry after hearing your favorite Broadway, Off Broadway, Drag Queens, and TV/Film stars perform chart-topping hits like "Side to Side," "The Way," and "Dangerous Woman." So Break Free of your boring Saturday night plans, wear your hair half up, and come celebrate the princess of pop at 54 Sings Ariana Grande! Featuring Robin DeJesus (The Boys In The Band, In the Heights), Olivia Puckett (Dear Evan Hansen), Alex Boniello (Dear Evan Hansen), and many more!
---
Matt Doyle
July 7 at Joe's Pub - BUY TICKETS!
Matt Doyle was last seen in the US Premiere of A Clockwork Orange at New World Stages. Matt's Broadway credits include The Book of Mormon (Elder Price), War Horse (Billy Narracott), Spring Awakening (Hanschen), and Bye Bye Birdie (Hugo Peabody). National tour credits include Spring Awakening (Melchior). Off-Broadway credits include Sweeney Todd (Anthony), Brooklynite (Trey) and Jasper in Deadland (Jasper). Regional credits include West Side Story at ?Paper Mill Playhouse (Tony), Jasper in Deadland at the 5th Avenue Theater in Seattle (Jasper), and Giant at Dallas Theater Center (Jordy Jr). Film and TV credits include a recurring role on Gossip Girl (Jonathan) and ?Private Romeo (Glenn). Recordings include Bare (Peter). Matt's solo EPs, Daylight and Constant (co-written by Will Van Dyke), are available on iTunes. Concerts include: Carnegie Hall with the New York Pops, Phoenix Symphony and Joe's Pub.
Related Articles
More Hot Stories For You