Brief 3/12: MEAN GIRLS Begins Previews, ADMISSIONS Opens, and More!
Good morning, BroadwayWorld! Because we know all our readers eat, sleep and breathe Broadway, what could be better than waking up to it? Scroll down for the latest news. Want our morning reports delivered via email? Subscribe here!

1)
VIDEOS: Katharine McPhee Rehearses Some of Our Favorite Songs From WAITRESS
by Stephanie Wild - March 11, 2018
Katharine McPhee is currently in rehearsal to take over the role of Jenna in Waitress on April 10th. She recently shared some videos to her Instagram story of herself rehearsing some songs from the show.. (more...)
---
2)

Put on Your Broadway Clothes: How to Dress for a Broadway Show
by BWW News Desk - March 11, 2018
You're making plans for your first trip to New York City. Your travel is booked, your hotel stay is confirmed, and most importantly, you just secured tickets to your favorite Broadway show! As you pack your suitcase, one real question remains: What's the dress code for Broadway?. (more...)
---
3)

VIDEO: Laura Benanti's 'Melania Trump' Speaks Out About the Stormy Daniels Lawsuit
by Stage Tube - March 11, 2018
Laura Benanti reprised her role as Melania Trump on The Late Show with Stephen Colbert, where she spoke up about the Stormy Daniels lawsuit.. (more...)
---
4)

Photo Coverage: Chita Rivera Thrills Audiences at Feinstein's/54 Below
by Stephen Sorokoff - March 11, 2018
Like a graceful matador who has complete control of the engagement and can dramatically move and dominate an arena, Chita Rivera brought her talent, magic and super Broadway stardom to the stage of Feinstein's/54 Below last night and here are some of the photos.. (more...)
---
5)
BWW TV: What's TRAVESTIES All About? Tom Hollander and Company Explain!
by TV - Press Previews - March 11, 2018
The cast of Roundabout Theatre Company's Broadway revival of Tom Stoppard's Tony Award-winning play Travesties met the press this week and BroadwayWorld was on hand to catch all the action. Get the full scoop on the play straight from the cast below!. (more...)
---
---
Today's Call Sheet:
-MEAN GIRLS begins previews on Broadway at the August Wilson Theatre tonight!
-ADMISSIONS opens off-Broadway at the Mitzi E. Newhouse Theater tonight!
-THE STONE WITCH begins performances off-Broadway at the Westside Theatre - Upstairs tonight!
-The Signature Theatre honors legacy playwright Edward Albee at its annual gala tonight!
-Broadway Does Paramore tonight at The Green Room 42!
---
BWW Exclusive: The Kid Critics take a deep dive to Bikini Bottom at SPONGEBOB SQUAREPANTS!
---
What we're geeking out over: Ever wonder how PRETTY WOMAN THE MUSICAL came about? Bryan Adams, Jerry Mitchell, and more members of the cast and crew explain here!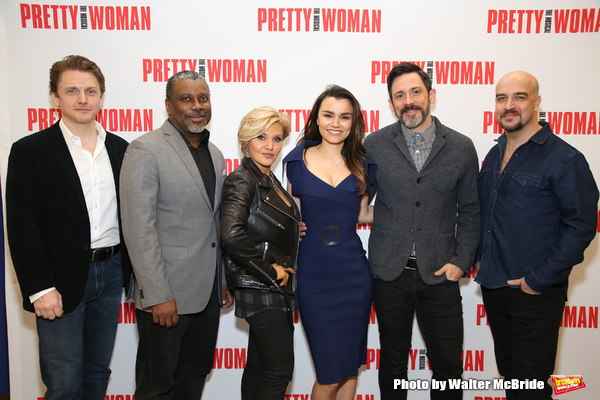 ---
Social Butterfly: The Go Go's talk the road to Broadway with HEAD OVER HEELS!
---
What we're watching: PHANTOM OF THE OPERA West End releases a new television spot!
---
And a Happy Birthday shout-out to Liza Minnelli, who turns 72 today!
With a career spanning six decades, Liza Minnelli has reached legendary status in multiple fields of entertainment and is among a small group of entertainers who have been honored with an Emmy, Grammy, Oscar, and Tony Award. She is considered both an American icon and a gay icon.
In 1965 she made her Broadway debut in the musical Flora the Red Menace and was awarded the Tony Award for Best Actress in a Musical, becoming the youngest ever recipient of the award. Critically lauded for her Academy Award nominated dramatic performance in the film The Sterile Cuckoo (1969), she rose to international stardom with the Emmy Award-winning TV special Liza with a Z (1972) and her performance as Sally Bowles in Cabaret (1972), which won her the Academy Award for Best Actress. Other notable film credits have included Golden Globe Award nominated performances in Lucky Lady (1975), New York, New York (1977) and Arthur (1981).
She has successfully returned to the Broadway stage on a number of occasions. She won a Special Tony Award in 1974 for her three-week engagement at the Winter Garden Theatre, won her second Tony Award for Best Actress in a Musical for her starring role in the 1977 musical The Act, was Tony-nominated for her performance for the 1984 musical The Rink, and won the 2009 Tony Award for Best Special Theatrical Event for her show Liza's at The Palace.
From the late 1970s onwards, Minnelli's work has predominantly focused on concert tours and nightclub performances. She gave highly regarded performances at Carnegie Hall in 1979 and 1987, and at Radio City Music Hall in 1991 and 1992. In the late 1980s she toured alongside Frank Sinatra and Sammy Davis Jr. in Frank, Liza & Sammy: The Ultimate Event.
---
See you bright and early tomorrow, BroadwayWorld!

Related Articles