Click Here for More Articles on NEW YORK CITY
Breast Cancer Comedy NICE T!TS Pairs Up with Avon 39 at The PIT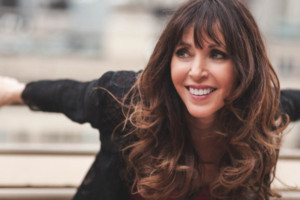 Writer and performer Amy Marcs pairs up with Avon 39: The Walk to End Breast Cancer for a special benefit performance of her critically acclaimed one-woman comedy, "Nice T!ts" at The PIT (123 E 24 Street, NYC) on Thursday, August 10 at 8:00p.m.
A percentage of ticket sales will be donated to Avon 39 The Walk to End Breast Cancer.
The performance will be followed by an exclusive after show talk-back, featuring a representative from Avon, esteemed breast cancer plastic surgeon Doctor Nolan Karp, and Breast Oncology surgeon Doctor Karen Hiotis (both of NYU Langone Cancer Center). The panel will be hosted by Sandy Ames (aka Jamie Lee) from 106.7 Lite FM Radio.
Says Marcs, "One of the goals of 'Nice T!ts' is to get the topic of breast cancer (and its aftermath) out of the closet, in order to inspire an honest conversation about what it means to lose your breasts to cancer, how that impacts you, your partner, your sexuality, your identity, and even your family. We are thrilled to be working with Avon and to be able to offer proceeds of ticket sales to their worthy causes."
"Nice T!ts" is a comedic exploration of Marcs' roller coaster experience with cancer and its effect on her perceptions of femininity, womanhood, confidence and mortality. It's a unique perspective full of humor and heart-felt honesty.
---
IF YOU GO:
Nice T!ts
Written and Performed by Amy Marcs
Directed by Peter Michael Marino
WHEN: 8:00p.m. Thursday August 10
WHERE: The PIT - 123 E 24th Street, New York City
HOW MUCH: $25
TICKETS: thepit-nyc.com/event/2017-08-10-nice-tts
MORE INFO: www.nicetitstheshow.com
Amy Marcs (Playwright/Performer) is an actress and voice over artist signed with The Don Buchwald Agency.
Amy wrote and stars in her critically acclaimed autobiographical one woman show "Nice T!ts." She has performed to sold out crowds at The PIT in New York, Project Y's 'Women in Theatre Festival' and at The Alliance for the Arts Theatre Conspiracy in Fort Myers Florida. Amy has also been a featured speaker and performed scenes from her show to some of the most renowned plastic surgeons in the world at The Breast Cancer Reconstruction: State of the Art 2016 closing gala at the Kimmel Center in NYC where she was able to share her insights as a breast cancer patient and survivor. She has been a guest on Fresh 102.7 radio, 'Dennis has a Podcast' and Sirius XM 'Doctor Radio'. Amy's work as an actress has also taken her to regional theaters across the country. Some of her favorite roles include, Gorgeous in 'The Sisters Rosenweig', Myrtle in 'Kingdom of Earth' and Lucille in 'Gemini' as well as being part of an iconic 'Harold' team at The Upright Citizens Brigade Theatre.
Amy's screen work includes the independent film The Waiting Game, and you can hear her as the voice of Peg the Pig in the animated feature film Impy's Island, which had its premiere at the Tribeca Film Festival in NYC. Her voice has been heard on numerous national network television promo and political campaigns. She is currently a Professor of Acting at The New York Conservatory for Dramatic Arts, and is an ordained interfaith minister and spiritual counselor. Amy is grateful to have an opportunity to share her story and to use the transformative power of art to heal.
The Avon Breast Cancer Crusade seeks to improve breast cancer outcomes and reduce disparities in survival rates at the community and national levels. Our strategic grant making reflects: a holistic and place-based approach in high-need areas throughout the United States; a commitment to enabling access to medical advances and support services for breast cancer patients, particularly those from vulnerable populations; and a commitment to investing in research on the prevention, diagnostics, and treatment of breast cancer.
Check out what's happening on the New York Calendar: www.avon39.org/new-york/calendar.