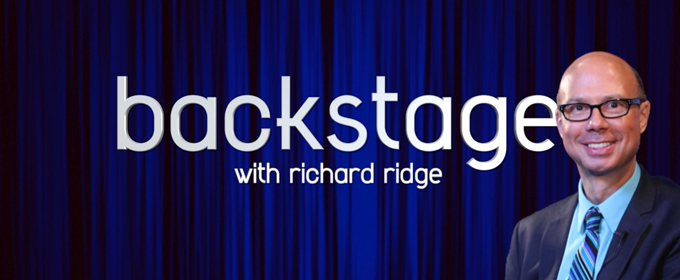 Click Here for More Articles on BACKSTAGE WITH RICHARD RIDGE
BWW TV Exclusive: Backstage with Richard Ridge- SAG Foundation Conversations Series with the Cast of WOLF HALL
Screen Actors Guild Foundation and Broadway World have partnered for filmed Conversations Q&A series to recognize and celebrate the vibrant theatre community in New York City and the union actors who aspire to have a career on the stage and screen. The most recent conversation featured the Tony-nominated cast of Wolf Hall: Parts 1 & 2 (Ben Miles, Nathaniel Parker & Lydia Leonard) moderated by BroadwayWorld's Richard Ridge. Watch below to find out how things are going at the Winter Garden Theatre, how they feels about bringing the plays to New York, and so much more. Check out the full interview below!
Lydia Leonard (Anne Boleyn): West End: Onassis, Let There Be Love, Time and the Conways (National Theatre), Frost/Nixon, Hecuba (and at BAM). TV: "River," "Life in Squares" (Virginia Woolf), "Lucan," "Ambassadors," "Da Vinci's Demons," "Whitechapel," "The 39 Steps," "Margaret Thatcher," "The Line of Beauty," "Jericho," "Rome," "Midsommer Murders," "Foyle's War." Film: The Fifth Estate, Archipelago.
Ben Miles (Thomas Cromwell): Theatre includes: The Two Gentlemen of Verona, Hamlet, Romeo and Juliet (RSC); Love Love Love and My Child (Royal Court); Betrayal (Harold Pinter Theatre); Measure for Measure and The Tower (Almeida); The Normal Conquests and Richard II (Old Vic); The Cherry Orchard, The London Cuckolds, Mary Stuart(National Theatre); The Winter's Tale (Young Vic) and The Tempest (Phoebus Cart). Television includes: "Dracula," "Zen," "The Promise," "Coupling," "Lark Rise to Candleford," "Prime Suspect," "Forsyte Saga," "Cold Feet," "The Hollow Crown 2" (BBC 2016). Film includes Ninja Assassin, Speed Racer, V for Vendetta.
Nathaniel Parker
(King Henry VIII): Broadway: Merchant of Venice. West End: Wolf Hall, The Audience, Speed The Plow, Merchant Of Venice. RSC: Richard II,Winter's Tale. TV: "Inspector Lynley" as Inspector Lynley, "Bleak House," "
Vanity Fair
," "Far From The Madding Crowd," "Injustice," "Dancing Queen," "Merlin," "Nuremberg Trials," "Never Come Back," "The Bible - David," "The Vision Thing," "A Class Apart," "Absolute Hell," "Village Affair," "Trust," "Into Thin Air," "Still Life," "The Outcast." Film: Stardust, The Bodyguard, Flawless, The Haunted Mansion, Othello, Hamlet, Squanto, Perfect Host, War Requiem. Fade To Black, Lover's Prayer,
Beverly Hills
Ninja, Malice In Wonderland.
Buy Tickets to Wolf Hall: Parts 1 & 2 - click here.

Related Articles