Wolf Hall: Parts 1 & 2 - 2015 - Broadway Tickets, News, Info & More
Wolf Hall: Parts 1 & 2 are adapted by Mike Poulton from Hilary Mantel's double Man Booker Prize winning novels, Wolf Hall and Bring Up the Bodies (published Henry Holt in the U.S.). The plays are based on the deceit, betrayal, and intrigue of the court of Henry VIII. The production features a company of more than twenty actors, headed by Ben Miles as Thomas Cromwell, Lydia Leonard as Anne Boleyn, and Nathaniel Parker as King Henry VIII, all under the direction of Olivier Award nominee Jeremy Herrin, who makes his New York City directing debut. The Royal Shakespeare Company is appearing with the permission of Actors' Equity Association.
Video preview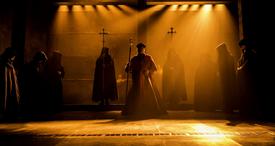 Photo preview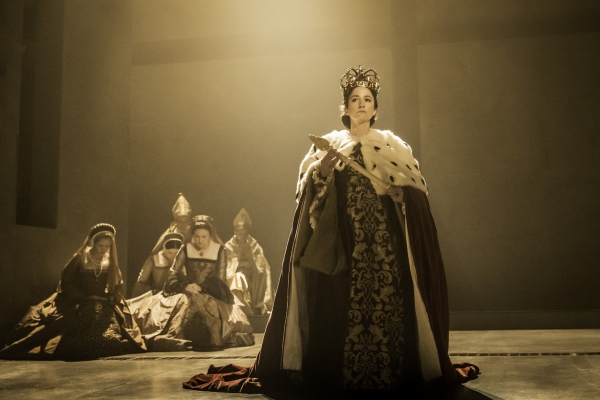 Schedule
Running Time: Two hours and 45 minutes, one intermissio
Featured Reviews For Wolf Hall: Parts 1 & 2
'Wolf Hall' lacks speed, bite on stage - USA Today
The subject matter is hardly dull or arcane...At issue, often, is how intrinsically dramatic a character this Cromwell is. Ben Miles provides a suitably thoughtful, nuanced central performance as a man who can be a ruthless enforcer but is not without his own principles...But Cromwell is not, in these plays, allowed any moment of real revelation or release. The flickers of anger, regret and exhaustion that poke through his pragmatic efficiency are not enough to make him a compelling central figure. Other characters allow for more heightened emotional expression. As Katherine of Aragon, Henry's first queen, the excellent Lucy Briers is at once fierce and palpably wounded -- a worthy rival to Lydia Leonard's haughty, saucy Anne, and to the charismatic Henry of Nathaniel Parker, who deftly avoids caricature. The supple performances provided by these and other cast members cannot, however, compensate for plays that impress but don't transport us.
Review: 'Wolf Hall,' the Stage Version, Untangles Tudor History With Relish - New York Times
The stage version...is strictly for fun. That may sound like a weak recommendation to those who wear their brows high. But being fun in period costume for nearly five-and-a-half hours of live theater is no mean achievement...But it's also because Mr. Herrin and Mr. Poulton craftily use the narrative urgency and immediacy of live theater to turn audiences into pleasurably guilty confidants. Spun as a bright web of tittle-tattle, "Wolf Hall" pours secrets of states and of stately boudoirs into your ears, while reminding you that well-wielded gossip can be a potent (and potentially lethal) political weapon...Working with a vast cast of characters (embodied by a protean ensemble of almost two dozen) and covering many convolutions of plot, history, law and sexual practices, "Wolf Hall" nonetheless gives the impression of always traveling light...Both staging and script use a galleon-load of hoary theatrical tools and tricks to keep us hooked, in ways that are as effective as they are shameless.
Wolf Hall: Parts 1 & 2 Broadway Cast