Wolf Hall: Parts 1 & 2 - 2015 - Broadway
Wolf Hall: Parts 1 & 2 are adapted by Mike Poulton from Hilary Mantel's double Man Booker Prize winning novels, Wolf Hall and Bring Up the Bodies (published Henry Holt in the U.S.). The plays are based on the deceit, betrayal, and intrigue of the court of Henry VIII. The production features a company of more than twenty actors, headed by Ben Miles as Thomas Cromwell, Lydia Leonard as Anne Boleyn, and Nathaniel Parker as King Henry VIII, all under the direction of Olivier Award nominee Jeremy Herrin, who makes his New York City directing debut. The Royal Shakespeare Company is appearing with the permission of Actors' Equity Association.
Video preview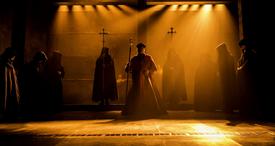 Photo preview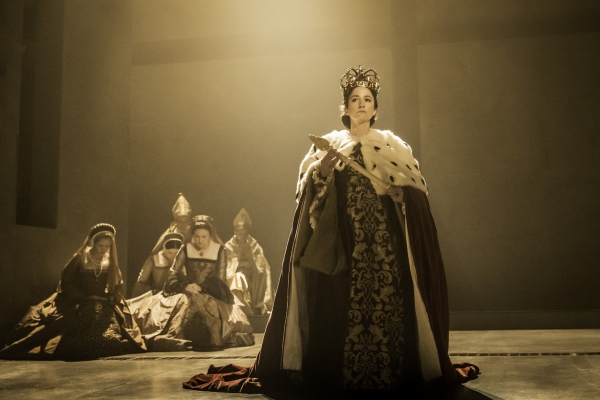 Schedule
Running Time: Two hours and 45 minutes, one intermissio
Featured Reviews For Wolf Hall: Parts 1 & 2
Wolf Hall review - action comes thick and fast in this thrilling marathon - Guardian
Even if you've practically memorised the books, Wolf Hall still feels incomplete. Because it is. The third part of Mantel's trilogy, which details Cromwell's downfall, hasn't yet been published. Wolf Hall is a tragedy, but right now it concludes like a comedy (well, a comedy with a lot of beheading), which the second part acknowledges. "There are no endings," Cromwell says. "They are all beginnings. This is one." And gripping enough that I suspect nearly all of us will be back in these seats in a few years time, eager to see - 500-year-old spoiler alert - the bloody conclusion.
'Wolf Hall Parts One and Two' review: History comes alive and heads roll on Broadway in this bold slice of English history - NY Daily News
So many people already have more than a passing knowledge of Tudor England, thanks to countless retelling of this story in books, TV, film, and an opera. The familiarity can be a drawback; the pacing drags a bit because we're awaiting the twist we know is coming. And the show could stand to fire more emotions. But this excellent ensemble shines. Parker cuts an impressive presence as the much-married monarch. Leonard is fetching and fierce as Anne. Briers brings uncompromising grace and smarts as Catherine (spelled with a K by the production). Brotherhead adds vulnerability as Jane, a living pawn whose own father can't recall her name.
Wolf Hall: Parts 1 & 2 Broadway Cast