Antonio Pappano to Conduct the New York Philharmonic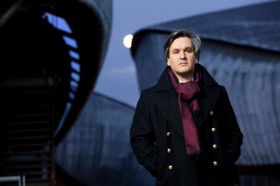 Antonio Pappano will return to the Philharmonic to conduct Britten's Piano Concerto (1945 version), with The Mary and James G. Wallach Artist-in-Residence Leif Ove Andsnes as soloist; Saint-Saëns's Symphony No. 3, Organ, with Philharmonic organist Kent Tritle; and Vaughan Williams's Fantasia on a Theme by Thomas Tallis, Thursday, February 8, 2018, at 7:30 p.m.; Friday, February 9 at 2:00 p.m.; and Saturday, February 10 at 8:00 p.m.
Leif Ove Andsnes's recording of Britten's Piano Concerto with Paavo Järvi and the City of Birmingham Symphony Orchestra was released in 1999 by EMI Classics (now Warner Classics), and Gramophone described his performance as "ravishing," with "an unflustered, aristocratic poise about it." Mr. Andsnes and Mr. Pappano recorded Rachmaninoff's complete piano concertos on two CDs, both of which were nominated for Grammy Awards. Leif Ove Andsnes's collaborations with the New York Philharmonic began in 1997. His appearances as Artist-in-Residence mark his only performances in New York City in the 2017-18 season. He will next perform Debussy's Fantaisie for Piano and Orchestra, led by Edward Gardner, April 26 and 28, 2018; reprise that work with the Orchestra at Long Island University's Tilles Center for the Performing Arts on April 27, 2018; and give a recital, May 2, 2018.
The Guardian called Antonio Pappano's September 2017 recording of Saint-Saëns's Organ Symphony "a performance that maintains its momentum and punch through to a decidedly epic-sounding conclusion." BBC Music magazine wrote that "Pappano brings us a drama in music that undoubtedly compels and raises the hairs at every turn."
Artists
Antonio Pappano has been music director of the Royal Opera House, Covent Garden, since 2002, and music director of the Orchestra dell'Accademia Nazionale di Santa Cecilia since 2005. Nurtured as a pianist, repetiteur, and assistant conductor at many of the most important opera houses of Europe and North America - including Lyric Opera of Chicago and the Bayreuth Festival as musical assistant to Daniel Barenboim - Mr. Pappano was appointed music director of Oslo's Den Norske Opera in 1990, and served as music director of Brussels's Théâtre Royal de la Monnaie (1992-2002) and principal guest conductor of the Israel Philharmonic Orchestra (1997-99). He has appeared as a guest conductor with many of the world's most prestigious orchestras, including the New York, Berlin, Vienna, and Munich philharmonic orchestras; the Chicago, Boston, Philadelphia, and Cleveland symphony orchestras; and Amsterdam's Royal Concertgebouw Orchestra and the Orchestre de Paris. He maintains a particularly strong relationship with the London Symphony Orchestra, which he conducts annually at their home in London's Barbican Hall and widely on tour. Recent highlights include debuts with the Chamber Orchestra of Europe and London Philharmonic Orchestra at the Aldeburgh Festival; performances at the BBC Proms and Bucharest Festival with the Accademia Nazionale di Santa Cecilia and his debut with the Verbier Festival Orchestra. Future appearances include his debuts with the Dresden Staatskapelle and Bavarian Radio Symphony; returns to the Berlin and New York Philharmonic orchestras, Royal Concertgebouw Orchestra, and Berlin Staatskapelle; and tours of Europe, Asia, and the U.S. with the Accademia Nazionale di Santa Cecilia. An exclusive recording artist for Warner Classics (formerly EMI Classics) since 1995, his discography features numerous operas and orchestral recordings that have received accolades including Classic BRIT, ECHO Klassik, BBC Music magazine, and Gramophone awards. Born in London to Italian parents, Antonio Pappano moved with his family to the United States at age 13. His awards and honors include Gramophone's Artist of the Year, Olivier Award for Outstanding Achievement in Opera, Royal Philharmonic Society Music Award, and Bruno Walter Prize from the Académie du Disque Lyrique in Paris. He is Cavaliere di Gran Croce of the Republic of Italy, a Knight of the British Empire, and the 100th recipient of the Royal Philharmonic Society's Gold Medal. He has also developed a career as a speaker and presenter, including in the BBC Television documentaries Opera Italia, Pappano's Essential Ring Cycle, and Pappano's Classical Voices. Antonio Pappano made his New York Philharmonic debut in February 2004 leading works by Haydn, Shostakovich, and Poulenc with Katia and Marielle Labèque; he returned in April 2010 to conduct music by Mozart, Brahms, and Bruch with Joshua Bell.
Norwegian pianist Leif Ove Andsnes is the 2017-18 Mary and James G. Wallach Artist-in-Residence at the New York Philharmonic. Acclaimed for his commanding technique and searching interpretations, he performs recitals and concertos in the world's leading concert halls and with its foremost orchestras, and is an active recording artist. An avid chamber musician, he is the founding director of the Rosendal Chamber Music Festival, was co-artistic director of the Risør Festival of Chamber Music for almost two decades, and served as music director of California's 2012 Ojai Music Festival. Mr. Andsnes was inducted into the Gramophone Hall of Fame in 2013, and received honorary doctorates from New York's Juilliard School and Norway's University of Bergen in 2016 and 2017, respectively. Mr. Andsnes now records exclusively for Sony Classical. His earlier discography comprises more than 30 discs for EMI Classics - solo, chamber, and concerto releases, many of them bestsellers - spanning repertoire from J.S. Bach to the present day. He recently completed Beethoven Journey with the Mahler Chamber Orchestra, in which he led the orchestra from the keyboard in Beethoven's five concertos in residencies around the world, a multiple-season project recorded for Sony Classics. A frequent collaborator with the New York Philharmonic, as Artist-in-Residence Mr. Andsnes will perform chamber music, a solo recital, Britten's Piano Concerto led by Antonio Pappano, Rachmaninoff's Piano Concerto No. 4 led by Paavo Järvi, and Debussy's Fantaisie led by Edward Gardner. These concertos figure prominently in his 2017-18 programming: he plays the Britten with orchestras including Zurich's Tonhalle Orchestra, Vienna Symphony, and Deutsches Symphonie-Orchester Berlin; Rachmaninoff with the Bavarian Radio Symphony and Bergen Philharmonic orchestras; and Debussy with the London Philharmonic Orchestra, Orchestre Philharmonique de Radio France, Oslo Philharmonic, and New World Symphony. He embarks on an extensive European recital tour with a program featuring selected pieces by Sibelius, whose rarely performed solo piano oeuvre is also the focus of his upcoming Sony Classical release. Leif Ove Andsnes made his New York Philharmonic debut in February 1997 performing Rachmaninoff's Piano Concerto No. 3, conducted by Neeme Järvi. He most recently joined the Orchestra for Rachmaninoff's Piano Concerto No. 4, led Paavo Järvi, in October 2017.
Kent Tritle has been the organist of the New York Philharmonic since 1994 and of the American Symphony Orchestra since 1993. He is also director of cathedral music and organist at The Cathedral Church of Saint John the Divine in New York City, where he leads the Great Music in a Great Space series; chair of the organ department and director of choral activities at the Manhattan School of Music; and music director of the Oratorio Society of New York and Musica Sacra. Mr. Tritle is featured in the Philharmonic's recordings of Brahms's A German Requiem, Britten's War Requiem, and Henze's Symphony No. 9, all conducted by Kurt Masur, and the Grammy-nominated Sweeney Todd, conducted by Andrew Litton; the DVDs The Organistasand Creating the Stradivarius of Organs; and the CDs The Romantic Organ and Kent Tritle at St. Ignatius Loyola, among many others. He has appeared as a recitalist at the Leipzig Gewandhaus, Zurich's Tonhalle, Church of St. Sulpice in Paris, King's College (Cambridge), Westminster Abbey, and St. Vitus Cathedral in Prague. As a choral conductor, Kent Tritle led the Choir and Orchestra of St. Ignatius Loyola in more than 150 concerts presented by the Sacred Music in a Sacred Space series from 1989 to 2011. He served as music director of the Emmy-nominated Dessoff Choirs (1996-2004) and host of The Choral Mix with Kent Tritle, a weekly radio program on WQXR (2010-14). In 2013 Mr. Tritle conducted a recording of Juraj Filas's Requiem, Oratio Spei, dedicated to the victims of 9/11, with the Prague Symphony Orchestra; vocal soloists Ana María Martínez, Matthew Plenk, and Filip Bandzak; and the Kühn Choir. He has been featured on ABC World News Tonight, NPR, and Minnesota Public Radio, as well as in The New York Times and The Wall Street Journal. Kent Tritle made his New York Philharmonic solo debut in Saint-Saëns's Symphony No. 3, Organ, in October 2006; he most recently appeared as soloist with the Orchestra in Saint-Saëns's Symphony No. 3, Organ, in June 2010, led by Andrew Davis.
Repertoire
Ralph Vaughan Williams (1872-1958) based his Fantasia on a Theme by Thomas Tallis on the "Third Mode Melody" that composer Thomas Tallis (ca. 1505-85) had contributed to Archbishop Matthew Parker's Whole Psalter Translated into English Metre in 1567. Vaughan Williams had included the tune in the 1906 revised English Hymnal, which he was editing at the time, using it as the melody for Joseph Addison's When Rising from the Bed of Death. The third mode (known as the Phrygian) is present throughout English folk music, and Vaughan Williams built on that presence, Tallis's tune, and other structural underpinnings to create a sonic bridge between the Tudor and Edwardian eras. A London Times reviewer wrote after the work's premiere that "one is living in two centuries at once ... It cannot be assigned to a time or school but it is full of the visions which have haunted the seers of all times." The work was premiered at Gloucester Cathedral's Three Choirs Festival in September 1910, and Britten revised the work twice, in 1913 and 1919. The Philharmonic's first presentation of Fantasia on a Theme by Thomas Tallis was in March 1922 by the New York Symphony (which merged with the New York Philharmonic in 1928 to form today's New York Philharmonic), led by Walter Damrosch; the Orchestra's most recent performance was in April 1998, led by Colin Davis.
Benjamin Britten (1913-76) composed his only Piano Concerto in 1938 at the age of 24. Originally titled Piano Concerto No. 1, it is dedicated to composer Lennox Berkley, with whom Britten had collaborated on Mont Juic, a symphonic suite of Catalan dances from the previous year. Britten wrote the piece as a showcase for his own skills as a pianist, and was soloist for the August 1938 premiere with the BBC Symphony Orchestra, as well as the 1940 U.S. Premiere in Chicago. Britten wrote that he had conceived the four-movement concerto "with the idea of exploiting various important characteristics of the pianoforte, such as its enormous compass, its percussive quality, and its suitability for figuration; so that it is not by any means a Symphony with pianoforte, but rather a bravura Concerto with orchestral accompaniment." Though the work was warmly received, the composer revised it in 1945, replacing the original third movement, Recitative and Aria, with another, Impromptu. The Philharmonic's first performance of Britten's Piano Concerto was in November 1949, conducted by Leopold Stokowski with Jacques Abram as soloist; the Orchestra most recently presented it in November 1981, led B. Raymond Leppard with soloist Christian Blackshaw.
Camille Saint-Saëns (1835-1921) was an accomplished organist, and he prominently featured the instrument in his 1886 Symphony No. 3, Organ. In the program note for the premiere, Saint-Saëns wrote: "This Symphony, divided into two parts, nevertheless includes practically the traditional four movements: the first, checked in development, serves as an introduction to the Adagio, and the scherzo is connected after the same manner with the finale. The composer has thus sought to shun in a certain measure the interminable repetitions which are more and more disappearing from instrumental music." Dedicated to the memory of Franz Liszt, who had died in June 1886, it was commissioned by the London Philharmonic Society, which gave its World Premiere in May 1886, conducted by Saint-Saëns himself. The work was immediately well received, and when it was heard in Paris several months after its premiere, Gounod allegedly declared, "There is the French Beethoven." Saint-Saëns himself wrote: "With it I have given all I could give. What I did I could not achieve again." The New York Philharmonic gave the work's U.S. Premiere in February 1887, conducted by Theodore Thomas. The Orchestra's most recent performance was in June 2010, conducted by Andrew Davis, with Kent Tritle as soloist.
Photo: Antonio Pappano by Musacchio and Ianniello, licensed to EMI Classics